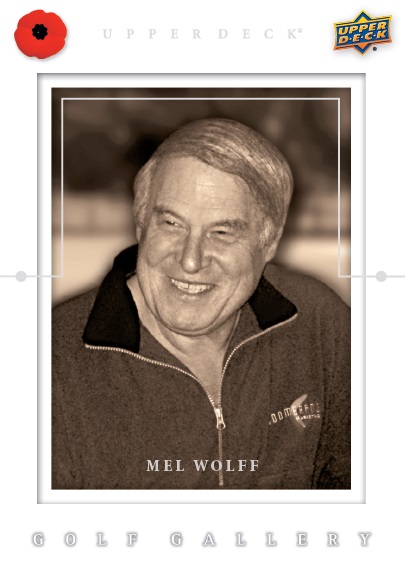 By Susan Lulgjuraj | Beckett Hockey Editor
Upper Deck gathered fans at its booth on Friday night at the Fall Sports Expo.
It was ready to give away prizes for a free raffle, which included uncut sheets, hobby boxes and autograph cards. But in the few moments before the raffle, Upper Deck recognized a longtime dealer Mel Wolff who passed away recently.
Upper Deck did it by what it does best – making a trading card of him.
UD made an oversized card of Wolff featuring him on a golf design. Upper Deck's Chris Carlin presented the card to his family where more than 100 applauded. Upper Deck said it would make these cards to give to Wolff's grandchildren.
Wolff was a longtime dealer who specialized in hockey and gold cards.
The card company has made oversized cards honoring others such as Jack Hoffman, a 7-year-old who had brain cancer and ran for a touchdown in the University of Nebraska's spring game,, and John Makoiec, the founder of Card 2 Kids.
Susan Lulgjuraj is an editor at Beckett Media. You can email her here with questions, comments or ideas. Follow her on Twitter here. Follow Beckett Media on Facebook and Twitter.