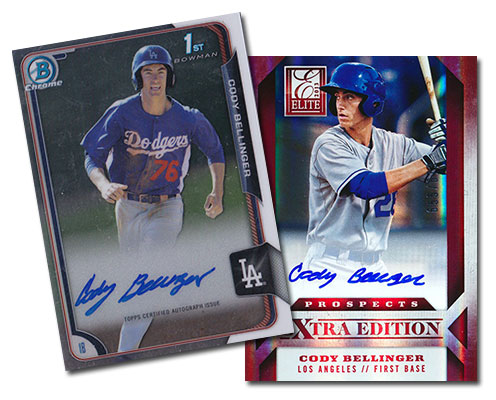 By Ryan Cracknell | Hobby Editor
After making a quick and dramatic impact, interest in Cody Bellinger Rookie Cards and anything with his name on it is rising. That's what happens when you start setting some impressive home run records during your first couple of months in the majors.
A fourth round pick in the 2013 draft, Bellinger's cards date back to that season. However, it was something of a slow rollout with Panini kicking things off, not much in 2014 and Topps putting him in just one product in 2015. The number of Cody Bellinger cards jumped significantly in 2016, but he still doesn't have nearly as many as a lot of other modern prospects.
All of the Cody Bellinger cards released before his MLB debut fall under a couple of categories. First, there are the prospect and minor league cards. These are part of sets that focus on prospects before their big league debuts. Other cards are inserts in big league sets. Either way, they're not considered Rookie Cards in the traditional sense. Collector preference is a big thing though, and the RC tag's importance is different than it used to be.
2017 Bowman Platinum Baseball is the first product with a Cody Bellinger Rookie Card. 2017 Donruss Optic followed a short time after. Collectors can expect to find more in the months ahead through to the end of the 2017 baseball card season. Topps has confirmed that 2017 Topps Update Baseball will have a Cody Bellinger Rookie Card. But that doesn't necessarily mean there won't be more before then.
Here's a detailed look at each Cody Bellinger Rookie Card as well as some key highlights from the earlier Bellinger cards.
Cody Bellinger Rookie Card Guide
This list will grow as more Cody Bellinger Rookie Cards are released. We'll continue to update throughout the year.
---
---
Key Cody Bellinger Prospect and Pre-Rookie Cards
The following is not an exhausted list. Rather, it highlights some of the most important Cody Bellinger cards and others that don't fall under traditional Rookie Card definitions. Particular emphasis is paid to the earliest Cody Bellinger cards, autographs and popular inserts.
---
---
---
---
---
---
---
---
---
---
---
---
---
---
---
---
Comments? Questions? Contact Ryan Cracknell on Twitter @tradercracks.