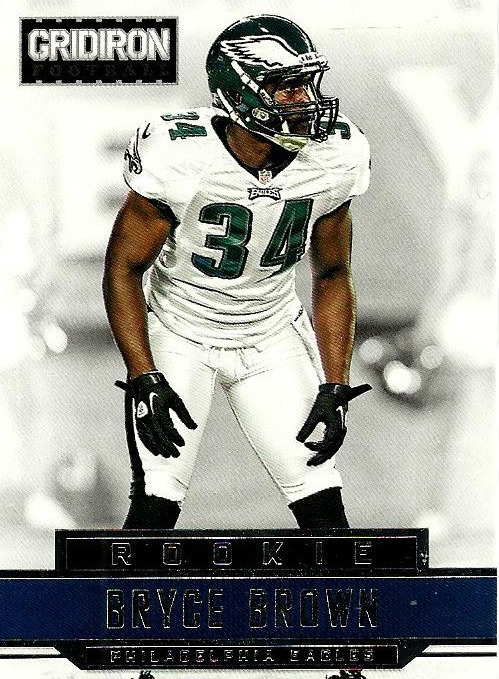 By Susan Lulgjuraj | Beckett Football Editor
Sometimes Monday Morning Collector comes a bit too early, a reminder after last night's football game.
In a battle between the Philadelphia Eagles and the Carolina Panthers on Monday Night Football, a rookie emerged that hadn't been talked about since he left high school several years ago.
Bryce Brown, who started for the injured LeSean McCoy, set an Eagles rookie record with 178 yards on 19 carries. He added two touchdowns, but also had two fumbles in the 30-22 loss.
When a game like that happens, usually collectors scurry to find his cards. But really, the first question that came to mind "Did he have any cards?"
Yes.
In fact, he has 46 cards listed in the Beckett database (To get a checklist of Brown or an Online Price Guide, click here).
Right now, there are only two places to find Brown's cards. He appears in the 2009 Razor Army All-American Bowl set and in 2012 Panini products.
There are supposed to be autograph cards of his in Panini, but currently all are redemptions. The only live auto is from the 2009 Razor set, which has a HI book value of $40.
But it doesn't seem people are trying to cash in just yet.
Only a handful of new listings for Brown's cards appeared on eBay overnight.
Brown had a long journey to get to where he is, and was a product of a crazy recruiting scene and subsequent pitfalls. He had a handler during his recruitment, which turned off many football fans. Brown verbally committed to the University of Miami, but backed off when it was time to sign his letter of intent.
He eventually went to the University of Tennessee. However, after just one season, he transferred to Kansas State – and that didn't last long either.
After all that, the Philadelphia Eagles drafted Brown in the seventh round of the 2012 NFL Draft.
Chase cards
– 2012 Bryce Brown 2012 Elite auto /399

– 2012 Panini Gridiron Rookies Signatures

– 2012 Bryce Brown Elite die cut

– 2009 Bryce Brown Razor U.S. Army Bowl jersey

– 2009 Bryce Brown Razor U.S. Army Bowl auto
Susan Lulgjuraj is an editor of Beckett Football. You can email her here with questions, comments or ideas. Follow her on Twitter here.