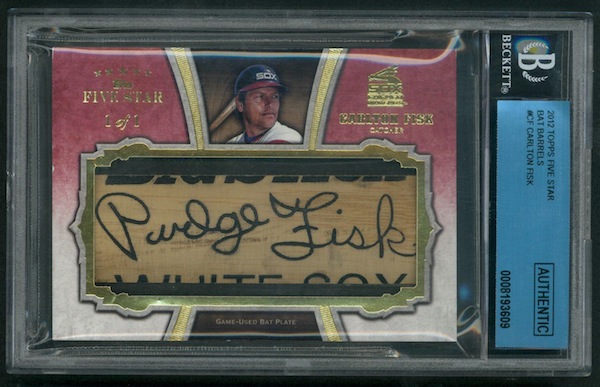 By Chris Olds | Beckett Baseball Editor | Commentary
There's just one spot on a game-used baseball bat that says it all — and it makes for some of the most-impressive game-used cards possible.
It's the nameplate on a bat barrel, that sweet spot of real estate on a slugger's most-vital weapon when it comes to success in the national pastime. Aside from perhaps the bat knob, which can sometimes make for prime cards with personal touches that stand out, the barrel is, without question, the best piece of a bat to make cardboard.
And they are some of the rarest cards around, too.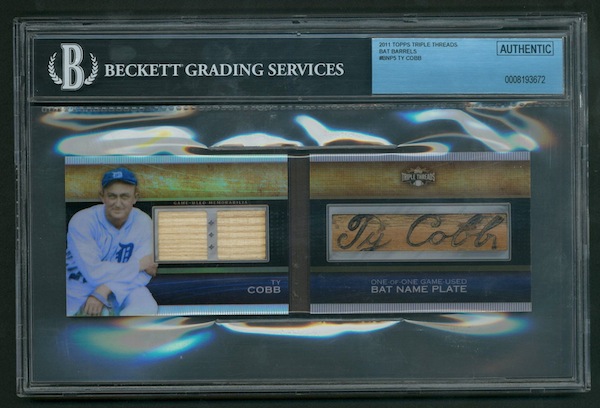 As a long-time collector, I own a few dozen full game-used bats of players I follow — favorites or players with school ties — but after all these years I don't own a single game-used bat barrel card.
Why?
Well, I can't say I have pursued too many — or even seen many in-person — and there's a reason for both of those points. Not that many exist and the cards also can be quite pricey. In some instances for more modern players, the cards can even demand more on the market than the full uncut bats themselves.
According to the Beckett.com database, there are just 2,138 unique "barrel" cards in existence — think about that — and a good portion of that total includes cards that are the outer surface of a bat barrel but not the nameplate. Many of these cards are one-of-a-kind creations, making finding a barrel a bit harder find at the typical card shop visit or smaller show. They become immediate auction-block items.
After all, there's only one nameplate per bat — and some older players don't even have that as an option. So some of those six-figure bats swung by the likes of Babe Ruth that make their way into cards may not even carry enough clout to create one of these cards.
Chris Olds is the editor of Beckett Baseball and Beckett Sports Card Monthly magazines. Have a comment, question or idea? Send an email to him at colds@beckett.com. Follow him on Twitter by clicking here.
—
The selection of 21 knobs — each 1/1 cards — seen here? Well, collectors wanting a crack at one of these rarities will have their chance as they have been consigned to Beckett Auctions for its August auction, which will begin on Aug. 10. You can find more information here at that time. 
—
Loading ...
—