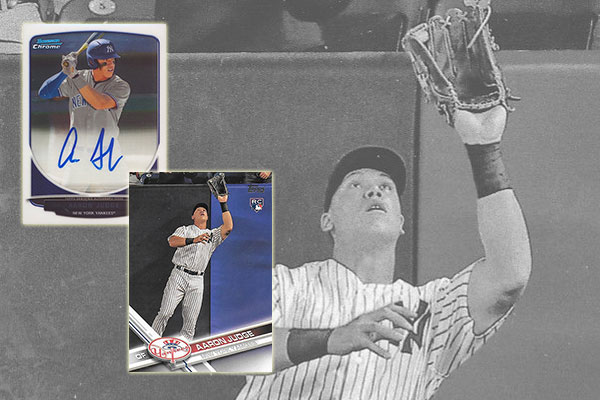 By Ryan Cracknell | Hobby Editor
Hitting home runs in your first two MLB games while wearing a New York Yankees jersey gets people talking. While the name Kevin Maas will invariably come up at some point, that's not always the case. For Aaron Judge cards, it's still too early to see what the next decade's going to look like. But after a hot start to his career in the Bronx, it's time to take a closer look at the Aaron Judge Rookie Cards and other early releases that are out there.
The first Aaron Judge cards came out not long after the Yankees picked him in the first round of the 2013 draft. Topps landed him in a couple of late-season Bowman products while both Panini and Leaf put the outfielder in multiple prospect-heavy sets as well.
See Also: Ultimate Aaron Judge Autographs Gallery and Reference Guide
All of these are considered to be prospect cards or inserts. His rookie cards will be coming out of 2017 packs. That said, in today's hobby, many of his early cards will trump most of his Rookie Cards in overall importance.
Trying to predict the long-term market for Aaron Judge Rookie Cards is tough. It already levelled off after his impressive 2016. But he's showing some exciting power still. Further intrigue comes from the fact that he's a Yankee, a team that enhances any player's place in the overall hobby.
Here's a look at the Aaron Judge Rookie Cards released so far followed by highlights of his other top early cards.
Aaron Judge Rookie Cards
Only cards with the RC tag are included, not inserts. If you're looking for Aaron Judge Rookie Card values, they are available to Beckett Baseball Card Price Guide. More will be added throughout the year as new products are released.
Cards are listed in alphabetical order.
---
---
---
---
---
---
---
---
---
---
---
---
---
---
---
---
---
Top Pre-Rookie Aaron Judge Cards
Here's a look at some of the key Aaron Judge cards released before his MLB debut, focusing primarily on his earliest ones.
---
---
---
---
---
---
---
---
---
---
---
---
Comments? Questions? Contact Ryan Cracknell on Twitter @tradercracks.