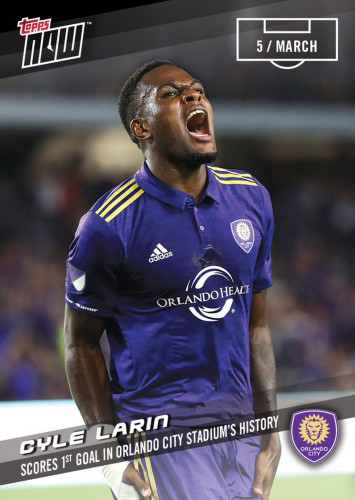 By Ryan Cracknell | Hobby Editor
Topps Now is back in MLS for a second season. 2017 Topps Now MLS Soccer sees the print-on-demand line continue, telling the story of the season as it plays out.
Key moments and milestones are captured not long after they happen. Cards are offered on the Topps website for 24 hours. After that, the initial sales are done and only those purchased are printed. This means print runs for individual cards can fluctuate, usually by the player, team and importance of the moment.
The cost of individual 2017 Topps Now MLS cards purchased directly from the card maker is $9.99. That said, there are discounts for buying bulk lots of five, ten and 20 copies of the same card.
2017 Topps Now MLS Checklist
New cards and print runs will be added as they're announced. If you're looking for a specific card, click on the links to see what's available on eBay.
1 Fanendo Adi/Diego Valeri, Portland Timbers – Adi, Valeri's Braces Pace the Timbers (March 3) – 113
2 Cyle Larin, Orlando City SC – Scores 1st Goal in Orlando City Stadium's History (March 5) – 125
3 Atlanta United – Win First Game in Franchise History (March 12) – 132
4 Josef Martinez, Atlanta United – Nets Season's First Hat Trick (March 12) – 147
5 David Villa, New York City FC – Braces Leads NYCFC to Victory (March 12) – 107
6 Seattle Sounders – Secure Point in Dying Seconds (March 11) – 63
7 Josef Martinez, Atlanta United – Ties MLS Scoring Record (March 18)
8 Diego Valeri, Portland Timbers – Scores Brace to Lead Timbers to Victory (March 18)
9 Cyle Larin, Orlando City SC – Brace Helps Club Stay Unbeaten at Home (March 18)
10 Maximilano Urruti, FC Dallas – 2 Second Half Goals Lead to Comeback Win (March 18)
Comments? Questions? Contact Ryan Cracknell on Twitter @tradercracks.