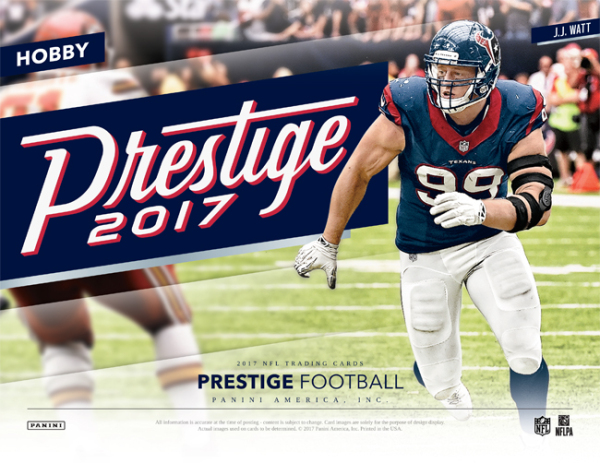 David Lee | Beckett Football Editor
Panini's Prestige brand has established itself as one of the most anticipated post-draft products every year. The Rookie Cards are the first to feature NFL Daft information, such as NFL team and draft position. It's scheduled to drop in early June.
The 2017 Prestige Football product will be no different, as Panini recently confirmed in a sneak peek of the product. Pictures, however, will still show the new rookie class in their college uniforms. Like past offerings, this year's release will be an affordable option, aiming to reach a wide range of collectors.
(Check out the preview gallery below.)
Each hobby box of 2017 Prestige Football will deliver 40 Rookie Cards. There are 40 cards crammed into each pack, with four packs per box. Hobby boxes will deliver four autographs, 24 inserts and five parallels. All veteran and legend signatures will be numbered to 100 or less. Draft Day Signatures feature on-card autographs from the top players in the 2017 NFL Draft. These will include rare Ink Color variations.
There will be at least one parallel numbered to 150 or less in each pack. These include the familiar Xtra Points, plus Black and Printing Plate 1/1s.