Share Thread:
03-03-2015, 05:12 PM
TBarn291
Member


Posts: 2,434
Joined: Feb 2012
RE: My New York Knicks PC!!
Great pickups man. I agree those Court Kings autos are NICE!
---

03-04-2015, 02:02 PM
RE: My New York Knicks PC!!
Great stuff. I love a good team collection. Especially a Knicks collection that doesn't include a lot of Melo! Nice touch with the focus on Anthony Mason with that last post. It's a shame. One of my favorite players to watch back in the day.
---
06-15-2015, 11:11 AM
vgqv
Member


Posts: 1,021
Joined: Dec 2004
RE: My New York Knicks PC!!
Monday, June 15, 2015
The jersey cards in this update amaze me. The Nazr jersey is my first anything Knicks of him (not counting base cards, mind you). I'm as happy as having added that card as the Melo's, haha. I really wish to hear on draft night Silver announce, "There has been a trade! The New York Knicks have traded Carmelo Anthony and/or who or whatever else to so-and-so..." Actually, I wish we could trade our owner. Could the Knicks do that, haha? Worst owner in the league.
Let's start with some Memorabilia Cards..
14'15 Panini Immaculate Catastrophe "Trios Jersey" #70/75 (Side note, I really need to add the quad version of this that includes Shane Larkin..)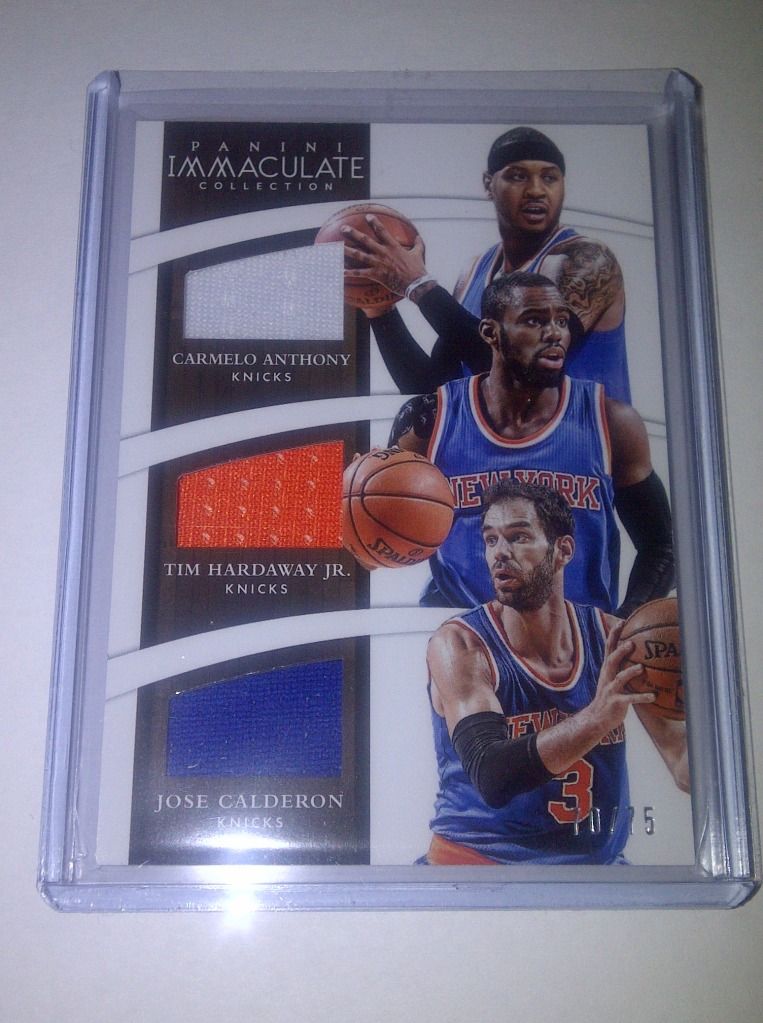 13'14 Panini's Crusade "Quest Memorabilia" #35/299 (The only thing Knick about this card is that Clark's pictured in a NYK uniform. The jersey swatch is obviously from his Cavs playing days. This guy I really thought could've been something during his Lakers run but I guess not. Cavs believed, paid him and shipped him.)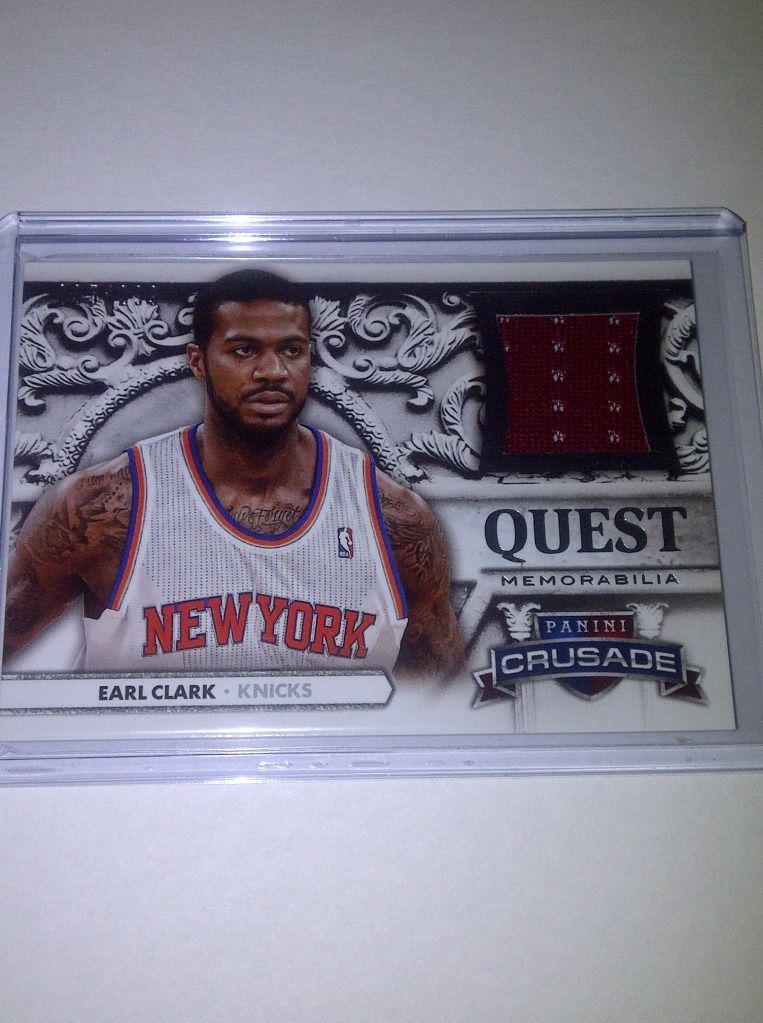 13'14 Panini Spectra Jersey Card #45/49 (Panini makes a lot of Ewing memorabilia but often I find something I don't like about the card. This one however I liked. Ewing in his shooting form, blue parallel (I think) and nice design.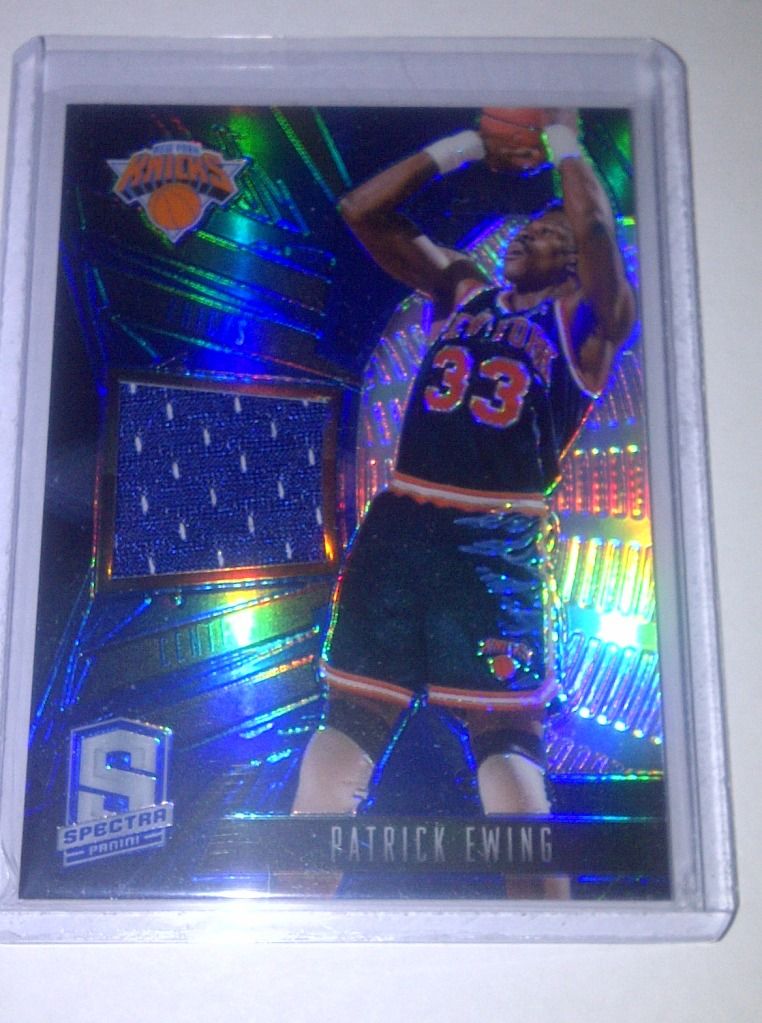 04'05 Topps Pristine "Fantasy Favorites" (Man, do I love this card. It's crazy he's still in the league after all these years. I only wished his Knick run was longer, solid center back then.)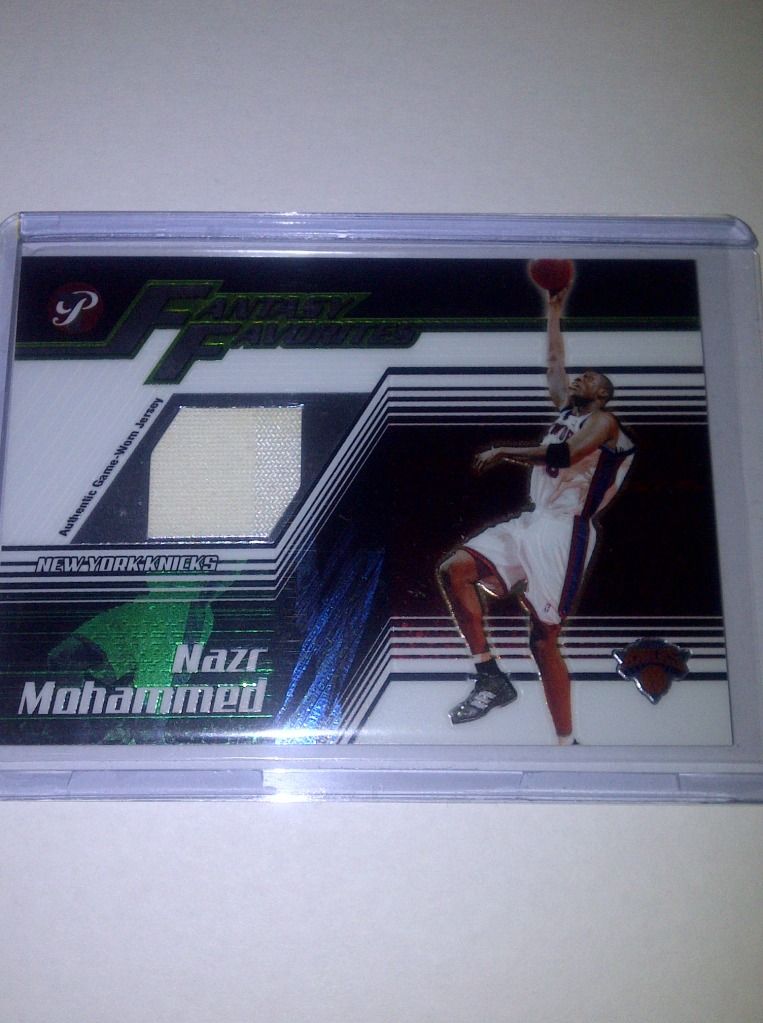 12'13 Panini Totally Certified (dude) Blue Parallel #14/25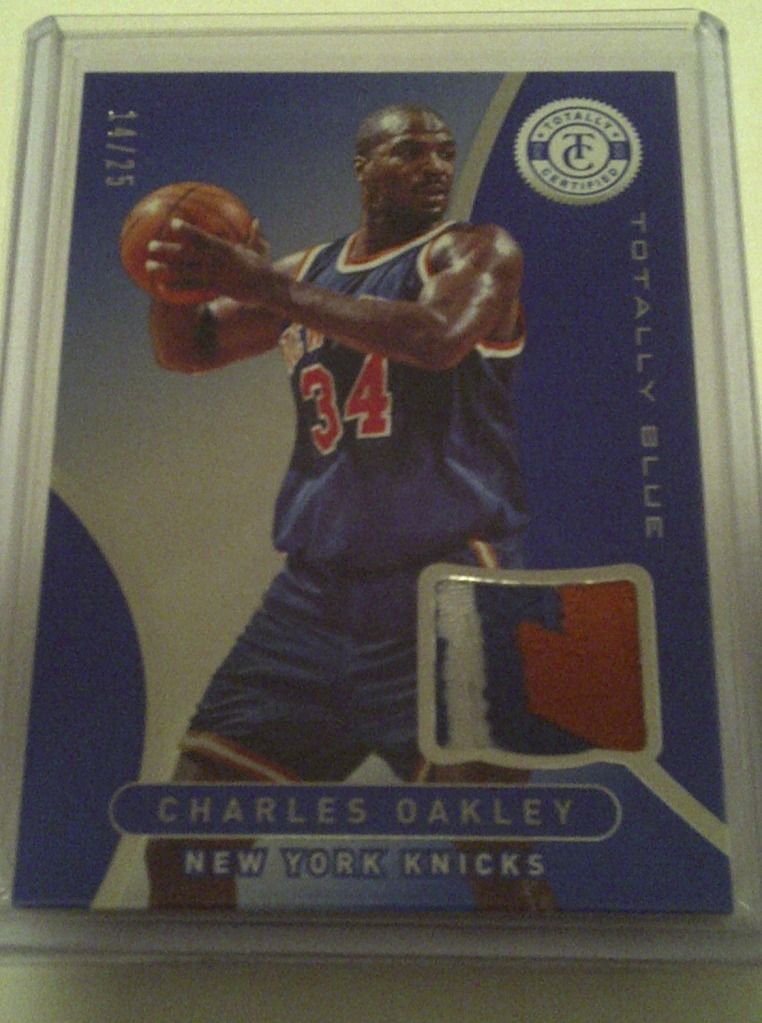 13'14 Panini Titanium "Titanic" Jersey Card #82/299 (We should've drafted him back in the late 90s. I don't understand why we don't draft local kids. Lance Stephenson is another one they passed up on draft night.)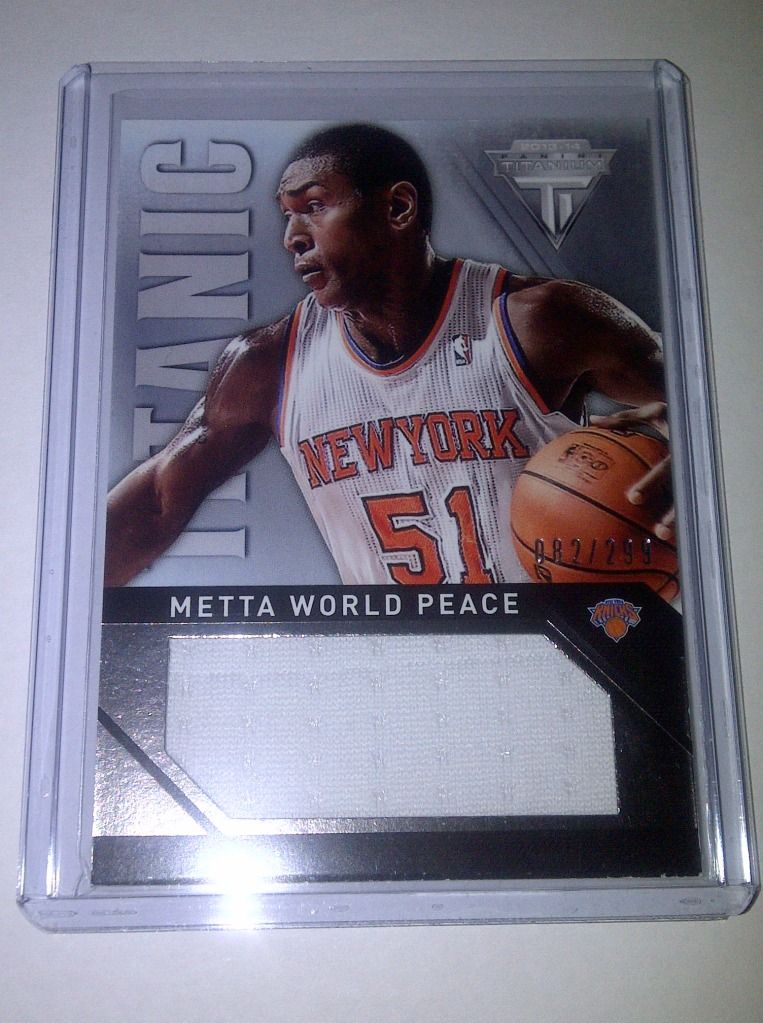 12'13 Panini Intrigue "Terrific Trios" #44/49 (I really like this card. All Argentina brethren here and 3 different colored swatches. Too bad Prigioni doesn't have an autograph Knicks card.)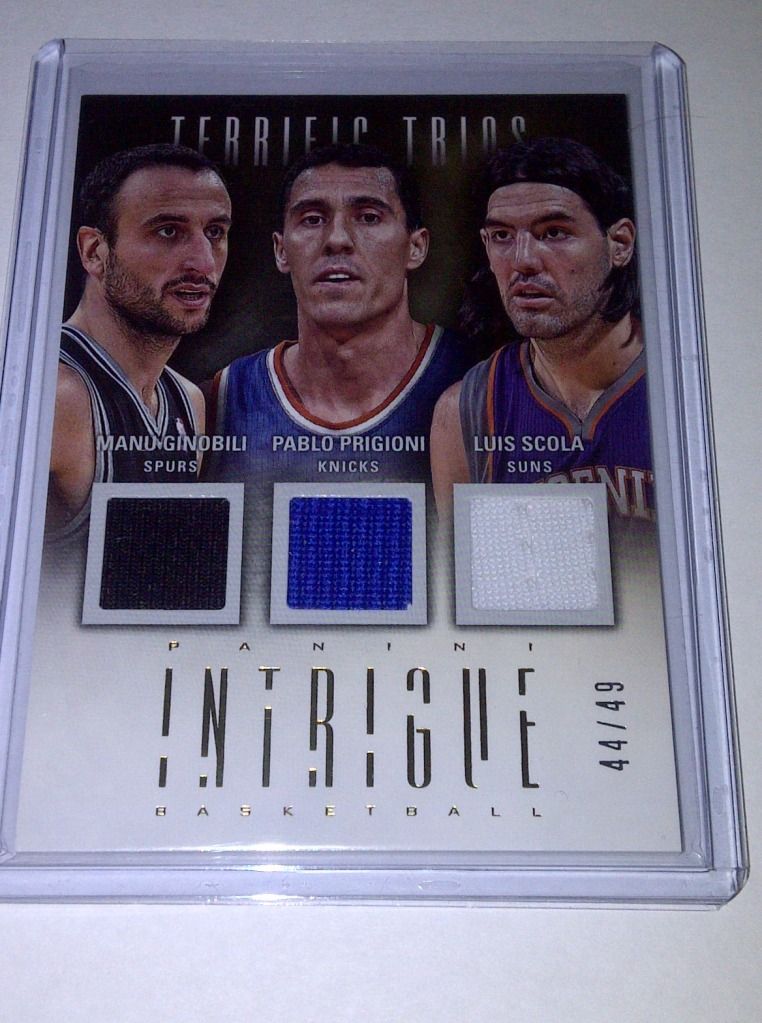 06'07 UD Reflections "Dual Fabric Reflections" #50/50 (I was really happy to add this card. Two of the "Fab Five" members here.)
12'13 Panini Totally Certified (dude) Blue Parallel #24/99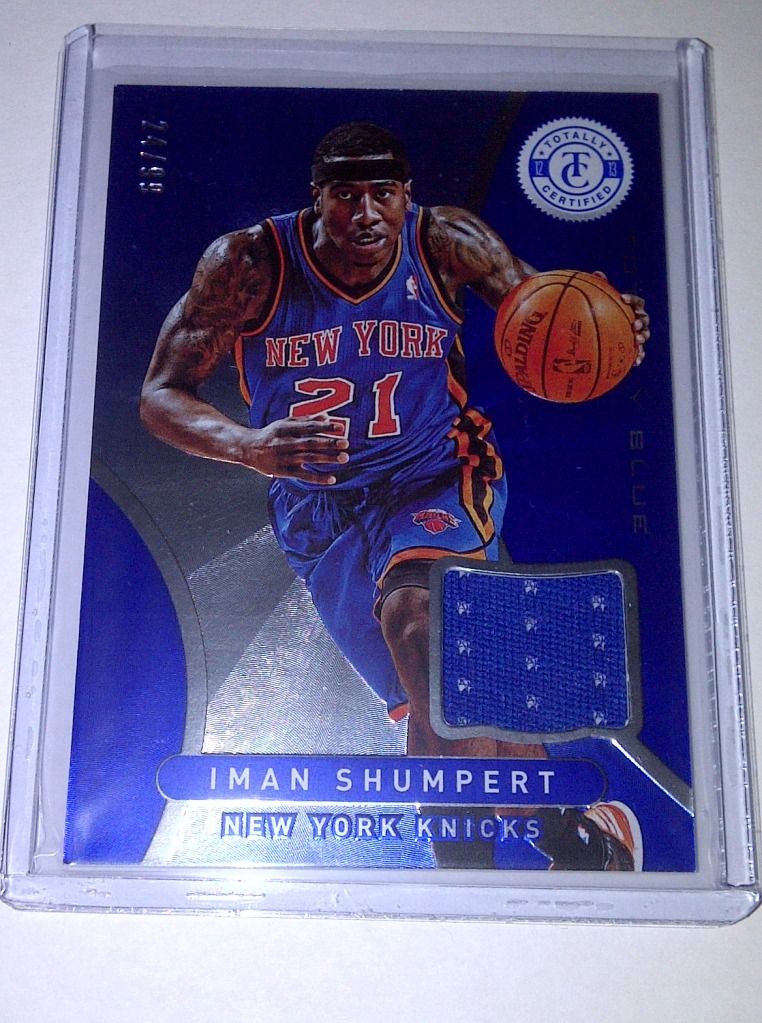 13'14 Panini Hoops "Authentics" (I really liked the design of this card. An orange jersey swatch (not often do I see this) and JR's in his shooting form. Really nice card.)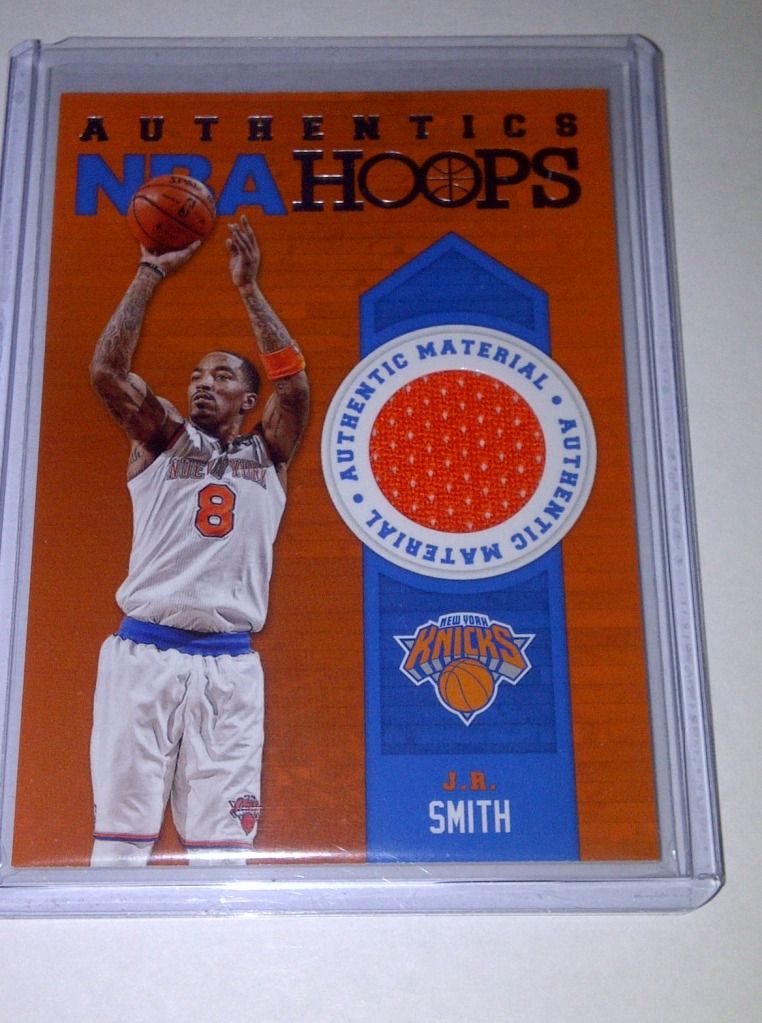 02'03 Fleer Platinum "Name Plates" #147/190 (I love this card. Spree is 1 of my favorite all-time Knicks. Finally got a Knicks auto of him too as you will see later in this update.)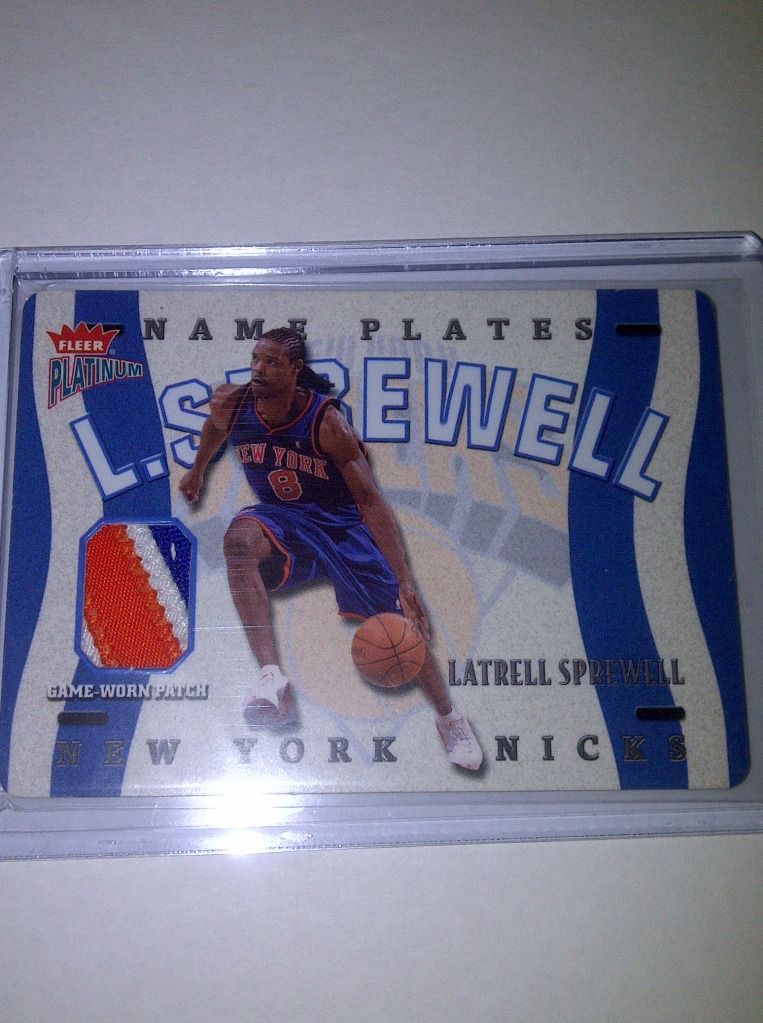 (back numbering)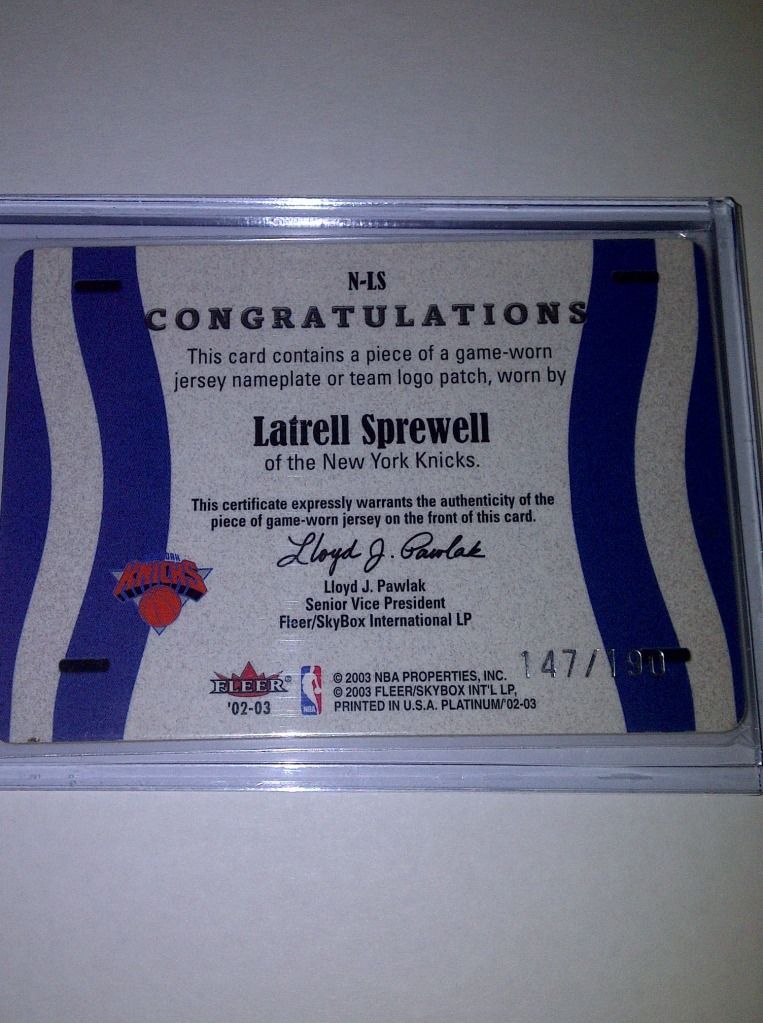 12'13 Panini Limited "Center Stage" "Patch" #7/10 (I don't remember why I picked this up, this is a bogus patch card. I think because it was so low #'ed and I liked the pic of Amar'e.)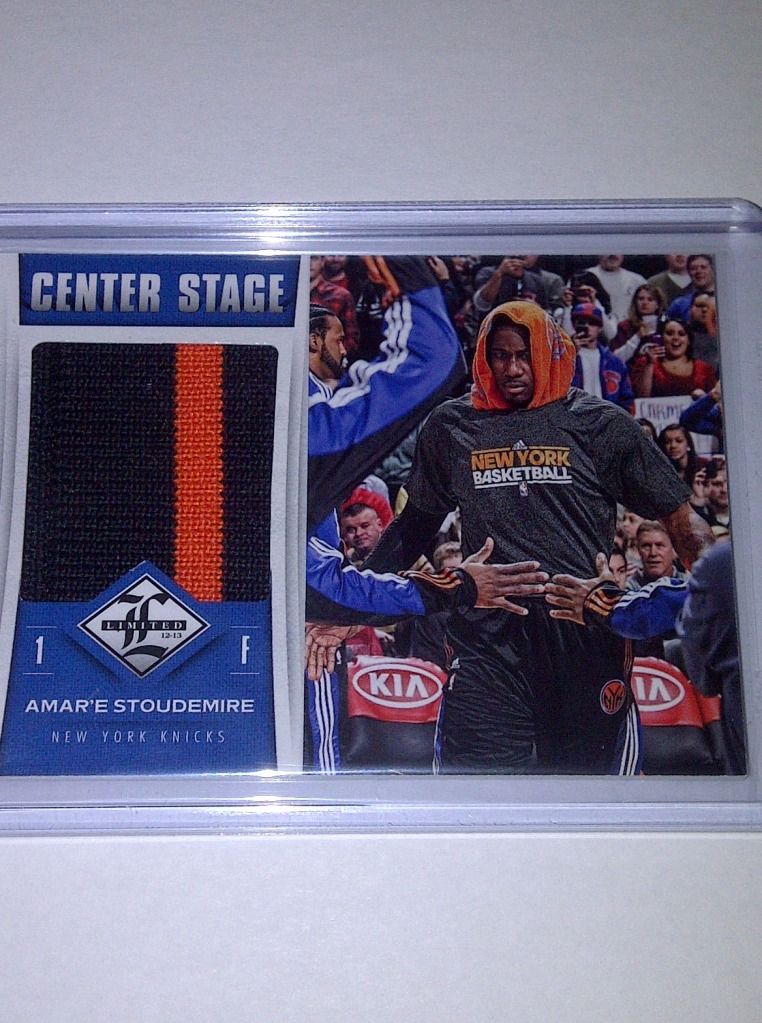 12'13 Panini Innovation Jersey Card #145/199 (I was sooo happy when he rejoined the Knicks. He was such a solid player for us in his original stint. The definition of work ethic right here.)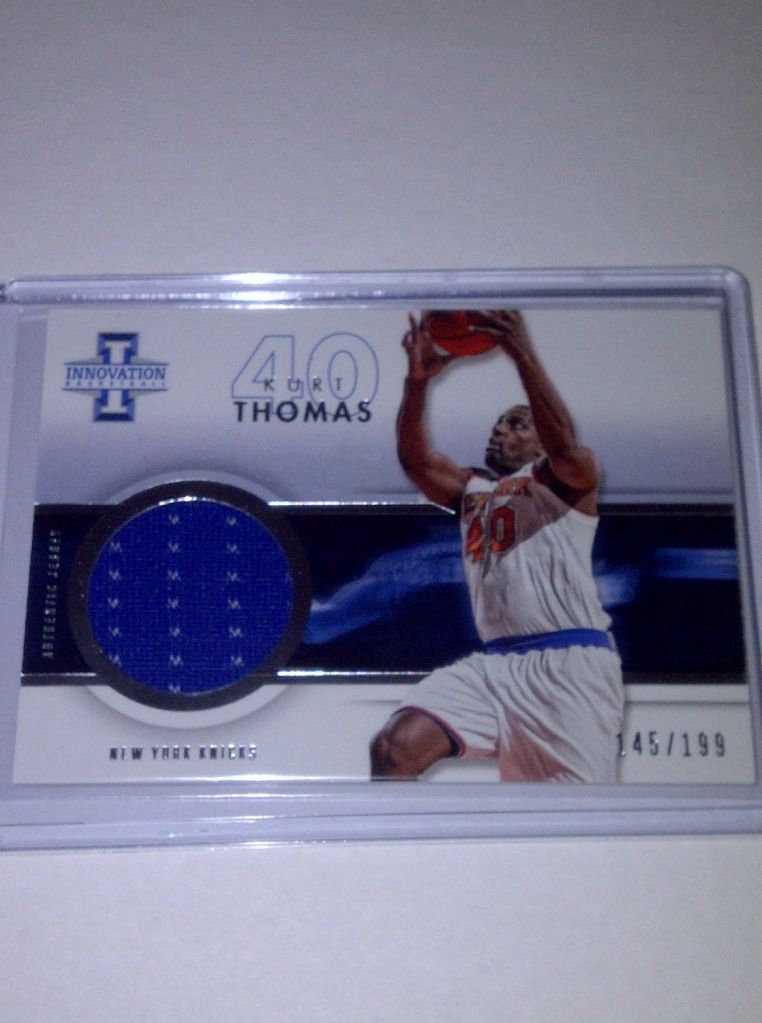 13'14 Panini's Crusade "Quest Memorabilia" #28/99 (Kiki doesn't have a whole lot of Knicks cards. Happy with this find/add.)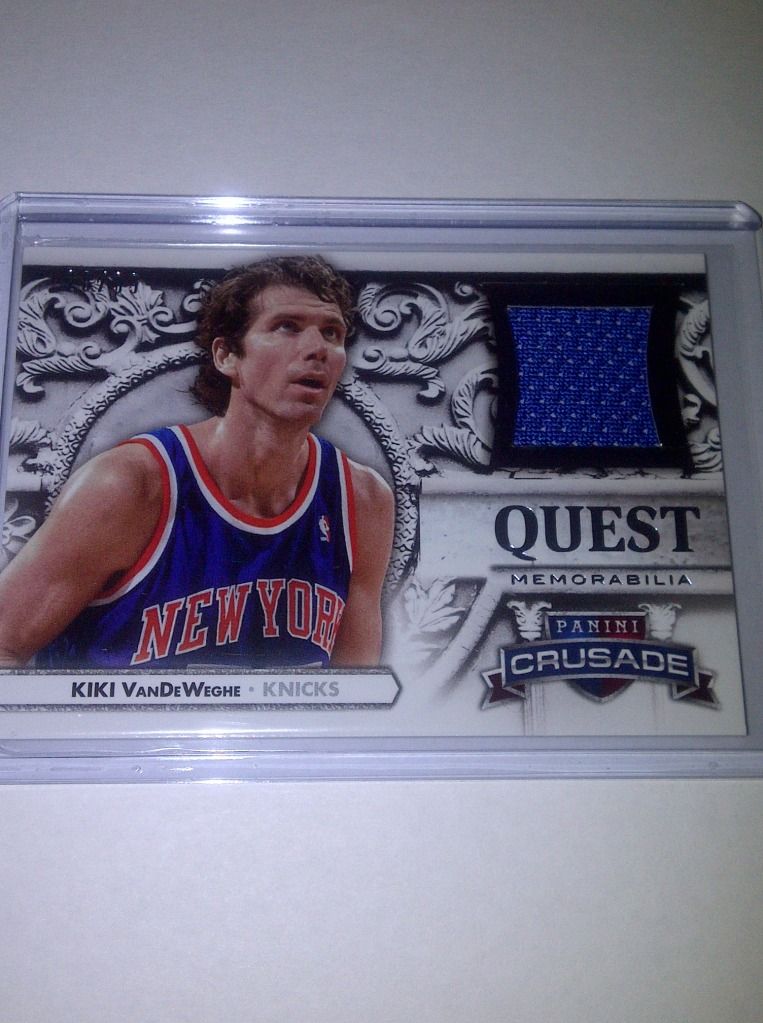 13'14 Panini Timeless Treasures Rasheed Wallace "Every Player Every Game" Jersey Card #11/49 (Sheed is one of my all-time favorite players. I can't believe he played for the Knicks one season. A dream come true to add any Knicks card of him. If Panini get's him to sign and make a Knicks auto...I may just blow a gasket.)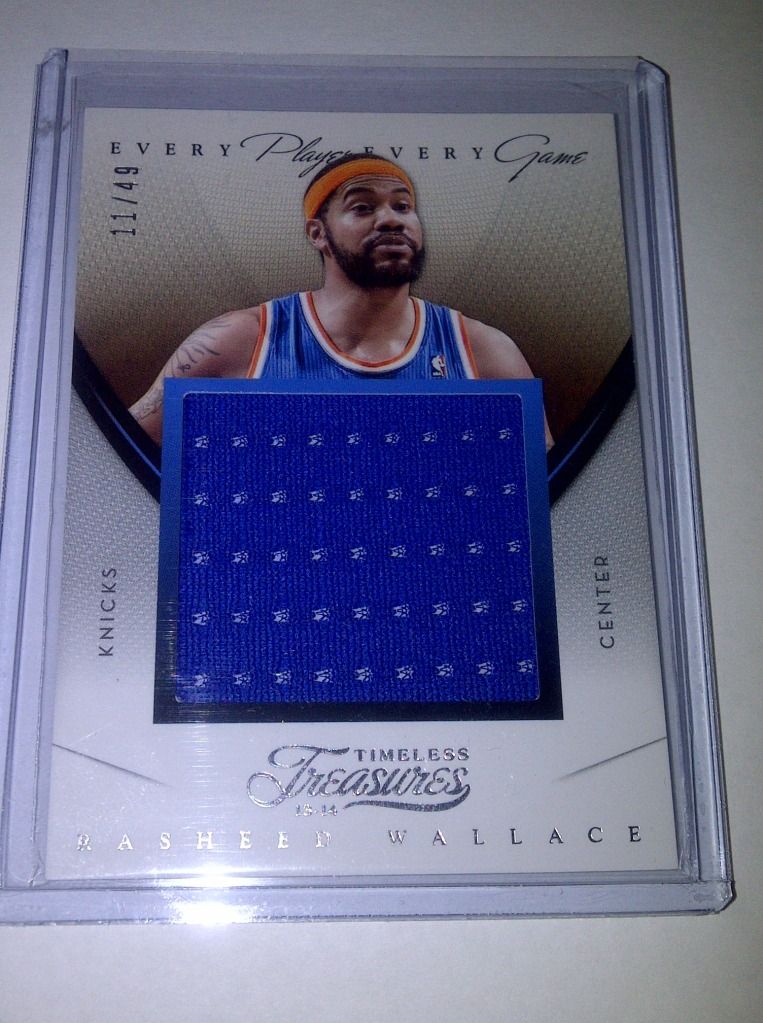 Now for a Dual Autograph Card:
07'08 Exquisite Bob McAdoo and Walt Frazier "Dual Enshrinements" Auto #7/10 (This card was actually a replacement for redemption cards that UD never sent me. Anything Knicks for McAdoo is rare, verrrrrrry happy to add this to the collection. On-card autos, love the design and it's Exquisite.)
Onto some Autograph Cards:
14'15 Panini Totally Certified (dude) "Present Potential" Prizm #14/25 (Oh yeah! My first Quincy Acy auto for the Knicks PC. It's a portrait card too! Love the design, only wished it wasn't a dreaded sticker autograph. I wonder if he'll be a Knick next season. He's not a bad energy guy to come off the bench but the same can be said for Lance Thomas and Lou Amundson and they can't bring all of them back.)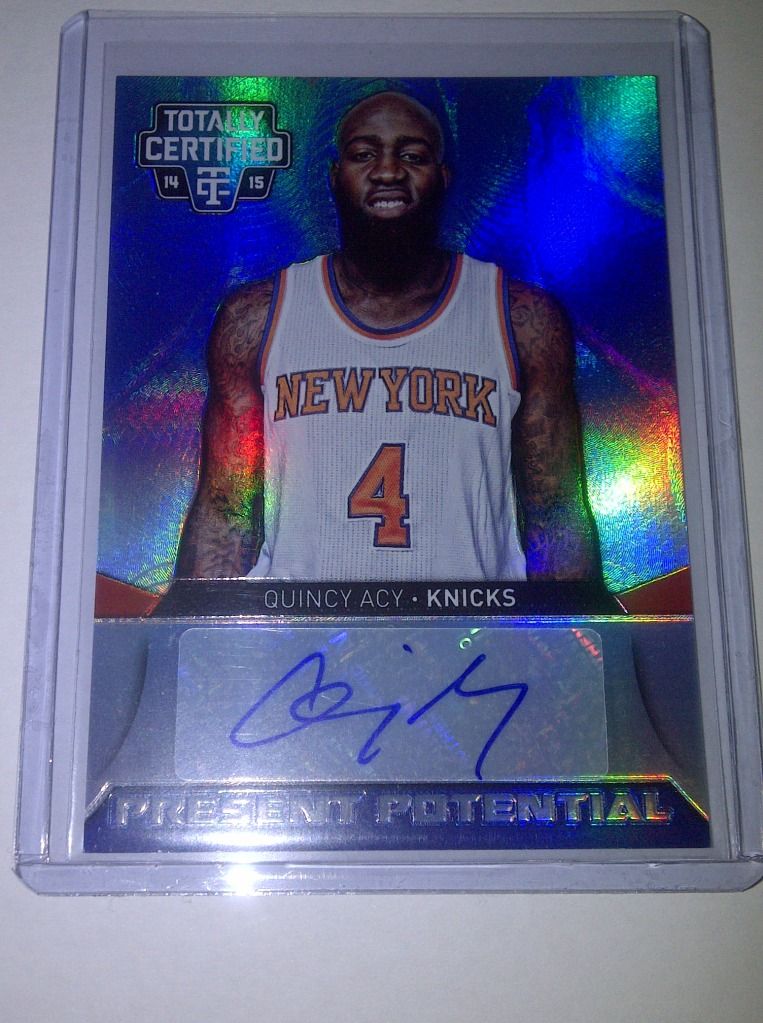 13'14 Panini National Treasures "Game Changers" Auto #29/60 (This isn't my first Melo Knicks auto per-say but it's the first I've shown in this thread, yeah that's it. On-card auto, Melo's in his shooting form equals must add to me. It's great he has a nice signature, full name too.)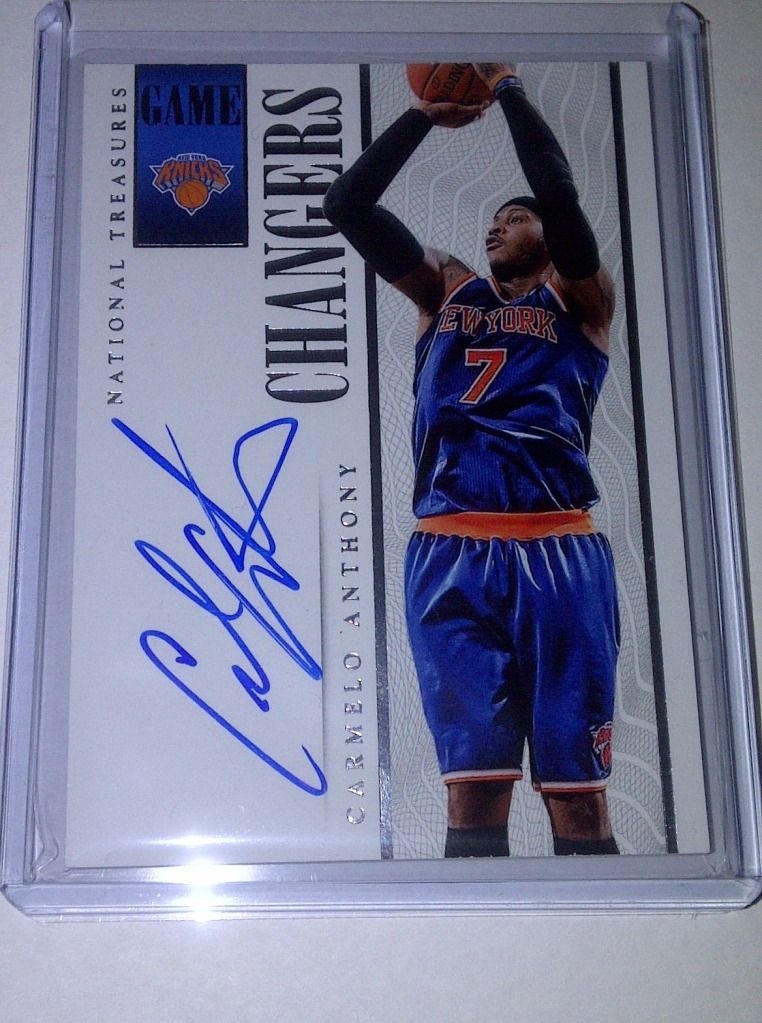 13'14 Panini Flaw[ed]less "Greats" Uncirculated Auto Dual Patch Red Parallel #11/15 (I wonder if I were to remove the part where Melo signed if there would be more patch under there?)
and here's a closer pic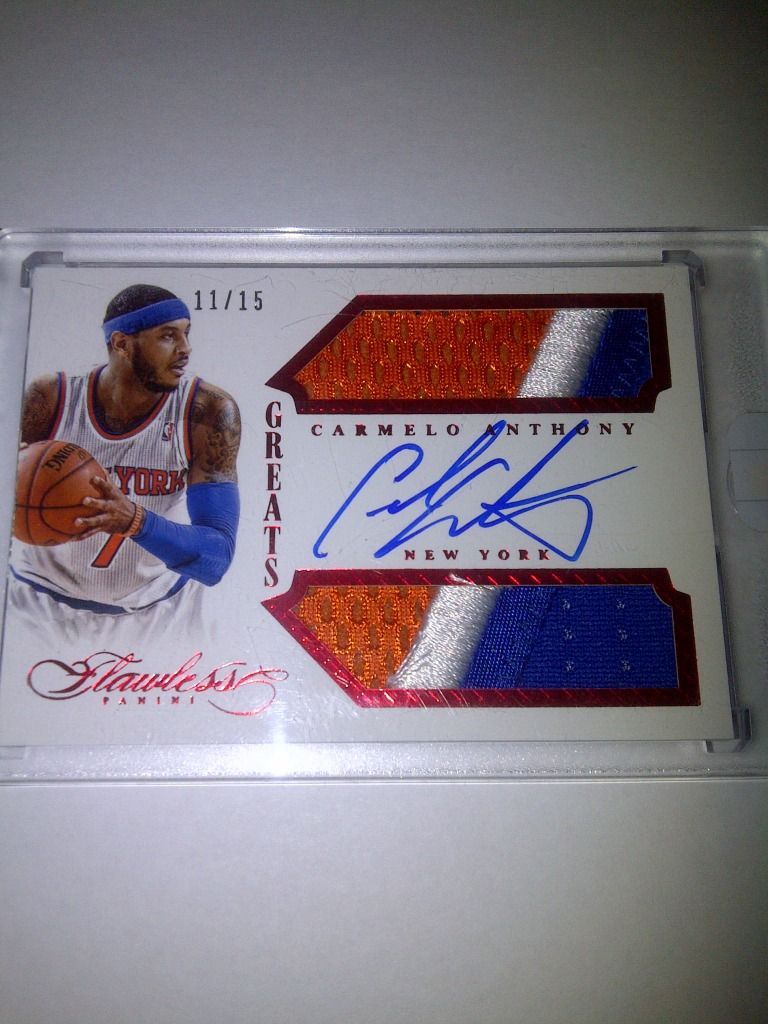 13'14 Panini Immaculate Collection Auto Patch #8/75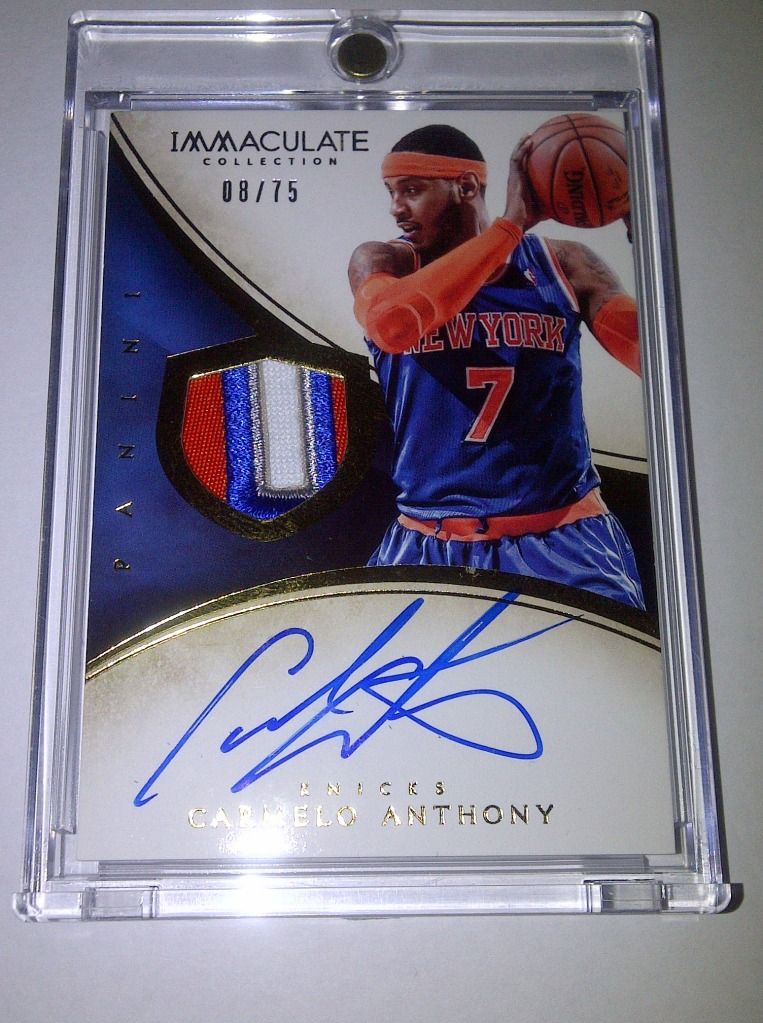 14'15 Panini Threads "View" Auto (I was surprised when Phil waived him mid-season. I think it was to save money or something. This might be his lone Knicks auto, verrrrrry happy to add it. On-card too!)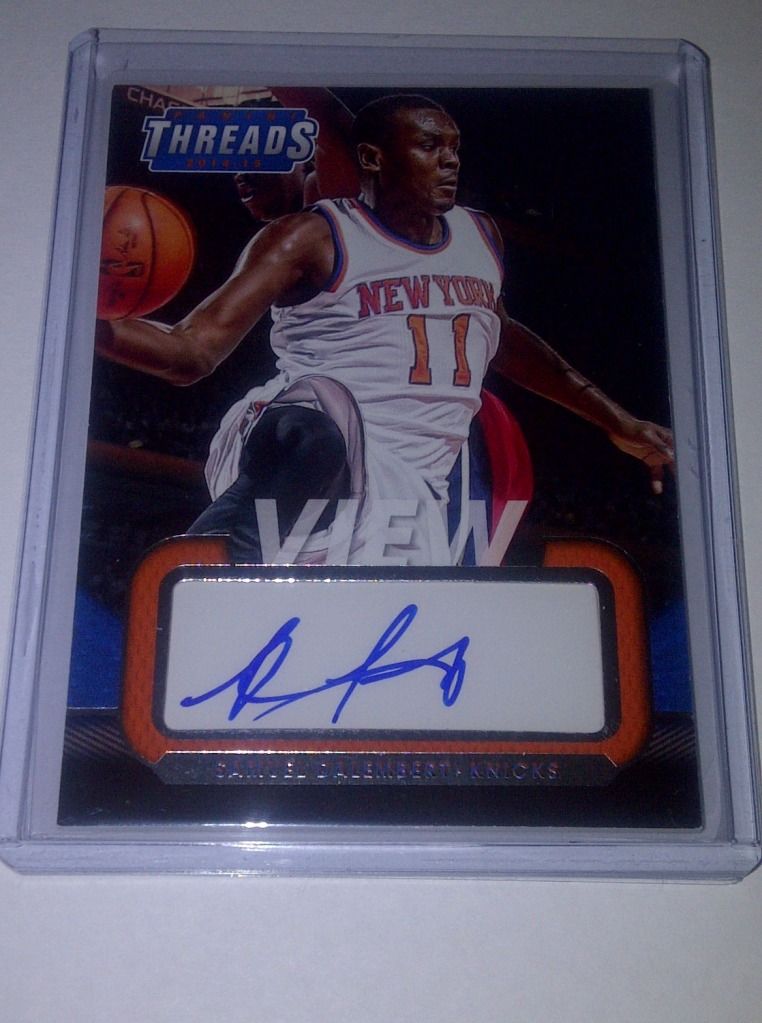 14'15 Panini Immaculate Catastrophe RPA Gold Parallel #2/10 (Can't wait to see what this kid does in his second year. His signature sucks though, IMO)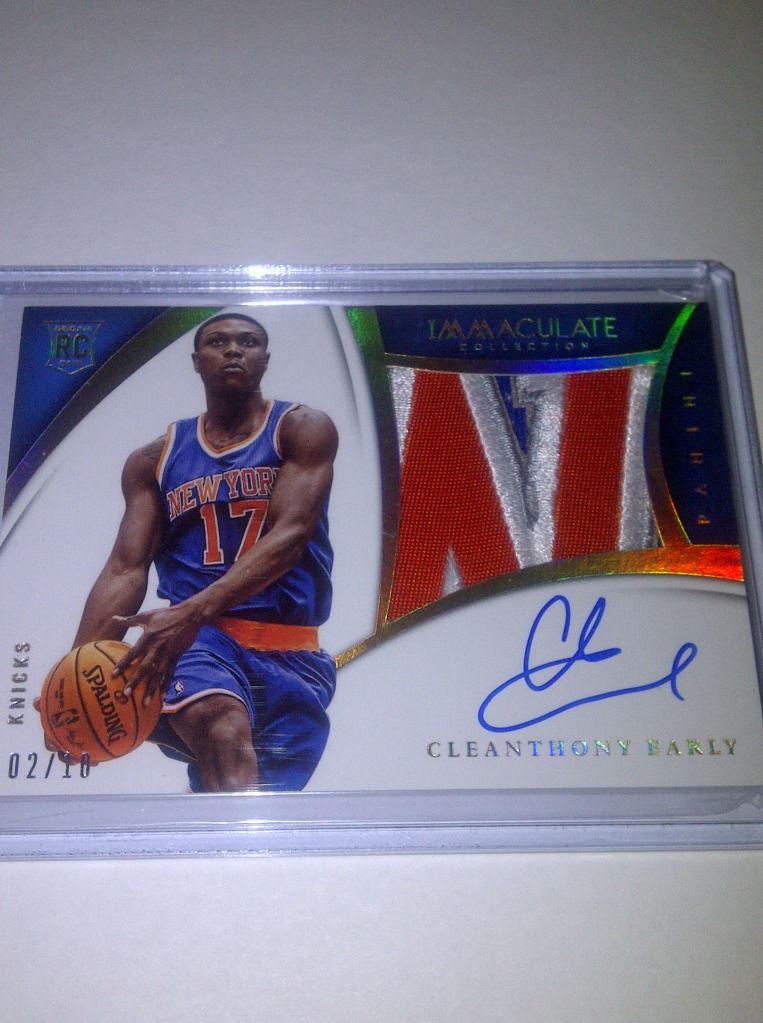 12'13 Panini Contenders "Substantial Signatures" Auto/Jersey #1/49 (I really love the design of these cards, good job Panini. I don't mind the sticker auto.)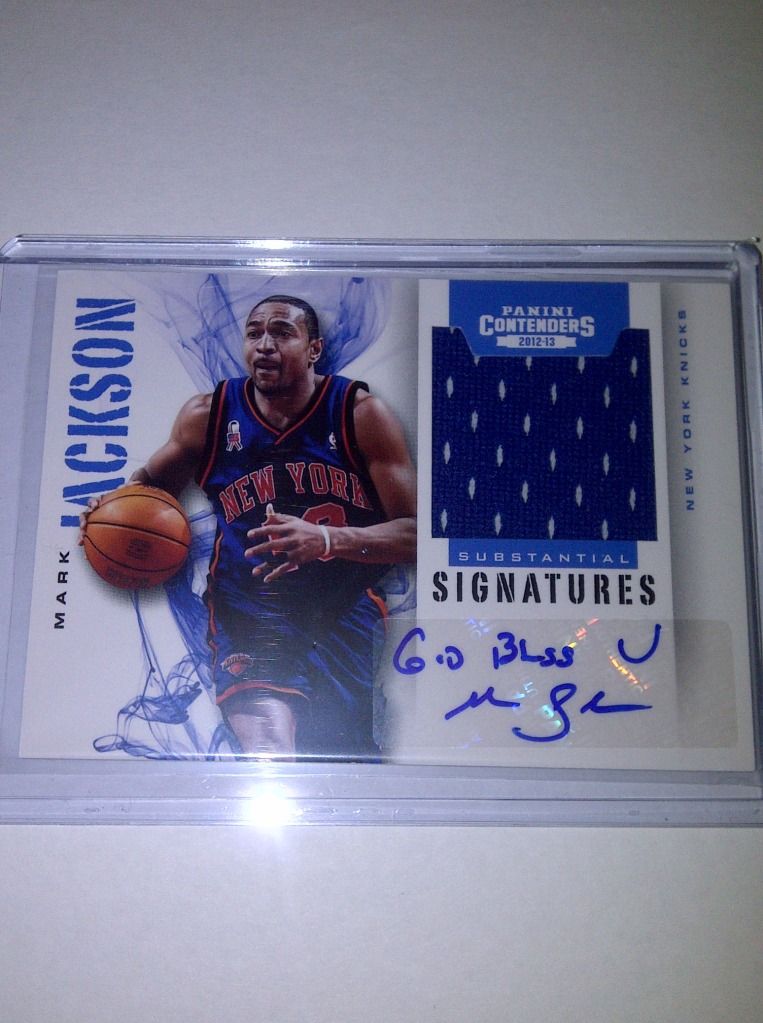 97'98 Fleer Skybox Autographics Larry Johnson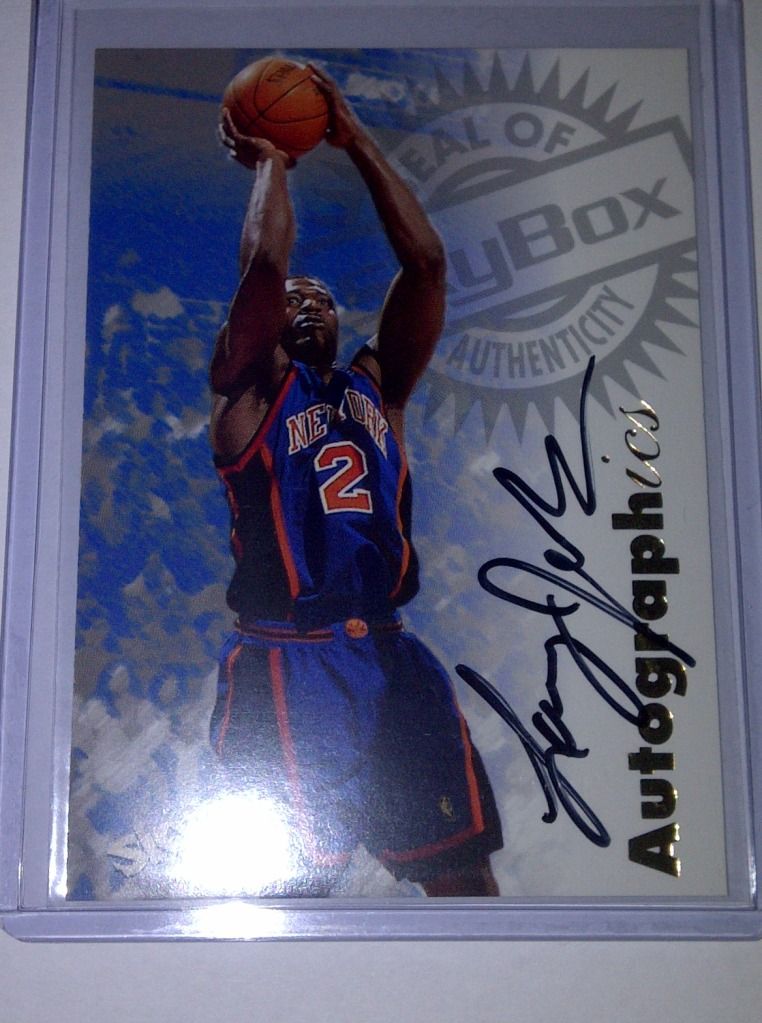 12'13 Panini Timeless Treasures "Timeless Signatures" #164/199 (Check that rare Knicks uniform from the 90s...it made me pickup this card and I love LJ.)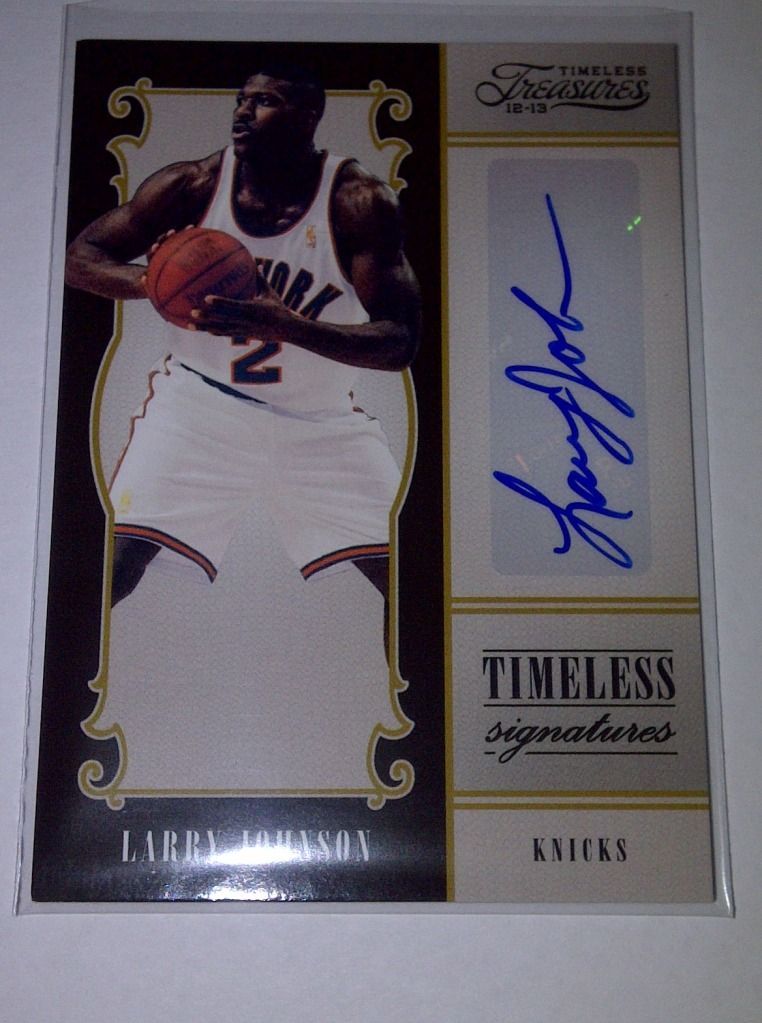 12'13 Panini Gold Standard "Mother Lode" #29/49 (My first Jason Kidd Knicks auto! It's too bad his tenture only lasted for one season but at least I got to watch him play as a Knick for one season. Had he played out his contract this would've been his final season of it, I think.)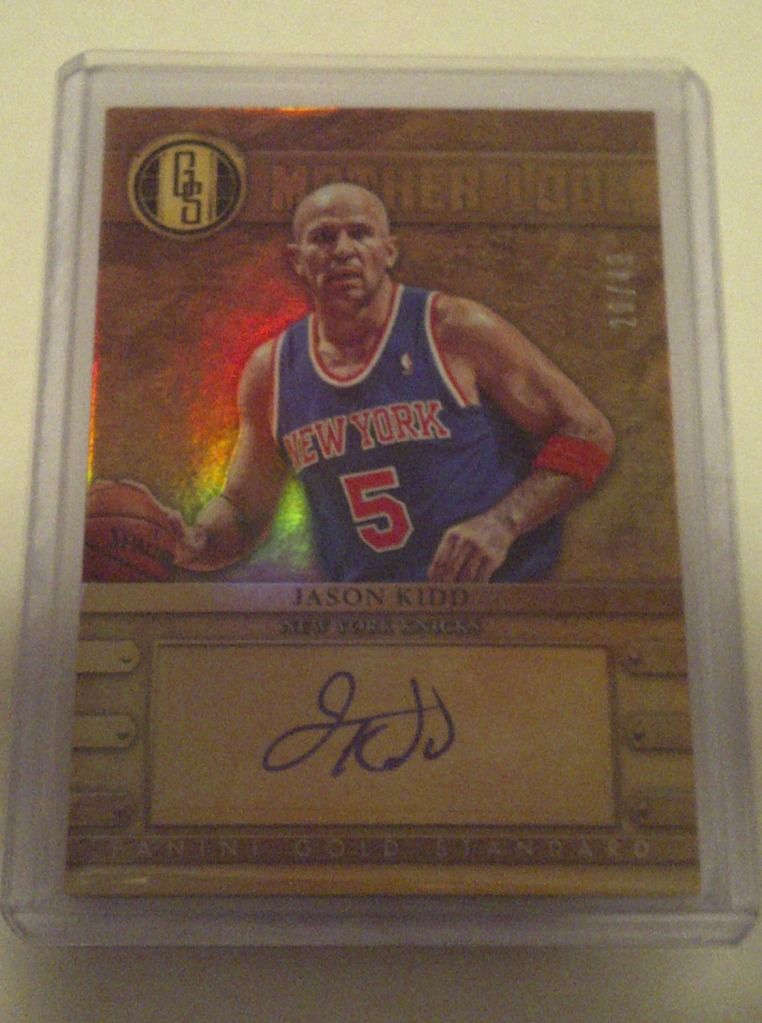 12'13 Panini Donruss Elite Jason Kidd and Darren Collison "Passing the Torch" Dual Auto #20/25 (My 2nd Kidd Knicks auto here. I always thought Collison looked Guyanese. His parents are and they both were in the Olympics as track stars amazingly.)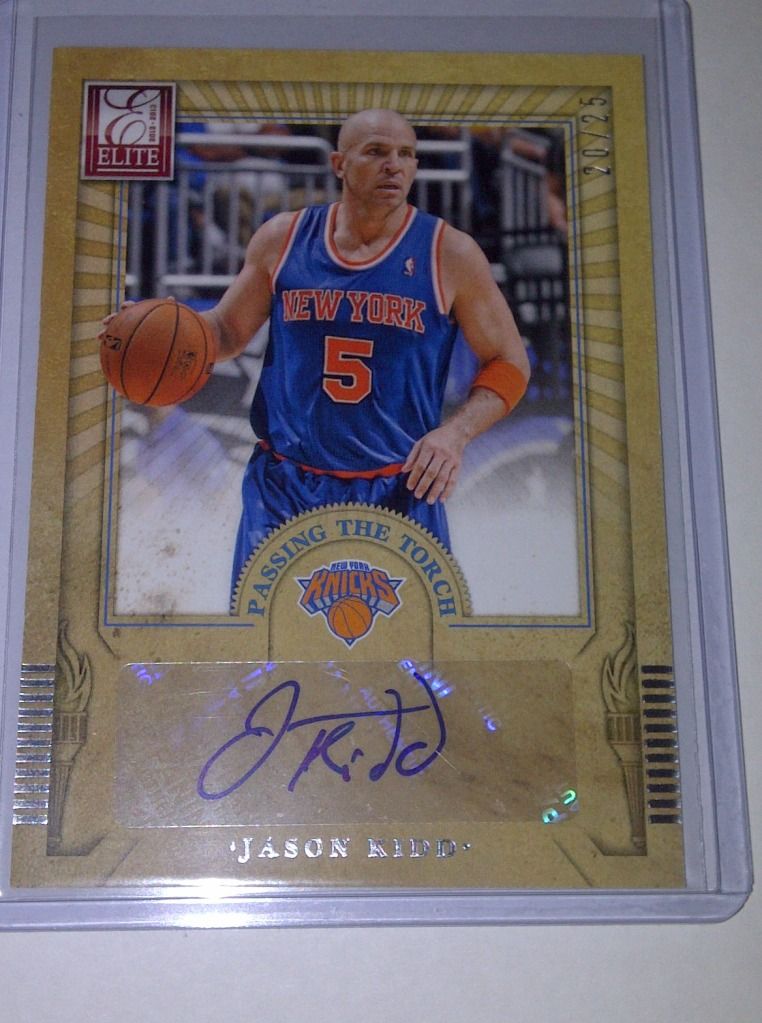 (back, Collison)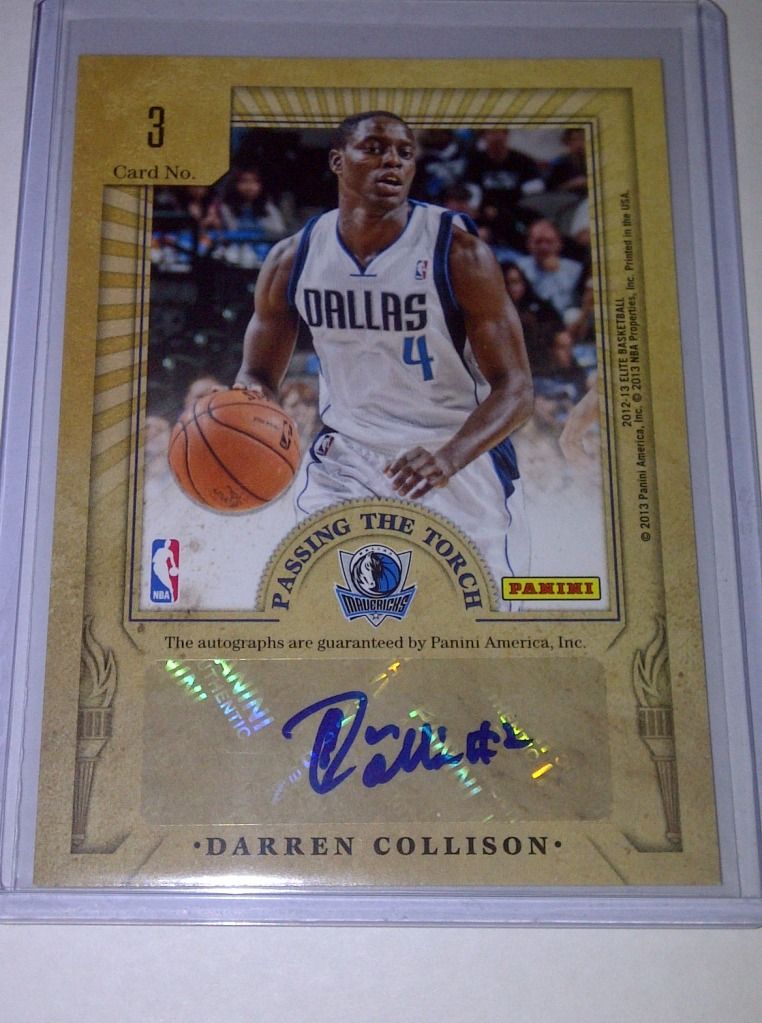 13'14 Panini Timeless Treasures "Validating Marks" Red Parallel #34/99 (I wanna say this is my first K-Mart Knicks auto. Boy, did I hate this guy when he was a Net.)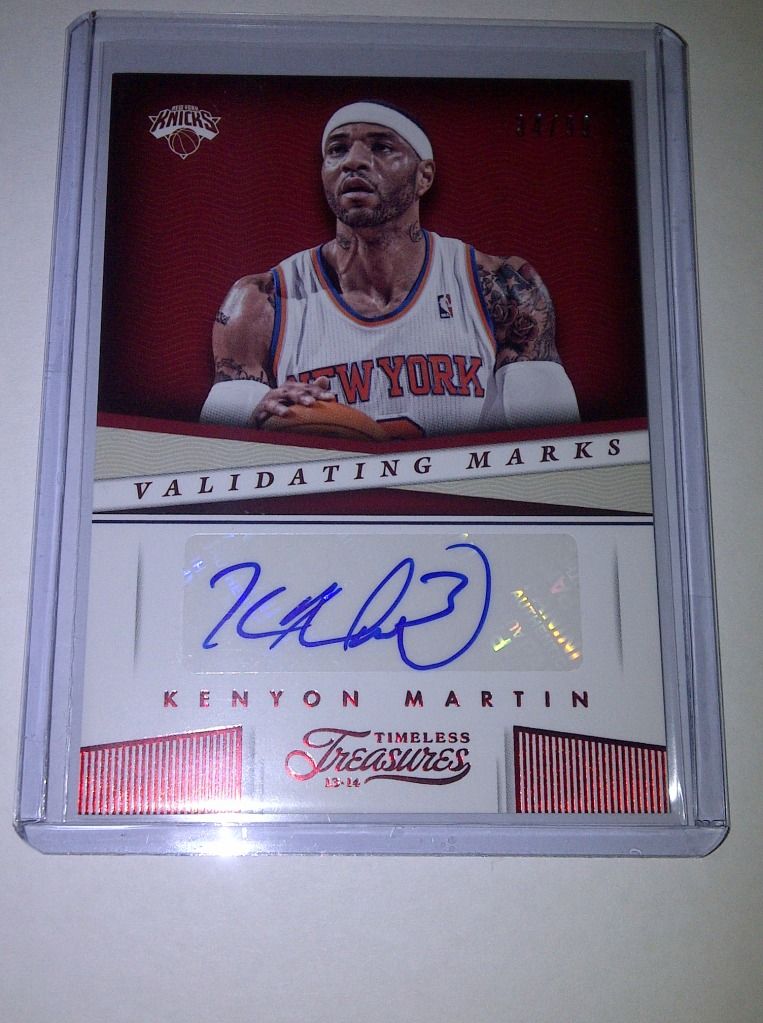 13'14 Panini Prizm Dean Meminger Auto (My first Knick auto of Meminger, rest in peace.)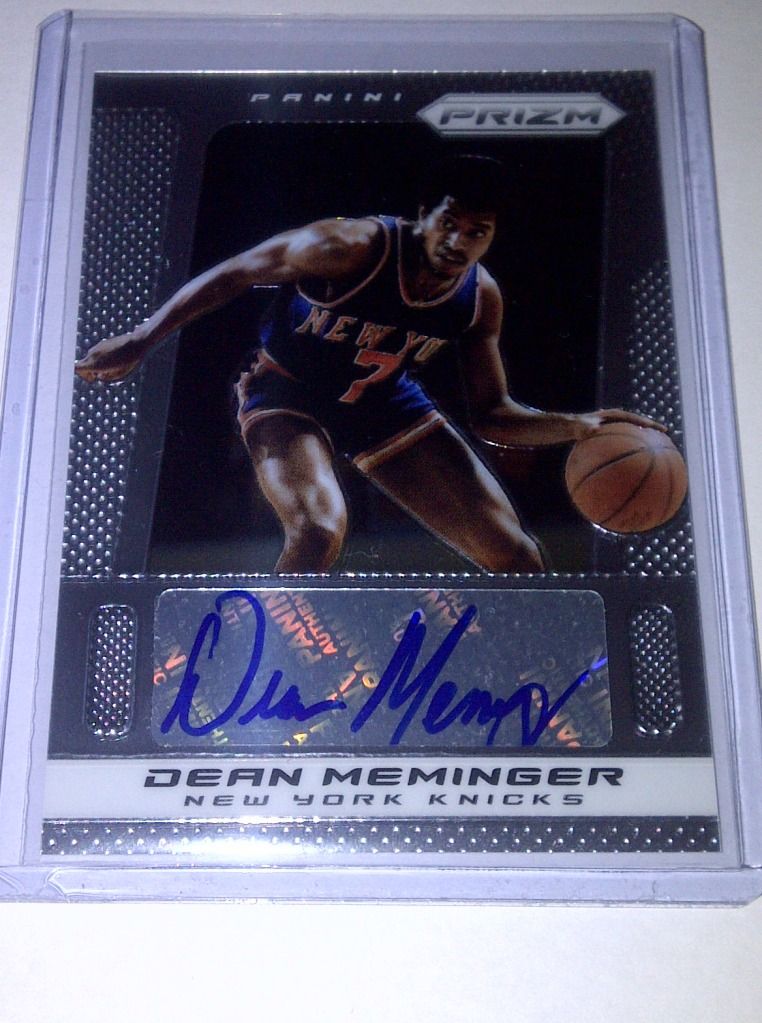 13'14 Panini Preferred Blue Parallel #9/20 (It took a while to finally land the blue parallel. He doesn't have a whole lot of Knicks autos. This might be my 3rd or 4th though. On-card signature!)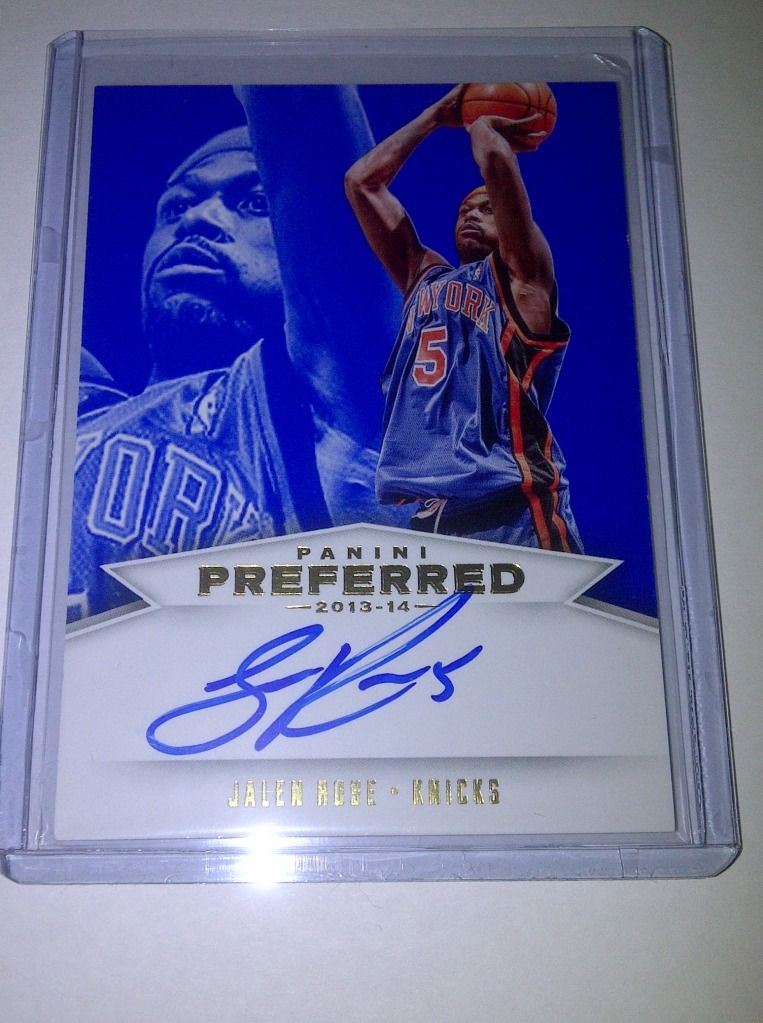 13'14 Panini Immaculate Collection "Premium Patches" #8/25 (I really wished Zenmaster hadn't of traded Shump but I guess this was the only way to rid ourselves of JR. I'm really going to miss Shump. Why is it that we don't keep our drafted players? Why don't we sign them to contract extensions??? Shump always played hard, hustled and plays solid D. Not a lot of guy's like that around yet we trade him....*rolls eyes*)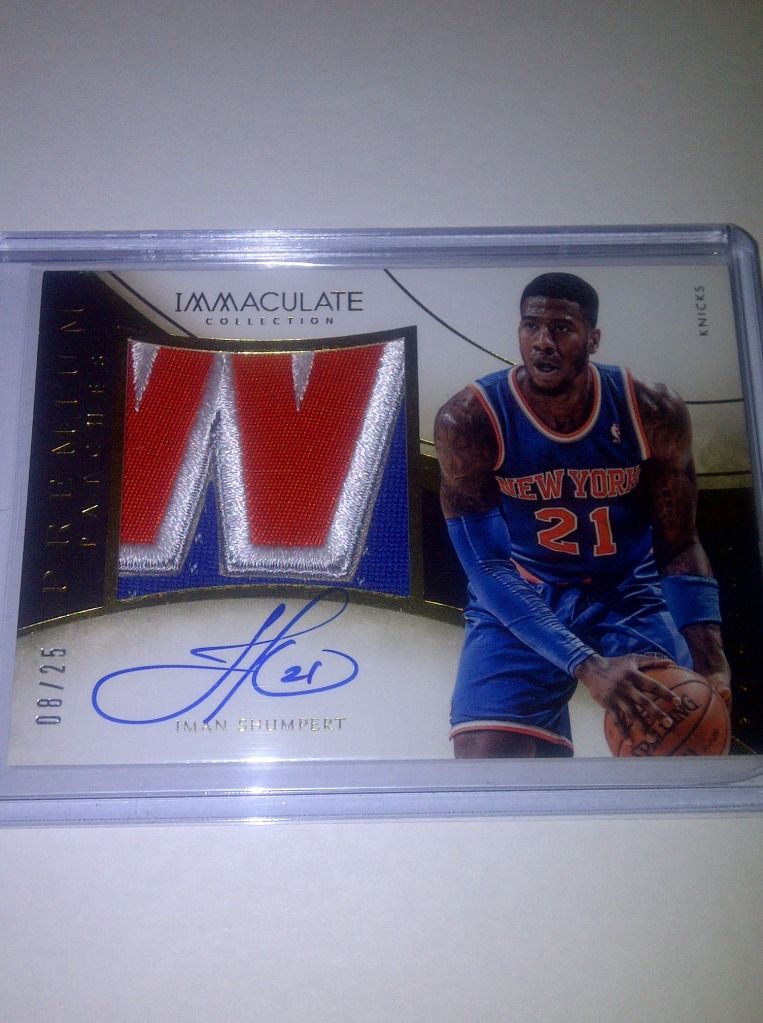 14'15 Panini Gold Standard Latrell Sprewell "Superscribe" Auto #9/50 (A thousand thank you's to Panini for getting Spree to sign, making a Knick auto of him and having it be on-card. I never thought the day would come that I'd add a Latrell Sprewell Knicks autograph to my Knicks PC. Hey Panini, how about Derek Harper, Sheed and Chris Childs now?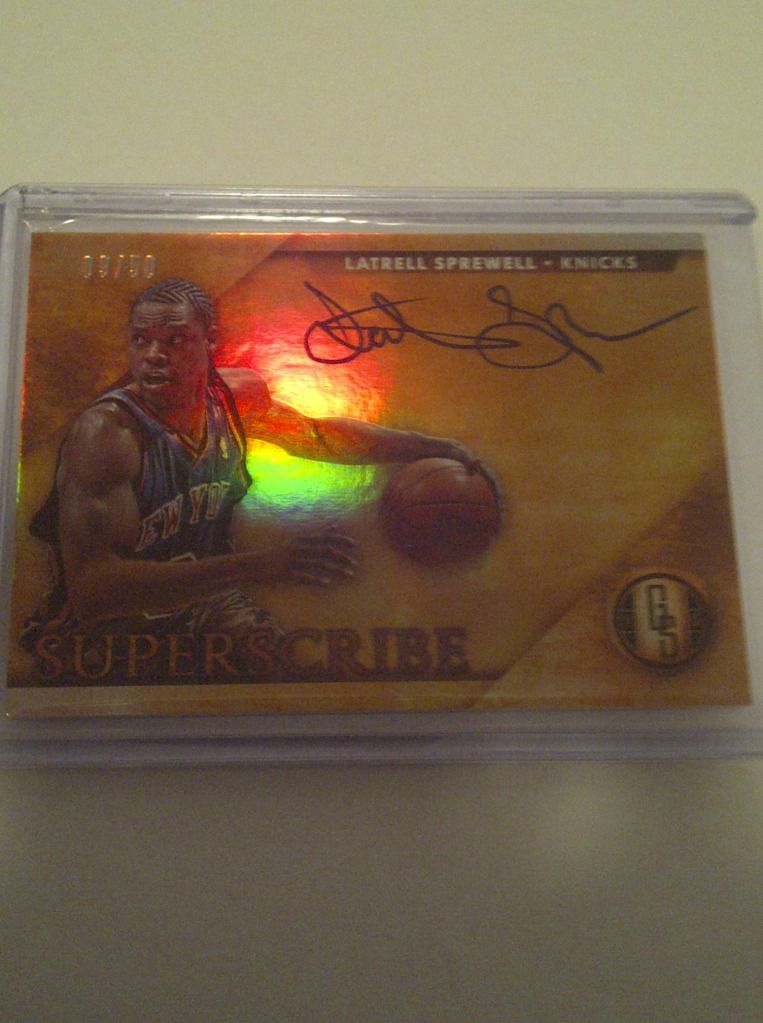 ---
Inconstancy is my very essence says the wheel Rise up on my spokes if ya like but dnt complain wen ya cast back down into the depths Good times pass away but then so do the bad Mutability is our tragedy but its also our hope The worst of times like the best are always passin away http://www.photobucket.com/vgqv
11-21-2015, 10:20 PM
vgqv
Member


Posts: 1,021
Joined: Dec 2004
RE: My New York Knicks PC!!
Knicks just won their 4th straight (8-6 overall) tonight in the back-to-back @Houston. Melo was in foul trouble for most of the game but Coach Fish was smart to wait it out and kept subbing Melo in for offense, out for defense. Someone had to step up and at moments Gallo, Calde and A Double did...

But our lottery pick, Kristaps Porzingis, stepped up once again in a big way. KP had an efficient 24pts (8/12 fg, 2/3 3-pt fg), 14rebs, 7blks, 2dimes. The 7 blocks tied a Knicks record for most blks in a game by a rookie since Lonnie Shelton did it in the sixties.

I've held my reservations but this young Latvian kid is beginning to win me over. I keep waiting for something bad to happen. Maybe it's because we've been so "turrable" for so long? Maybe because the only other Latvian NBA player I know of was Andris Biedrins? Maybe because our draft picks never pan out? And if they do pan out, we get rid of them.

The tail end of KPs 7 blocks came in the 4th and were so crucial. Infact his last 2 blocks were on Harden. He is simply amazing to watch offensively. I'm in awe when he squares up to shoot a trey bomb. It's as if I'm watching Shawn Bradley shooting threes, doing dream shakes in the post. The kid is so tall. He knows exactly what he wants to do out there. He can shoot from the perimeter, shoot the 3, MAKE HIS FREE THROWS, work in the post. And he'll get even better in the post as time passes and his body matures. He doesn't simply take what the defense gives him sometimes. The sky is the limit for "KP" Kristaps Porzingis!
---
Inconstancy is my very essence says the wheel Rise up on my spokes if ya like but dnt complain wen ya cast back down into the depths Good times pass away but then so do the bad Mutability is our tragedy but its also our hope The worst of times like the best are always passin away http://www.photobucket.com/vgqv
User(s) browsing this thread: