Share Thread:
08-25-2008, 10:44 AM
Pay Pal opinions
Recently, I bought some items on the Bay listed as mint condition from the United Kingdom. When I received them in the mail, none of the cards were in mint condition with 2 being in poor condition. I emailed the seller and got no response. Then I filed a claim with paypal and the seller responds to send the items back at my cost and he will then refund me my money. The items were only $10.50 so shipping back to the UK with resgistered mail I am sure will be between $10-$15. So it appears I lose as a buyer even with the protection from PayPal. Would anyone just keep the items even though they are not mint as advertised? I am not sure what to do.
08-25-2008, 02:27 PM
Topps Is King


Unregistered

Pay Pal opinions
Probably the best thing you can do would be to drop a negative.  This will always be a problem with the system.
08-25-2008, 06:34 PM
Pay Pal opinions
thanks for your input. anyone else??
08-25-2008, 07:52 PM
clint m
New Member


Posts: 21
Joined: Mar 2004
Pay Pal opinions
Where is the damage on the cards?

---
I collect anything Greg Maddux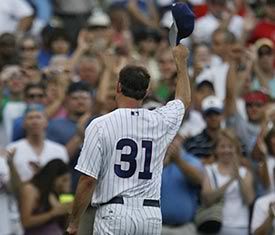 08-25-2008, 08:17 PM
Pay Pal opinions
the damage wasnt from shipping. all the cards were handled a few times. it reminded me of when i was a kid and flipped through my cards a couple hundred times. the one card has a coating similar to topps finest and is was peeling on one whole side of the card. far from mint i would say.
08-26-2008, 01:18 PM
Pay Pal opinions
bump to see if there any new opinions
User(s) browsing this thread: 1 Guest(s)