Share Thread:
08-05-2008, 04:58 AM
I feel...
Quote:I agree.

Pay money to trade?  Thats just crazy.
Site gets a "cut" after trade complete?  Wow, just wow.
Gotta be 18 to trade?  This is a hobby not a business venture.
Site layout?  Just confusing to be sure.

Maybe Ill get used to it, we'll see.  I do appreciate the attempts to make the site better however.

hey, trades are free right now....should test it out...it's pretty cool
08-05-2008, 05:06 AM
I feel...
What happened to the box break boards?
08-05-2008, 05:15 AM
cwells46
New Member


Posts: 26
Joined: Mar 2007
I feel...
Wow, what a birthday present....A New Unimproved and trashed beckett lol
---
http://s138.photobucket.com/albums/q248/cwells52/
08-05-2008, 05:19 AM
I feel...
This is horrible!

Site blows and I can not find my New threads when I post a topic....
08-05-2008, 05:25 AM
I feel...
huh man what the hell
08-05-2008, 05:26 AM
I feel...
I don't know if I like it or not, it will take time.
08-05-2008, 05:29 AM
I feel...
So far I'm not fond of the changes and I'm in agreement on the difficulties navigating through the site.
08-05-2008, 05:34 AM
I feel...
This is crap! Its harder to find the trade boards than it is to get a divorce! Thanks Beckett for nothing!
---


I
collect Jason Hill (349/830 = 42.9%), 217 Auto's. 207 Jerseys & Patches, 21 1/1'
s....

My Bucket: http://s264.photobucket.com/albums/ii171/thebillyt/
08-05-2008, 05:37 AM
I feel...
I give the boards two weeks before there is less than 1 post per day.
08-05-2008, 05:40 AM
I feel...
Yeah, I'm not really afraid of change or whatever, but this is probably the single most awkward site navigation I've seen that didn't involve links accidentally opening in the wrong frame.

---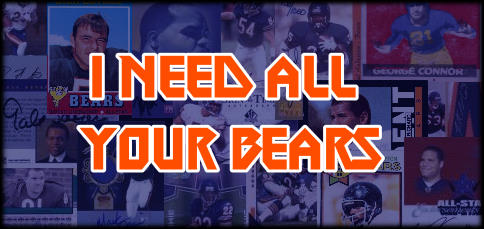 Taking in all the random Chicago Bears scrubs that you don't want since 2007.
The PC.
User(s) browsing this thread: