Share Thread:
All-Time Favorite Product Offering??
01-21-2016, 05:39 PM
(This post was last modified: 01-21-2016 05:40 PM by hemipowered.)
All-Time Favorite Product Offering??
One thing I like is when Topps does a retro Rookie Auto card of a player. I picked up this Singletary card recently - as an example. Reprint his RC with certified auto. In some cases these are really rare like the Mike Webster auto card - too bad when they don't use the rookie card. I also like the fan favorites - reprint autos. These can usually be found at reasonable prices - considering they are "on-card" autos I think they are a pretty good value.

As far as fairly recent issues - I think some of the UD Black auto cards are really nice, but didn't get a lot of positive collector response it seemed. I has a Jerry Rice #'d to 5 I regret selling - but it was part of a big collection and a big selling point for me.

I also like some of the exquisite stuff, although I just bought the cards individually - saw very few box breaks that worked out.

Been getting back into collecting UW - Badger player cards (I'm a WI native and big fan). The inscription autos are my favorite - just picked up Chris Borland #'d to 25 for $15 shipping included and a Melvin Gordon #'d to 25 for $20.16 with ship.
01-21-2016, 09:28 PM
jephthah1
Sr. Member


Posts: 463
Joined: Nov 2002
RE: All-Time Favorite Product Offering??
Anytime I see the question two sets immediately come to mind>
1) 2000 Finest Moments Refractors Autograph. This is easily at the top of my list for favorite card offering ever. These cards are amazing in person--full bleed pics and the auto is on card!
2) 2001 Quantum Leaf All-Millennium Marks Autographs. Another beautiful set. If you are going to design a card that incorporates a little bit of everything without being gawdy... this is how you do it.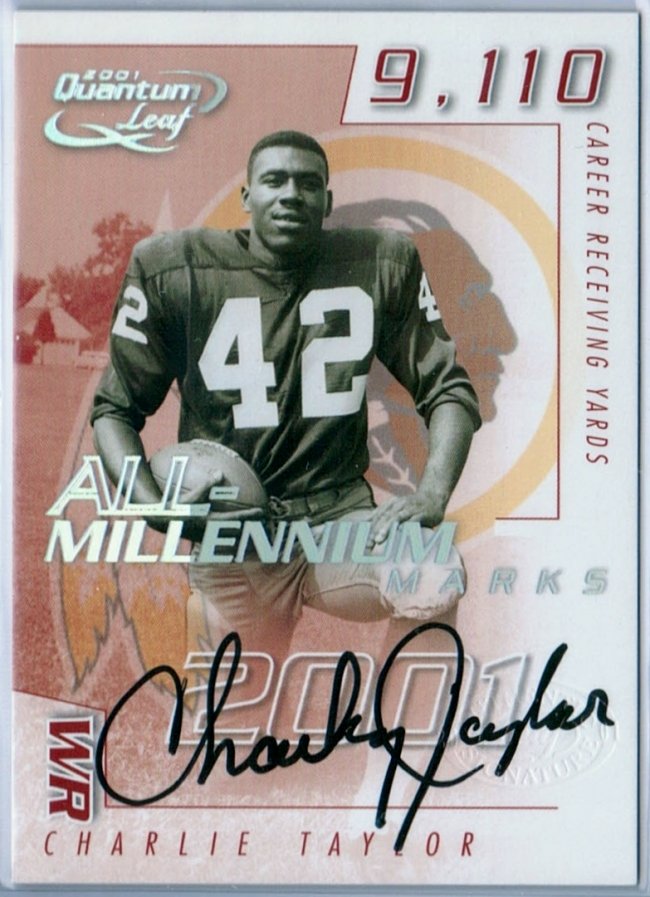 ---
"A collection isn't a collection unless you have some of everything." ~kollectornet


01-21-2016, 10:02 PM
RE: All-Time Favorite Product Offering??
Those are great picks (and pics). Just looked those up on ebay - the Finest Moments fetch some pretty strong prices- at least on HOF players. Same for the QL Mil - that particular card you show of Charlie Taylor is a thing of beauty.
User(s) browsing this thread: 1 Guest(s)