Share Thread:
Do I have a 1/1 Michael Jordan card?
11-18-2014, 08:26 PM
RE: Do I have a 1/1 Michael Jordan card?
I'm sure someone could do some digging and find that the holder of the card is probably involved with some of the shady Jordan manipulators. Just a gut feeling.
---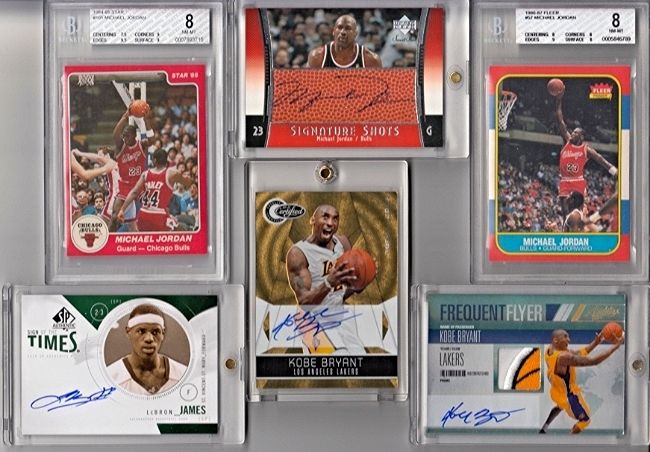 11-22-2014, 02:29 AM
RE: Do I have a 1/1 Michael Jordan card?
Trust me, I am not a Jordan manipulator, I pulled this card with this serial number from a pack and shared this thread with my neigbor and my local card shop owner who both witnessed the pull back when I was a freshman in high school, my card is 100% legit. However I am shocked to once again see another original card I pulled copied again with the same exact serial number and in this case, weirdly enough same short cutting of the card. This is so unreal and the reason why I left the hibby after I went to college.

I bought a gorgeous 1998 SPx Finite Home Run Hysteria Ken Griffey #HR1 serial 18/62 at a card shop only to find the same card with same sn in another collectors possession as well, someone had a fake. Then when I was on summer break and on vacation in Arizona, I went to another card show and purchased a beautiful glittery 1997 Flair Showcase Legacy Collection Row 0 Cal Ripken sn 50/100 and found out a few months later that once again, another guy had the same card with same sn. I was disgusted and ad didnt know if I had fakes or real highend inserts. I was spending hundreds and as a high school student with 2 jobs to support my card habit, I couldnt take it any longer and put money into stocks instead of cards...

Now that I own 2 self sufficient businesses, I wanted to get back into the hobby that I once loved so much and then this happens again.. As for your advice, I have written it off as damaged card and will buy the next one I see on ebay, and since I have almost every 90s insert of MJ, I will now be chasing MJ autos, for the next year, my plans are to pick up 1 per week...Thank you everyone for your input and I will be starting to post more often, and if you live wherr it is cold, make sure you buy your loved ones a remote car starter for Christmas, that is what I do for a living.
11-22-2014, 08:01 AM
zinger82
New Member


Posts: 96
Joined: Dec 2003
RE: Do I have a 1/1 Michael Jordan card?
Thank you for your response lowsyplayer, but just so you know as you start to collect more inserts/autos it is your responsibility to educate yourself as it is your money. For instance, there is a webpage dedicated to the 97-98 finest card you have posted detailing the things to look for comparing the sheet-cut with added serial number versus pack pulled cards shown below. So whether it is the 1996 spx auto or the 97-98 big men in court ZPEAT you have to know what is real and fake, not Beckett, PSA or anyone else. Good luck with your collecting goals.
http://www.michaeljordanmarket.com/2013/...-289-scam/
---
12-10-2014, 12:15 AM
RE: Do I have a 1/1 Michael Jordan card?
Any how, I see 2 of these on ebay and I will be bidding on one of them and if I sleep through the auction or if I miss it, I will just pay the $550 for the buy it now card, no worries and 100% I know that those cards are real because they are graded.
12-10-2014, 12:46 PM
evo89x
New Member


Posts: 8
Joined: Mar 2011
RE: Do I have a 1/1 Michael Jordan card?
I owned that card at one time, bought it off eBay probably 2 years ago. I obtained a real version with peel that is being graded right now with peel as we speak by psa
User(s) browsing this thread: 1 Guest(s)