Share Thread:
04-24-2013, 07:12 PM
Sweet Mailday
Panini Redemption Mailday netted me this sweet Dwayne Allen Prizm numbered to 83. That's a first for me.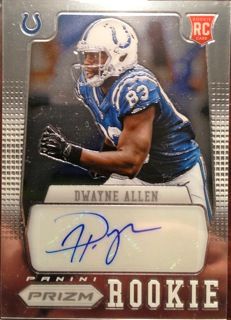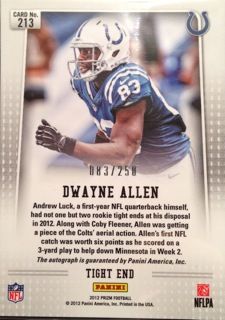 Below, I won the items on the Auction site. Only thing is, I thought I was getting the regular and variation version. Instead I got both variations. I emailed the seller about it. So who knows if the regular one ever gets swapped. The one on the right seems to have been a casualty of shipping chipped a little off the slab, but card made it out unscathed. Either way, I'm content.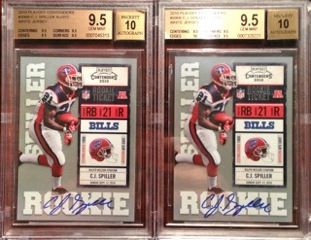 V/R
04-28-2013, 12:40 PM
Hoop8732
Jr. Member


Posts: 188
Joined: Jul 2012
RE: Sweet Mailday
That Allen is sweet! Congrats
---


PC: http://sportscardalbum.com/u/hoop8732
04-28-2013, 04:06 PM
RE: Sweet Mailday
Cool deal man
---
04-28-2013, 07:08 PM
jfrench91
Sr. Member


Posts: 3,358
Joined: Mar 2010
RE: Sweet Mailday
sweet
---

Collecting Terrell Owens, Luke Kuechly Autos, Tom Brady, Peyton Manning,2013 chrome rookie colors,Contenders autos (any year)
04-29-2013, 03:22 PM
flipsi
Member


Posts: 657
Joined: Dec 2004
RE: Sweet Mailday
Very nice!
---
04-29-2013, 07:54 PM
RE: Sweet Mailday
Thanks for the comments guys. After some back and forth email traffic with the seller, I'm just gonna keep both. One will eventually be for trade. Thanks for looking.
User(s) browsing this thread: 1 Guest(s)