Share Thread:
02-08-2013, 06:55 PM
2012-13 ITG H&P Box
3D Cards: Jordan Subban, Matt Murphy
MasterCard Memorial Cup: Bo Horvat/Keegan Lowe
Subway Super Series: Mark McNeill
Top Prospects: Derrick Pouliot
Autographs:
Memorabilia:
Everything will be added to my org. I really like the Cheveldave patch though, so it may take quite the offer to pry it from me.
---
My Site: http://www.edthecollector.com
Twitter: http://www.twitter.com/edthecollector
02-09-2013, 08:07 AM
mq13
Member


Posts: 2,111
Joined: Sep 1999
RE: 2012-13 ITG H&P Box
Very nice patch!
---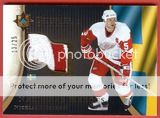 Collecting; Flyers-Red Wings-Brodeur-Cujo-Hasek-Shanahan, 04-05 Franchises Memorabilia
02-17-2013, 04:49 PM
RE: 2012-13 ITG H&P Box
Sick goalie patch
---


STAN MIKITA CUP FOUNDATIONS
MATT SMABY CUP PRINTING PLATES

BUCKET LINK
User(s) browsing this thread: 1 Guest(s)