Share Thread:
01-26-2013, 09:39 PM
mq13
Member


Posts: 2,207
Joined: Sep 1999
Weekend Show
This is my first show of the year and I have not been to one since the Expo in November. I will post the traders I got in the Trading section.
So on with the show!!!
First up is my Red Wings pickups.
Next PC pickups Nash, Flyers & ITG
And two for my Broad Street Boys
Comments welcomed and thanks for looking.
---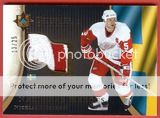 Collecting; Flyers-Red Wings-Brodeur-Cujo-Hasek-Shanahan, 04-05 Franchises Memorabilia
01-27-2013, 01:07 AM
swjrp10
Sr. Member


Posts: 6,170
Joined: Jan 2006
RE: Weekend Show
Dude...i cant even talk to you ll
---



11-12 UD Hockey w/ YGs: 438/500 (88%)



DO NOT TRADE LIST: chargers2427, mrmagnum75
01-27-2013, 10:52 AM
bonnev659
Sr. Member


Posts: 9,103
Joined: May 1997
RE: Weekend Show
great pick ups!!!

loving the K train auto the best
---
using tracking numbers (all US and some Can)
User(s) browsing this thread: 1 Guest(s)