Share Thread:
12-04-2012, 07:14 AM
(This post was last modified: 12-04-2012 07:16 AM by Jbittman.)
Jbittman
Jr. Member


Posts: 370
Joined: Nov 2012
Limited Cuts Cut Auto
Just got a Limited Cuts Judy Johnson Cut Auto 16/19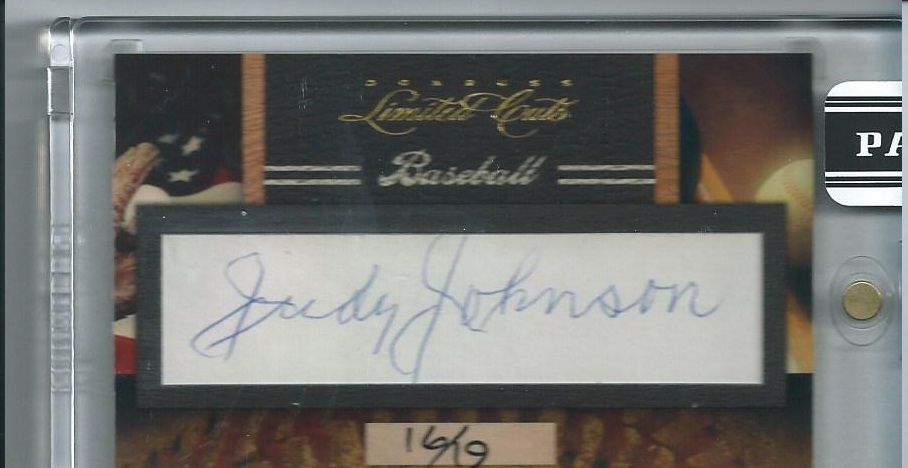 ---
Sorry Guys accidentally put this in Basketball.
12-05-2012, 08:36 AM
RE: Limited Cuts Cut Auto
not a baseball card fan, but am a baseball fan... cool card, wish they would put his picture on the card, not just a cut auto & some background art...

it was a rdemption? I see the panini sticker at the top of the holder...
---
NEED: SPA 08-09 "CITY NAME LETTERS" G, E, S 1/1 & /3 *ALL LAKAERS
NEED: ELITE BLACK BOX LAKERS AUTOS (KAREEM/10 & BAYLOR/24)
MY BUCKETT: http://photobucket.com/jpleazme
*United States Navy*
12-05-2012, 11:01 AM
esa0315
Member


Posts: 1,393
Joined: Mar 2000
RE: Limited Cuts Cut Auto
What are you looking for? Check my organize,and see if you like anything I have for the cut auto.
---

Bucket: http://s936.photobucket.com/albums/ad208/Sal_511/
Don't trade with list:dorkypunkrockerguy,newbieredsfan
If you have less than 25 trades,I will ask you to send first.
12-06-2012, 12:50 AM
Jbittman
Jr. Member


Posts: 370
Joined: Nov 2012
RE: Limited Cuts Cut Auto
Actually it was out of a box just the way it looks right now. Was kinda excited when I saw it because I knew who he was. my LCS gave me the box as a present which I thought was awesome. Was hoping for the Elvis/Michael Jackson or Babe Ruth but I cannot complain the guy was the first black manager in the majors and batted a lifetime .350
12-07-2012, 03:21 AM
RE: Limited Cuts Cut Auto
nice card
---


STAN MIKITA CUP FOUNDATIONS
MATT SMABY CUP PRINTING PLATES

BUCKET LINK
User(s) browsing this thread: