Share Thread:
Best High-End set of 80/90's era?
08-08-2012, 02:34 PM
bengu
Member


Posts: 506
Joined: Jul 2010
RE: Best High-End set of 80/90's era?
(08-08-2012 07:45 AM)

pingbling23 Wrote: +1 nick, bengu spewing random garbage as usual.
pingbling you're a joke and will always stay one to me. I have no respect for you at all. Next time instead of starting an argument with your "+1" nonsense... How about just ignoring my OPINION next time. Thanks
80-90's inserts and sets were the best ever! I miss those days in our hobby.
08-08-2012, 04:55 PM
RE: Best High-End set of 80/90's era?
sorry to the op for taking this off topic but some things have to be said. its clear to everyone where the problem is, bengu. if youre going to post senseless comments, opinions or not, that are off topic, or even on topic for that matter, expect to get called out on it. this isnt blowout forums where people act childish, troll the forums, and like to start altercations. if you want to create a thread that is about lebron where people can post opinions and have a sensible debate, that would be awesome, but trolling threads and bringing up off topic "opinions" that has nothing remotely to do with the thread, more then likely is not going to be tolerated on this forum. once again, sorry to the op and to others on this forum for me taking this even further off topic, but as i stated, some things have to be said and i will not make another post on this thread that is off topic.

That is all.....
---
Collecting Michael Jordan, Lebron James, Kobe Bryant, Durant RC Year, And Other Stuff That Catches My Eye, Always Up For Trade Offers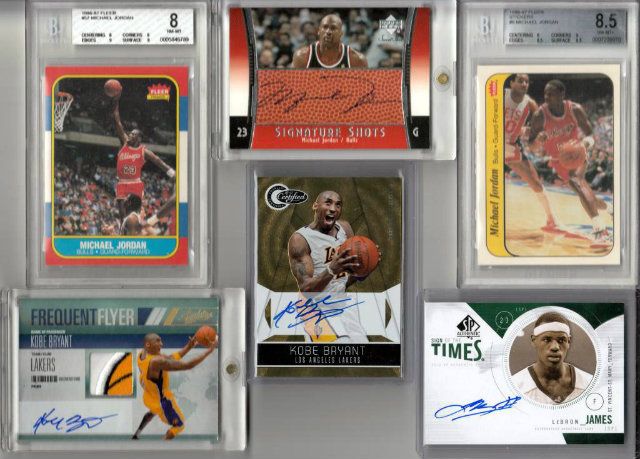 08-08-2012, 06:59 PM
RE: Best High-End set of 80/90's era?
out of the sets that were mentioned in the OP, I'd say go with Jambalaya.... the 86-87 Fleer can be done over time... I quickly put that set together within about 2 months, except the MJ. I have one that I've had since a kid, bit it is ruined.. damaged corners, & pin whole, & the whole nine yards... some day I will grab a MJ RC, but it will have to be graded.. even an BGS 8 or 7 will work for me.. as long as it has 4 pointed corners...

The PMG & Rubies are extremely hard to find... the Jambalaya cards were awesome.. they seem to show up online more often... I thought about doing the 2006-07 version after I pulled the MJ, but being so expensive, I quickly gave up.. I'd love to go after the later set, but do not have the funds to chase it.. I've already spent too much money on cards this year... I bought a case of Elite Black, Preferred, & a bunch of loose packs, along with couple boxes of each new product, except Limited 11-12 (only one box) & refuse to buy Gold Standard 11-12.. can't afford to bust wax right now... so I am focusing on my sets & debating on going after the UD ALLSTAR DIE-CUT SETS.... I have a bunch of the very first set that came out of SE in the early 90's & can get the 2nd, set pretty easily.. at least right now... & 2007-08 version looks like they will be going up in future months.. I sold my Lebron for $68.. guy offered me $75, but I cut him a deal, since it was more than my starting bid.. I didn't have a "buy now" until he offered me the higher price.. I have a 2nd one, along with Bill Russell... just got to get the MJ some how, but the only one on ebay right now is have a grand... don't want to pay that for an unautographed, non-graded card.... the seller is a MJ supercollector..

all those sets mentioned in the OP will cost a ton of money, 87 fleer being the cheapest... imagine that!! but that is a set that every collector should try to put together themselves, instead of buying a complete set...

After the Jambalaya set, I'd choose the first two years of Finest Refractors... those were awesome sets!! I still think about trying to put them together... I can't believe how much the first year Finest Jumbo boxes are going for now... I picked one up for less than $75 a few years ago... loved busting it!! now they are $300-400 a box... if I was rich back then.. I would of stocked up on those products....

I always thought Shaq's RC year would of been good.... two sets I thought would do good were Hoops & UD... Those were the first sets that I loved that were no insert sets.. thought they would be worth a ton of money 20 years from then, but guess not... My UD set is in a binder (series I & II), except the Shaq RC's... & my Hoops series II is in a cardboard box, all in penny sleeves, except the Shaq RC, is in a card case.. brings back memories... thinking about 90's products!!
---
NEED: SPA 08-09 "CITY NAME LETTERS" G, E, S 1/1 & /3 *ALL LAKAERS
NEED: ELITE BLACK BOX LAKERS AUTOS (KAREEM/10 & BAYLOR/24)
MY BUCKETT: http://photobucket.com/jpleazme
*United States Navy*
08-09-2012, 09:29 AM
RE: Best High-End set of 80/90's era?
jpleaz - you should have put all that money you spent on cases into 90's stuff... it's not a bad investment, the packs are what gets ya! You don't pull anything and then have nothing to show for your money... not near as much fun though, I know. I like the Jambalaya a lot as well, especially the fact that I can't find 20 pages of them on eBay like I can with 86 Fleer. The fact that I can build that set at ANY time and the prices will not likely go up (supply/demand) almost defeats the purpose.
08-11-2012, 12:31 AM
(This post was last modified: 08-20-2012 12:32 AM by blingting.)
blingting
New Member


Posts: 19
Joined: Jul 2012
RE: Best High-End set of 80/90's era?
(08-06-2012 03:40 PM)

pingbling23 Wrote: i think 96 or 97 spx are beautiful sets that wouldnt be that hard or expensive to put together but still have a ton of eye candy.
I agree and have put together a few SPX sets from those years...
Topps Finest, Topps Chrome, Bowman's Best, E-X 2000, E-X 2001, Flair
<3 90s cardboard
---

User(s) browsing this thread: 1 Guest(s)