Share Thread:
Do you remember your first big pull?
05-01-2012, 07:01 PM
(This post was last modified: 05-01-2012 07:35 PM by The-Joker.)
The-Joker
Jr. Member


Posts: 182
Joined: Apr 2012
Do you remember your first big pull?
Apologies if this topic has already been brought up, but I was wondering if any of you folks still remember your first "big pull" - that could be a high value card, or just a card you were really stoked to get.

When I was maybe 11 or so my father bought a box of 98/99 BAP from a small card show for (edit: $35). Even back then, it was kind of an old box. We were new to the hobby, and this was maybe only the 3rd or 4th box we had ever opened. Towards the end, we started to feel like we had bought a dud... then:

98/99 Be A Player Playoff Legend Mario Lemieux #L3 All-Star Stick/Jersey/Auto! (limited to 66 apparently)

2-color stick, white jersey, and a great hard-signed auto.

And no, sadly I don't still own the card. I really wish I did... pulling it was a special memory. I have never topped that, and I don't think I ever will.
---

05-01-2012, 07:04 PM
swjrp10
Sr. Member


Posts: 4,765
Joined: Jan 2006
RE: Do you remembe your first big pull?
My first big pull ever I got from a bargain hobby box of 03 MVP I got from Walmart for 19 bucks (granted this is baseball, but I just stared collecting hockey). I pulled a Triple Baggers game used base card of Barry Bonds, Mark McGwire, and Mike Piazza.

Hockey wise, my best pull is from a blaster of like 08-09 MVP I just got a few weeks ago for 9 bucks...1-on-1 auto of Broudier/Andre-Fleury!
---
Collecting: Red Wings, Colts, Lions, Players in U of MI jerseys, HOFers, cut signatures, Topps Ticket Stubs, and Celtics



DO NOT TRADE LIST: chargers2427, mrmagnum75
05-01-2012, 07:15 PM
RE: Do you remembe your first big pull?
I pulled the very first Upper Deck game jersey card, 1996-97, GJ1, and was simply amazed at the idea. I pulled a Beezer in series 2 that same year, so cool. I wish I still had it, but I traded it many years ago for a copy of the Bourque from the same year. That's long gone too, sadly. After losing all of my traders and a decent chunk of my PC in a flood, (only my Neely cards were saved, because they were in my bedroom,) I gave up on the hobby for a few years. The last boxes I bought were from 02-03, and not much of it. I missed out on lots, and came back into the hobby by accident. I bought the single remaining pack of SP Game Used from 2009-10, which was for some crazy reason mis-marked $5.00 in the glass display case of a local news shop, and pulled this...
It was the card that kick-started my re-entry into the hobby, and I'll never trade it, for that reason. Awesome that it's got so many legendary players on it, perfect fit to the Bruins PC because of Esposito, but most importantly, it's why I'm here now!
Some day I'll find another copy of that Yzerman card, and pick it back up for my collection.
---

Main PC: Neely & Ovechkin
Also collecting: Lucic, Marchand & Seguin
Traders: http://s15.photobucket.com/albums/a372/p...or%20Sale/
05-01-2012, 07:15 PM
nemesis77777
**MUST SEND FIRST**


Posts: 775
Joined: Nov 2010
RE: Do you remembe your first big pull?
Best pull ever - 2005-06 SP Authentic Marks Of Distinction Patrick Roy #'d to 25

REDEMPTION!!!!! Not honored.....

But other than that not really sure... ive never really hit that big - in a box break that i didnt personally open - i scored a Ryan Nugent Hopkins Die Cut Auto RC /499 from Certified... that was fun to get in the mail lol.
---


Banner courtesy of tha_penguin

After Joe Thornton serial #1's

Joe Thornton PC: (454) 11.01%, Joe Thornton #'d 01/xx: (25)
Couture (37) Demers (18) Galiardi (27) Nolan (141)

FOCUSING ON: TORREY MITCHELL
05-01-2012, 08:37 PM
timmy5179
New Member


Posts: 80
Joined: Aug 2011
RE: Do you remember your first big pull?
I remember my first big pull was Carmelo Anthony's rookie year. I hit an SPX auto/jersey(? dont remember for sure) numbered /15. I immediately left it at the cards store and they sold it on eBay form almost 1500. My second was the next year hitting Sidney Crosby rookies in both Upper Deck and Black Diamond. And my most recent time getting back into the hobby I got a sign of the times 7 from 09-10 SP Authentic with gretzky, mario, ovechkin, malkin and 3 others. It was a sticker auto card and brought me a disappointing 750. All in all Im pretty happy with those big ones but hope to start hitting some more soon.

Tim
05-01-2012, 08:40 PM
(This post was last modified: 05-01-2012 08:44 PM by phildo37.)
phildo37
Sr. Member


Posts: 2,767
Joined: Apr 2002
RE: Do you remember your first big pull?
wow... I don't even know what my biggest one would be... a couple of big ones I've had, and all are pretty special to me.. I remember where I was when I pulled every one of these cards:
- 08-09 SP Authentic Mark of Distinction Gordie Howe #ed/25
- 08-09 SP Game Used Team Marks Bobby Orr
- 97-98 Pinnacle Certified Mirror Blue Dominik Hasek
- 96-97 Metal Universe Cool Steel Super Power Patrick Roy
- 08-09 UD Masterpieces Canvas Clippings Brown Wayne Gretzky
- 97-98 Donruss Elite Hart to Hart Eric Lindros Auto
- 99-00 Crown Royale Cramer's Choice Jumbo Green Steve Yzerman #ed/30
- 99-00 Crown Royale Cramer's Choice Jumbo Gold Eric Lindros #ed/10
- 99-00 BAP Millennium Game-Used Emblem Al MacInnis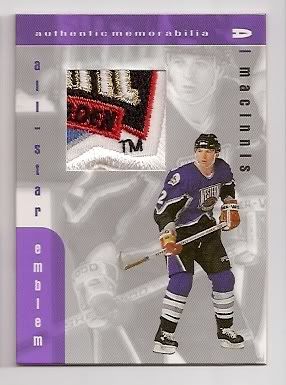 The MacInnis is probably my best... I remember the 'holy crap' moment when that card came out of the pack.. and I still have all of them, except the Orr
---

Bucket - http://s251.photobucket.com/albums/gg286/phildonu37/
Jerseys - http://community.webshots.com/user/phildo37
Collecting - Finns, Wings, 90's
05-01-2012, 08:42 PM
scarrman
Jr. Member


Posts: 240
Joined: Aug 2009
RE: Do you remember your first big pull?
Best pull, unknown at the time, was a 1994 UD A-Rod autographed RC. Didn't do much baseball then, but bought 3 packs and pulled it - still have it.
Second best pull was a 1997 UD Game Jersey Steve Yzerman, 2 color. First year of the jersey cards. Pretty nice card, but 1998 SP Football had just come out so I traded it for 2 boxes. Pulled the Manning and Moss RC's from the first box. So yeah, a pretty good pull led to some more pretty good pulls.
Also pulled a Gretzky Gold 99/00 UD MVP card # 99/100 - always one of my favorites.
05-01-2012, 08:43 PM
madmack29
Jr. Member


Posts: 260
Joined: Aug 1999
RE: Do you remember your first big pull?
My first big hit was a Brett Hull Upper Deck 500 goal 2 color jersey. I was so surprised when I pulled it that I pretty much freaked out at the shop. I pulled a 500 goal Marcel Dionne later - second jersey card for me ever.

Traded them on a usenet newsgroup for who knows what at this point. Wish I still had them - thinking of trying for that set at some point.

Nathan
05-01-2012, 08:45 PM
RE: Do you remember your first big pull?
My first big pull was from 1991-92 Pro-Set and I got the Pat Falloon Rookie Card. Traded it for an entire box of cards. I was 8 at the time and thought it was the best thing ever.
05-01-2012, 08:45 PM
slufan83
Sr. Member


Posts: 4,260
Joined: Nov 2006
RE: Do you remember your first big pull?
I think 09-10 was the first hockey product year that I really got into buying hockey. That year I pulled a Significance Autograph of Gretzky/25. I think that was my first decent pull out of a hockey product. Other than that I've really not had luck with hockey stuff.

My best "pull" ever was a Signs of History Presidential Cut Signature redemption out of 2008 Sweet Spot baseball. The card that was sent from UD was at random, but they sent me a Thomas Jefferson cut numbered 2/2 that I later sold for nearly $5k.
---
Collecting:
Hockey: Any T.J. Oshie & Jake Allen - also Various Blues Relics/Autos
Baseball: Various St. Louis Cardinals

User(s) browsing this thread: 1 Guest(s)