Share Thread:
04-25-2012, 01:47 AM
RE: longshot?
The way the defense and goaltending has been in the west, each game of those 2 series could very well be 1-0 OT games every night, haha. The top 3 teams (and #5) in scoring were ALL eliminated in the first round in the west. (nashville was #4 in goals). I still believe St. Louis and Nashville to be the strong of the 4 left, but the way Mike Smith and Jamie Quick are playing - you never know!
---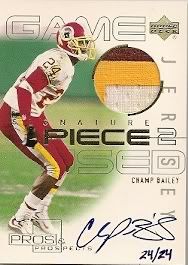 Collecting: Travis Fryman, Champ Bailey, Steve
Largent, Steve Yzerman, Brian Holzinger, Mike Johnson and Jordan Sigalet.
04-25-2012, 05:13 AM
azicet
Member


Posts: 720
Joined: Feb 1999
RE: longshot?
Speaking of longshots, can you imagine a Florida Panthers-Phoenix Coyotes Final? Both of those teams were probably 100-to-1 shots to win it all at the beginning of the season. I'm sure the Network Executives would all hang themselves if that matchup happened but it would be an interesting Final...that nobody would ever watch.
04-25-2012, 05:26 AM
wickabee
Sr. Member


Posts: 2,632
Joined: Jan 2010
RE: longshot?
I'd watch that final.
---
-Collecting: Steve Kelly, Barry Brust, Danny Watkins, Justin Schultz
Smyl, Linden, Naslund, McLean, Lidstrom RCs
Canucks O-Pee-Chee & OPC Premier cards
-If it's in my bucket and not my org, let me know!
http://s942.photobucket.com/albums/ad262/wickabee/
04-25-2012, 06:06 AM
csamsal
Member


Posts: 1,114
Joined: Oct 2007
RE: longshot?
User(s) browsing this thread: 1 Guest(s)