Share Thread:
Mailday! Pickups and Shout to aviat0rshades!
07-28-2011, 05:37 PM
(This post was last modified: 07-28-2011 08:17 PM by alanch.)
alanch
Member


Posts: 1,347
Joined: Oct 2004
Mailday! Pickups and Shout to aviat0rshades!
Got some stuff in today including a big trade with aviat0rshades. The Adderley Auto came from another site and crosses one more player off of my Packers auto list.
Traded some Seahawks inserts to aviat0rshades for the Rodgers/Romo and sent along a bunch of other Seahawks base/inserts/rookies. Received a big green polka-dot box filled with blue bubble wrap today and a whole brick of Packers base/inserts/rookies and #'ed cards. Way more than I was expecting to get!!
Also had this Grant/Benson jersey card and two Pacific error cards that had Packers fronts of Darrell Thompson and Chris Jacke and backs of Russell Maryland and Bryan Wagner.
Overall it was an awesome trade and I'm really happy with how it worked out. Shout to aviat0rshades for being really easy to work with and having great communication! Hope to trade with you again soon man!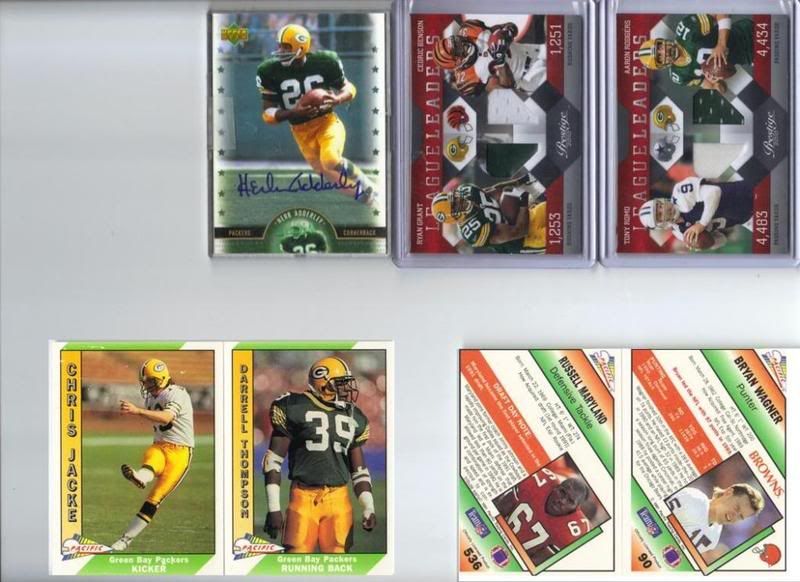 ---



-Banner Courtesy of rogue655-

Top 3 Jim Leonhard Needs (Will Pay Finders Fee):
2005 Longevity Holofoil /25
2005 Longevity True Green /100
2009 SPx Super Scripts Autographs Eight /8
07-29-2011, 01:18 AM
RE: Mailday! Pickups and Shout to aviat0rshades!
I'm glad you liked them man! I knew you wouldnt mind the green polka dot box lol
---

User(s) browsing this thread: 1 Guest(s)