Share Thread:
10-11 UNC Break, and funny story
07-26-2011, 06:15 AM
10-11 UNC Break, and funny story
so i got done playing golf today and had to stop by the lcs to get some supplies. i felt like opening some packs and they had one of these left. i got around 10 jordans for my pc and hit an extra auto out of the box, wasnt expecting much. all except the jordans are for trade, i pulled 3 jordan base, i already had one, so they are for trade. now onto the funny story, there was one pack of 10-11 absolute on the shelf from an opened box. i could tell it had been a slow day, the owner was asleep when i walked in the door lol. so i told him i wanted the unc box and he grabbed my box and the absolute, he said, im gonna open this, its been sitting on the shelf and no one is buying it. he opens the pack, its thin, so i say youve at least go an auto in there, he thumbs through, and its an oncard kobe auto 21/25, the spectrum of the base card. i couldnt believe it. i had just told him about the kobe patch auto i pulled and how there were a ton of kobe autos in the gold standard. why didnt i just buy that one pack of absolute!?!?!?

---
Collecting Michael Jordan, Lebron James, Kobe Bryant, Durant RC Year, And Other Stuff That Catches My Eye, Always Up For Trade Offers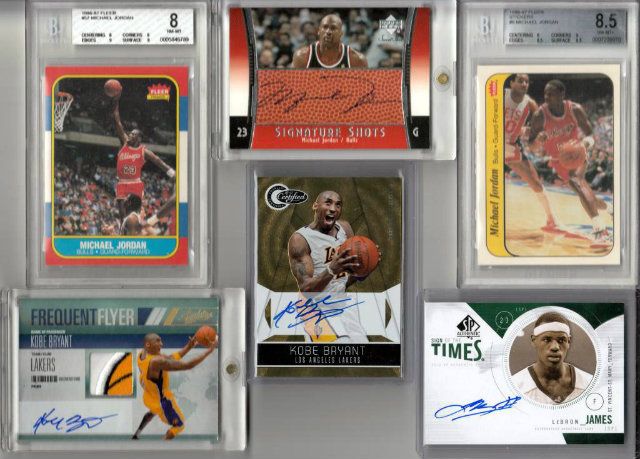 07-26-2011, 06:16 AM
RE: 10-11 UNC Break, and funny story
nice autos
---


STAN MIKITA CUP FOUNDATIONS
MATT SMABY CUP PRINTING PLATES

BUCKET LINK
07-26-2011, 06:17 AM
RE: 10-11 UNC Break, and funny story
Dang, that sucks! That's happen to me about a bazillion times!
User(s) browsing this thread: 1 Guest(s)