Share Thread:
1959 Topps cello break. New Pics
06-15-2011, 07:19 PM
RE: 1959 Topps cello break.
awesome, that would be quite a thrill regardless of what comes out of it
---
Jonny Venters - Super Collector
Overall Collection (113/157 72% Complete)
base/parallels (85/85 100%)
1/1's (28/72 39%)

always looking for venters 1/1's and 2008/2010 low numbered refractors
06-16-2011, 06:17 PM
RE: 1959 Topps cello break.
I dream of what u just did
---


STAN MIKITA CUP FOUNDATIONS
MATT SMABY CUP PRINTING PLATES

BUCKET LINK
06-17-2011, 11:40 PM
(This post was last modified: 06-17-2011 11:41 PM by jumpman23com.)
RE: 1959 Topps cello break.
Scan of others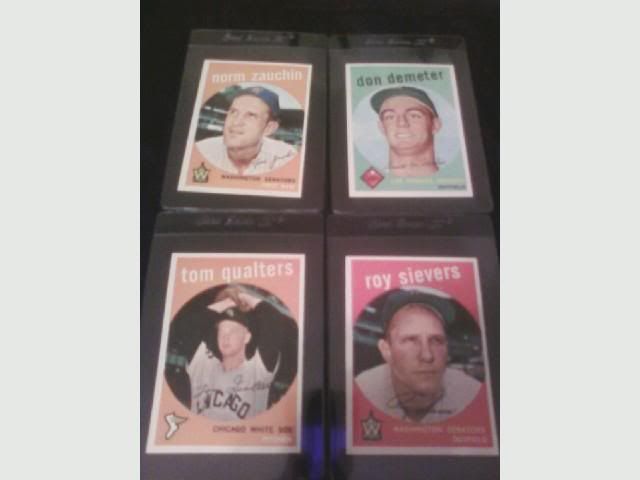 ---
Last scan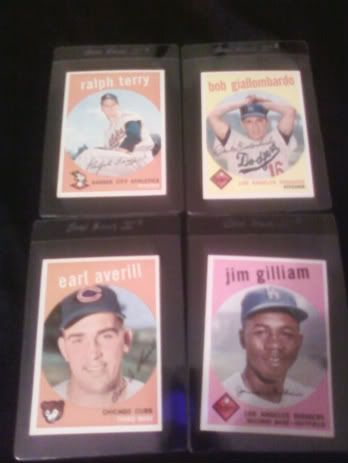 06-18-2011, 05:47 PM
slufan83
Sr. Member


Posts: 5,198
Joined: Nov 2006
RE: 1959 Topps cello break. New Pics
That sure must be awesome to break a pack that is over 50 years old.
---
06-21-2011, 05:32 PM
RE: 1959 Topps cello break. New Pics
(06-21-2011 03:27 PM)

chiefsncards275 Wrote: were the cards stuck together? the oldest pack i opened was 1989 and the cards were all stuck together maybe these were too
Thank you all for the replies. It was a sweet break and something I've always wanted to do. I've had it since last year sitting idle and decided to relieve some stress after dealing with my x-wife that evening.
chiefs-the cards were not stuck together and typically for vintage packs, mold/mildew and gum seepage is the main culprit to cause such damage. Cellos don't have the gum issue(changed in the 70's) and you can see the cards for other noticeable condition issues. The drawback is sequencing, even for older packs like these, longtime/experienced collectors have this knowledge(which sucks IMO). For modern cards, the glossy finish or gold foil can also cause the cards to stick if the conditions they've been stored in were not ideal.
Stadium Club and Fleer Ultra in the nineties come to mind.
06-21-2011, 07:38 PM
toddaray
Sr. Member


Posts: 3,629
Joined: Feb 2009
RE: 1959 Topps cello break. New Pics
Coolest break I have ever seen here. Thanks for posting. Sure you didnt get a NM Mantle, but I can only imagine how you felt peeling the wrapper to reveal the first card back.
---

LF 1934/1936 Diamond Stars
&
05 Turkey Red SPs
13 Turkey Red
12 Archives Au's
12 Archives Gold
13 Finest Master Set
Ginter mini Snakes/Fortunes/Beards/Hats/Bikes
06-22-2011, 11:59 AM
RE: 1959 Topps cello break. New Pics
just curious how much it costed for that...vintage is very hard to find now a days....seems like you did ok!
(06-13-2011 09:00 PM)

jumpman23com Wrote: Busting a 59 Topps cello, GAI graded.

---

First four...
Top card- Ralph Terry
2.Bob Giallombardo
3.Earl Averill
4. Jim Gilliam

---

Next four....
5. Norm Zauchin
6. Don Demeter
7. Tom Qualters
8. Roy Sievers



---

9. Luis Aparicio
10. Billy Klaus
11. Curt Raydon
12. Ralph Lumenti

That's all folks! 59 Unopened just went up in price a couple dollars! Pictures forthcoming...
---
http://s1106.photobucket.com/albums/h362...k8/willie/
06-22-2011, 03:06 PM
RE: 1959 Topps cello break. New Pics
I won it last year for about $450 in ebay auction, it was expensive but it was my "Exquisite box". The potential to pull PSA 9's and 10's are what reeled me into the auction. I wanted to start getting my breaks on video so I waited until I got a video camera. Previously I broke about 5 1972 Topps football packs, 2 1959 Topps football cellos, and 12 1975 Topps baseball cellos with no video to share the experience. I'll be posting the videos on YouTube somewhere down the road. Lastly, I believe I pulled one or two nines with the rest of them mainly PSA 8's. The fact that I pulled an Aparicio made it worth it. If it was centered it could have been a 2K+ card.
User(s) browsing this thread: 1 Guest(s)