Share Thread:
Looking for these...alot of high-end
04-25-2011, 11:11 PM
dbroockerd
Sr. Member


Posts: 7,952
Joined: Jul 2010
Looking for these...alot of high-end
I am working on a project and need an auto and GU of all these guys. I know some are high-end and some not realistic in trade but if you have any let me know and we can hash a deal out. My bucket has plenty of high-end stuff in its PC.


This is only what I need for the 1st 50 of the 100 players I am after.

Babe Ruth GU and AU (haha)
Lou Gehrig GU and AU (I know)
Ted Williams AU
Hank Aaron GU
Ty Cobb GU and AU
Stan Musial GU
Joe Dimaggio GU
Willie Mays AU
Mickey Mantle GU and AU
Walter Johnson GU and AU
Christy Mathewson GU and AU
Honus Wagner GU and AU
Rogers Hornsby AU
Cy Young GU and AU
Warren Spahn GU
Bob Gibson GU
Jimmie Foxx GU and AU
Sandy Koufax GU
Tris Speaker AU
Grover Alexander GU and AU
Frank Robinson GU
Tom Seaver GU and AU
Mike Schmidt AU
Roberto Clemente GU and AU
Steve Carlton GU
Yogi Berra GU
Bob Feller GU and AU
Jackie Robinson AU
Rickey Henderson GU and AU
Nap Lajoie GU and AU
Lefty Grove GU and AU
Nolan Ryan GU
Eddie Mathews GU
Cal Ripken Jr GU
Pete Rose GU and AU
Greg Maddux GU
Roger Clemens AU
Ichiro Suzuki GU and AU
Eddie Collins GU and AU
Hank Greenberg GU and AU
Mel Ott GU and AU
Randy Johnson GU and AU
Roy Campanella GU and AU
Mickey Cochrane GU and AU
Joe Jackson GU and AU
---

Kila Ka'aihue 133/138 Non 1/1s (96% complete) 13/64 1/1s (19% complete)
Auto Needs: http://www.beckett.com/forums/thread-1529244.html
04-26-2011, 12:49 AM
RE: Looking for these...alot of high-end
I have 2 you need the Mickey Mantle JSY and a Roy Campanella Bat I will add them in my org and send you what I would like for them.
---
Derek Jeter Collector from 1992-1996. 298 out of 303 98% complete.

1019/1916 1990's Jeter cards 53%

Photobucket link.
http://s1142.photobucket.com/albums/n614/chris19978_2/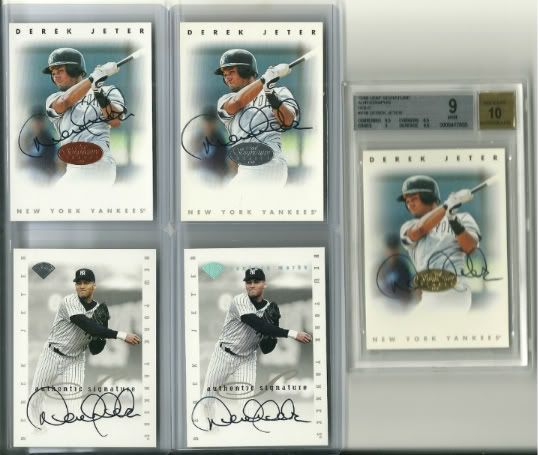 User(s) browsing this thread: 1 Guest(s)