Share Thread:
BV on graded cards..how to determine?
03-31-2011, 07:15 AM
jfrench91
Member


Posts: 2,437
Joined: Mar 2010
BV on graded cards..how to determine?
just curious as how you put a BV on a graded card? some people pay more because of it.. some dont care etc. I have a demarcus ware topps beckett BCCG graded rookie card and was wondering how to determine BV? it says "10" then mint or better underneath. Id scan it but its outve commision right now.. any thoughts or opinions would be appreciated. thanks

was gonna put it on ebay unless someone wants to trade/buy it. give me some thoughts or offers!
03-31-2011, 08:07 AM
RE: BV on graded cards..how to determine?
I have noticed that grades payoff on either vintage or Autos.
They also give higher end collectors a degree of customer guarantee when buying or trading online.
If a card was going to sit in my PC forever I would never consider grading it.
But if you have high end you are looking to market... A 9 or up grade can send it's value through the roof.
---
Collecting Vintage football and all things Mickey Mantle.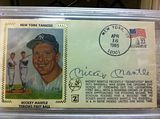 03-31-2011, 08:18 AM
(This post was last modified: 03-31-2011 08:19 AM by branesergen.)
RE: BV on graded cards..how to determine?
Grading with me is like this -
BGS 8 -8.5 wont touch unless its a nice card and is less than a raw card is selling for. BGS 9 is basically what a pack pulled card should be so I'll pay a tiny bit over what I would pay for a raw card simply because I know its protected and the "damage" is already stated. A 9.5 I'll pay a little more for because its a better condition, slabbed and I know it wont deteriorate over time. A BGS 10 ...well I only own a couple and they do command a premium over a raw card simply because it is viewed as flawless.
PSA 10 see BGS 9.5, PSA 9 see BGS 8-8.5
BCCG - I have a TON of 10's but all were bought for less than what a raw card is selling for. BCCG is anywhere from a BGS 7-10 in my book. I've seen a few come back 7's mostly 8's and 9's and only a couple 9.5's.
So, to me, if you have a BCCG 10 its only extra value is the protection but I've heard even that isnt so great.
---
Building =

2010 Magic Master Set


Magic Needs

Collecting =

Peyton Manning


Manning PC
User(s) browsing this thread: 1 Guest(s)