Share Thread:
Player Collectors, how often do you hunt?
03-17-2011, 12:45 PM
matrix99
Jr. Member


Posts: 345
Joined: Nov 1999
RE: Player Collectors, how often do you hunt?
Easily spend 2 hours a day.
---
I collect: Edgar Martinez
Vintage (Needed 68 and 71 Topps and other Vintage)

03-17-2011, 02:32 PM
(This post was last modified: 03-17-2011 02:52 PM by iujapander.)
RE: Player Collectors, how often do you hunt?
(03-15-2011 01:10 PM)

astroburn Wrote: I check ebay every once in a while, but i usually dont cuz with no money to bid with, it just bums me out.

I go to my LCS every other month, when he gets a bunch of stuff traded in that I can sift through looking for Bagwells I dont have. I only have one shop worth going to, and after i spend an afternoon there, i usually leave without a Bagwell. Not too much Bagwell action in-store, hence the Biggios, Berkmans, and other players in my collection. I Wind up leaving with those cards insted. I dont like to leave the LCS empty handed.
I know about the no money part that always sucks. I especially understand the leaving the LCS empty handed part. I absolutely love junk GU/Autos bins. There is almost always something in there that I will pick up.
Also, I have one non base Bagwell. it is a 2005 Donruss Champions Impressions Materials #171 No#d/800. It is a bat piece. If you don't have it I can get a scan for you.
---
(03-15-2011 08:43 AM)

jszczech Wrote: I check ebay many times a day for Puckett and Morneau stuff. My main focus is on Puckett stuff so that always takes priority.

I check the Marketplace here about 4 times a week usually just for Puckett stuff but when I place an order I almost always add stuff to get free shipping so I pick up a lot of Morneaus that way.

COMC about once a week and I have only bought one thing off there.
I have a few Puckett and Morneau jersey cards. Nothing high end though. Not sure if you can check my organize yet, but if you want I can give you a list.
---
This is the listing that spurred this thread. So excited when I saw this and even better that I won it for a very reasonable price. It is a 2005 Bowman Chrome Draft Printing Plate. Makes all that time searching worthwhile!
http://cgi.ebay.com/ws/eBayISAPI.dll?Vie...MEWNX%3AIT
---
IUjapander Cards
03-17-2011, 07:03 PM
RE: Player Collectors, how often do you hunt?
i stalk ebay constantly for the same few players/same particular cards....and I'm watching usually 2-3 pages of cards at all times always trying to find that perfect deal on a budget haha
---
Jonny Venters - Super Collector
Overall Collection (107/154 70% Complete)
base/parallels (83/83 100%)
1/1's (24/71 34%)

PC & Trade items
attn: finders fee for any non-ebay 1/1 Venters we are able to acquire also interested in 08/10 #'d refractors
03-18-2011, 01:23 AM
RE: Player Collectors, how often do you hunt?
Me and my dad collect together. So between, us being on eBay at work. And having eBay moblie on my phone. Let's just say we are constantly on eBay, looking for a "steal" or searching the 5 players we hardcore collect. I would total that to around 20+ hours a week, I feel that we need to attend meetings for this problem!
---
Collecting Joey Votto-





"The other sports are just sports. Baseball is a love."
03-27-2011, 11:40 AM
RE: Player Collectors, how often do you hunt?
I check for Josh Vitters everyday. Very few items on the bay, so checking for new items isn't much of a hassle.
---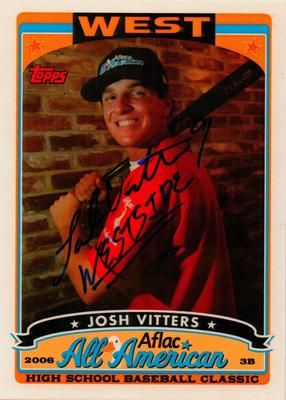 Wants: JOSH VITTERS, Matt Davidson, Peyton Manning, and Cubs.
User(s) browsing this thread: