Share Thread:
03-10-2011, 10:57 AM
Just busted a box of SPA
Got one of the 6 auto boxes.

Greg Jennings chirography
Ben Tate College PRide
Levi Brown redemption rookie authentics
Taylor Price autograph patch
Jermaine Cunningham rookie authentics
Jason Pierre-Paul rookie authentics
---
Looking for all Kirby Puckett I do not have! Have 732/1841 non Autos and non auto 1/1s (39%).
Also AP, Harvin, Eric Decker, Kevin Love, and Ricky Rubio.


03-10-2011, 11:51 AM
RE: Just busted a box of SPA
6 autos and three of them were variants. From what I have seen they either do a three auto box with one big hit or four plus with a mix. All in all solid box, congratulations!
---
Collecting Vintage football and all things Mickey Mantle.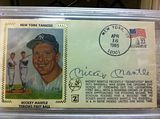 User(s) browsing this thread: 1 Guest(s)