Share Thread:
2010 Contenders Blaster - Eh, why not
03-03-2011, 02:49 AM
(This post was last modified: 03-03-2011 02:51 AM by the ultraback.)
2010 Contenders Blaster - Eh, why not
I knew with the way Panini does things, the guaranteed auto in a non-exclusive "hobby quality" retail box was probably not going to be Bradford or anything, but I figured it was worth a try.

The inserts:

Jermain Gresham Rookie Roll Call
Max Hall ROY Contenders
Randall Cunningham Legendary Contenders
Doug Williams Super Bowl Tickets

The Auto: Carlton Mitchell SP RC

Well, it's not a superstar, but it's an SP, so I think I did okay. Overall, not bad for retail, and a no-name SP is probably better than the regular no-names that these are probably full of. Base veteran cards are kind of awful, though, with the huge blank area at the bottom on the cards. Panini really needs to start spending more than 25 seconds to design their cards and thinking hard about just making the autos and jerseys their own sets, instead of parallels. Anyway, everything is theoretically for trade, whenever that part of the site starts working.
---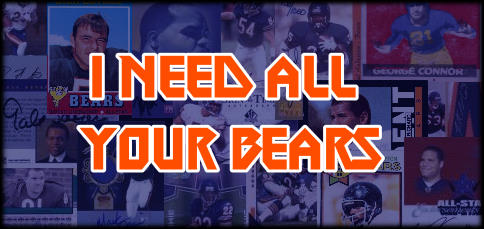 Taking in all the random Chicago Bears scrubs that you don't want since 2007.
The PC.
User(s) browsing this thread: