Share Thread:
Known issues in detail. Please send me your issues.
02-10-2011, 06:17 PM
Known issues in detail. Please send me your issues.
Ok I am going to try and shorten the 23 page one so people don't need to write the same thing over. I will need help because I am sure I have not found all the issues and here are the 3 I have noticed. That IT Guy and crew can look at and update to fix or let us know what needs to be done. So please write anything I have missed so I can update this post with the other issues and that way we can just go with solutions on the page. I will delete the post after updating the site so there will not be 23 pages to go through. Here is what I have so far in detail.

Known issues as of right now

1.)Contact Information has Country as Afghanistan instead of the United States when just viewing but when clicking update it shows the country as the United States and you are unable to select any other country.
2.) Unable to make Trades but if you look at your accepted trades and click view invoice you get this message (Fatal error: Call to a member function result() on a non-object in /var/www/html/application/libraries/datamapper.php on line 5536)
3.) When viewing a player for a certain year cards are not in order (Example 1995 Derek Jeter listing starts with Signature Rookies, goes to Upper Deck, Action Packed, back to Signature Rookies, then to Bowman, Emotion, Finest, Select, Ultra, Upper Deck, Stadium Club, Bowman's Best, Collector's Choice, Fleer, Collector's Choice, SP, Stadium Club, Topps, Upper Deck, Zenith, Upper Deck, and Columbus Clippers) I find this hard to track and keep cards in order. Its just all over the place and as the years have gone by there are almost if not more than a 1,000 of one player so it would become a big problem. This was a listing of just 58 cards.
---
Derek Jeter Collector from 1992-1996. 298 out of 303 98% complete.

1019/1916 1990's Jeter cards 53%

Photobucket link.
http://s1142.photobucket.com/albums/n614/chris19978_2/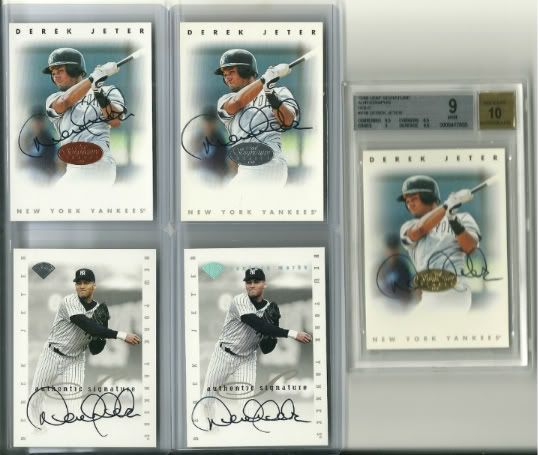 02-10-2011, 06:18 PM
RE: Known issues in detail. Please send me your issues.
I think I'd prefer the other thread to be the one as IT Guy will be updating the original post of that thread, not this one. However, I may be talking with him soon about creating a new thread to replace that one. If that does happen, I'll let everyone know.
---
MODERATOR
TOS-Read it

3,717+ diff Pistons cards
User(s) browsing this thread: 1 Guest(s)