Share Thread:
The official BMB Error Variation discussion and reference thread!
06-05-2008, 04:10 PM
The official BMB Error & Variation discussion and reference thread!
Originally I posted this as a single post, got no responce and I thought maybe someone here would have some information. Thanks...Mel
Lol, this might be a few years too late but!
Question for Olde School Collectors.
These "Famous Feats" reproductions were on the backs of 1986? Fleer Logo Stickers. It is a 22 card set.
As you can see there are 2 different types of logo stickers. My assumption is that they were in either series 1 & 2 or maybe one was in a Special Edition (like Super Stars). They are typical of early Fleer issues, terrible quality control and printing process.
Now for my questions
1) Does every player "Famous Feats" back card have a logo Sticker from every Team on the front of the card? I can find only 5 for most most player back cards.
2) Is there a FREE downloadable spreadsheet program out there somewhere that won't kill my computer?
Thanks for your help,,Mel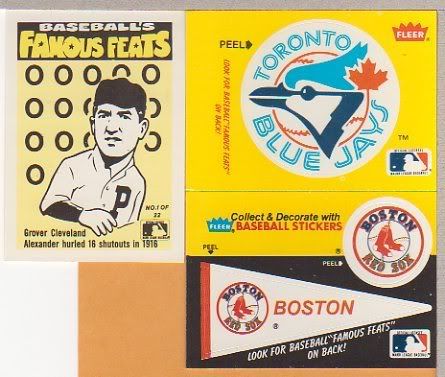 User(s) browsing this thread: 1 Guest(s)