Share Thread:
2012 Bowman Platinum 5 case break and contest thread [CONTESTS CLOSED]
07-26-2012, 05:11 PM
(This post was last modified: 07-26-2012 05:13 PM by pyweed.)
pyweed
Member


Posts: 1,696
Joined: Aug 1998
RE: 2012 Bowman Platinum 5 case break and contest thread [CONTEST #1 CLOSED]
Case #1, Box #7
Notable colored base:
Tommy Hanson gold
Mariano Rivera gold
Jarrod Parker emerald
Giancarlo Stanton ruby
Notable prospect parallels:
Jordan Swagerty refractor
Bryce Brentz refractor
Notable die-cut:
Paul Goldschmidt
Notable Top Prospects:
Matt Harvey
Noah Syndergaard
Starling Marte
Wily Peralta Green Refractor /399
Nolan Arenado Green Refractor /399
Guillermo Pimentel Blue Refractor /199
Mikie Mahtook Prospect Auto
Daniel Corcino Prospect Auto
Jaff Decker Blue Auto Relic /199
Grade: C+
Comments: I really like the Jaff Decker auto relic, but it's probably not a high value pull. Okay, that's all for the night. I'll be able to finish the case Thursday and start the second contest. BTW, Scherzer threw 105 pitches, which is the highest anyone guessed, so if it goes to a tiebreaker, the winner will be the person who predicted the most pitches. But for now, Buchanan is the contest-leading prospect auto.
[IMG]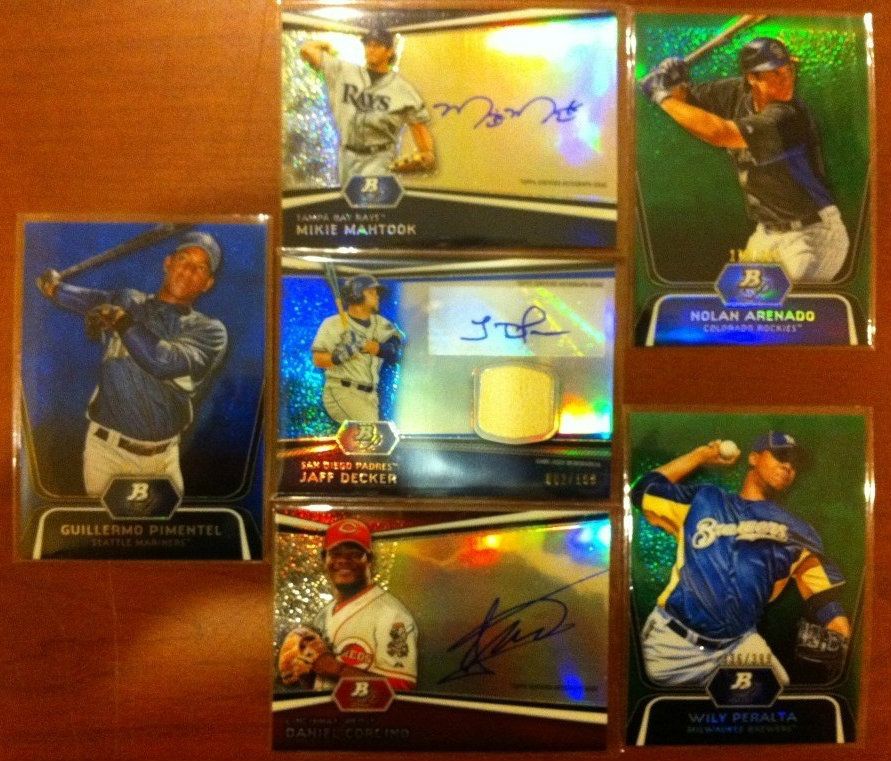 [/IMG]
---
(07-26-2012 04:24 PM)

shaunbaus Wrote: I'd say box 5 was better than box sick as far as auto's are concerned IMO. A blue auto and because box 6 had 2 redemptions and who knows if they'll even get signed. J.D. is probably a little better than Dominguez too at the moment.
Yeah, you may be right. I really don't know how to evaluate that blue Buchanan auto.
User(s) browsing this thread: 1 Guest(s)