Share Thread:
04-10-2011, 04:08 AM
alexs64
Sr. Member


Posts: 3,184
Joined: Dec 2005
RE: 2011 tribute break
(04-09-2011 10:28 PM)

wampier Wrote: Actually not working on this years... But I need some from 2009.

---


Oneil is up for trade, the dual auto went back to Topps for a peeling corner layer.

---

No twins in the box...



---


No Dodgers.

---

Here is the rest of the box.... I am keeping a Heyward and Cobb base..


---

There is also a Gwynn, Robin Roberts and a Posey that were sent back to Topps for replacement.

---


Was kind of waiting for my inbox to blow up. Guess he is busy.
I am guessing the reason is because he is busy buying all the 1/1 Letter Patches. LOL
---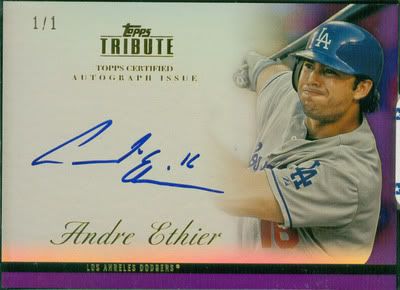 GOOGLE+ Link
https://plus.google.com/u/0/photos/10935...858/albums
User(s) browsing this thread: 1 Guest(s)