Share Thread:
what sets are you tring to complete?
04-26-2011, 06:29 AM
what sets are you tring to complete?
I tried this before the new site and worked pretty well

I am going to try again with the new trade function working and we have alot of new members and really not knowing what to add in their organize. This could help them out getting some trades under their belt.

Rules
Please, Please Keep your post updated please.

Reply to post in pm or send a trade offer ( this is just for set needs posting)

List any and all sets you are trying to complete. It can be vintage, gu, auto, auto patches, and base cards. from the very begining of football cards to 2011

The more info you give more trades may come your way.



for example
2011 topps
3,7,9,11 ect, ect, ect.

If it worked out like it did last time I know alot of sets were completed or almost completed be fore the swap over

Most importantly have fun trading and filling your set needs
---

04-26-2011, 06:37 AM
RE: what sets are you tring to complete?
2010 Needs

Sage

The Write Stuff
2(Dez Bryant), 4(Dwyer), 5(Gilyard), 7(Colt McCoy), 12(Bradford), 20(Suh)

Prospectus
2(Dez Bryant), 4(Jimmy Clausen), 9(Aaron Hernandez), 11(Ryan Mathews), 12(Colt McCoy), 13(Joe McKnight), 15(Damien Williams)

Press Pass

Base
101 (Powerpick Tebow)


Press Pass PE

Headliners
8(Tebow), 19(Jimmy Clausen), 34(Tebow CL)

Class of 2010
3 (Tebow)

Score/Glossy
Base
41(Jon Beason), 43(Peppers), 60(Ochocinco), 83(Romo), 129(Pierre Garcon), 211(Kirk Morrisson), 233(Mike Wallace), 240(LT), 252(Crabtree), 253(Patrick Willis)

Rookies
301(Aaron Hernandez), 310(Blair White), 377(Suh), 388(Canfield), 396(Tebow)

Hot Rookies
9(Gerald McCoy), 13(CJ Spiller), 20(Bryant), 25(Hardesty)


Topps
30(Tom Brady), 221(Jimmy Clasuen), 281(Favre packers), 420(Mark Sanchez),

Gridiron Gear
85, 88, 91, 92, 95, 151, 152, 153, 154, 155, 156, 157, 158, 159, 161, 162, 163, 164, 165, 166, 167, 170, 171, 173, 175, 176, 177, 179, 180, 181, 182, 183, 185, 187, 188, 190, 191,194, 196, 197, 198, 200, 202, 204, 205, 206, 207, 212, 214, 215, 217, 218, 219, 220, 224, 228, 230, 231, 232, 233, 234, 235, 236, 237, 239, 240, 241, 243, 244, 246, 248, 249

Leaf Rookies and Stars
143(Chris Johnson)

Unrivaled
9(Beanie Wells), 21(Eli Manning), 37(Roddy White), 76(Matt Ryan)

Platinum
7(Shipley), 8(James Starks), 79(Tim Tebow), 86(Miles Austin), 101(Dem Thoams), 107(Suh), 114(Jason Witten), 130(Brett Favre)

Prestige
Rookies
201 (Hernandez), 208 (Benn), 226 (LeFevour), 233 (McCluster), 234(Bryant), 244 (Gerald McCoy), 259 (McKnight), 264 (Shipley), 272 (Mike Williams), 284 (McClain), 285 (Okung), 288 (Canfield), 301 (Wang), 302 (Lamarr Houston), 303 (Odrick), 304 (Dan Williams)

Certified
16(Lee Evans), 73(Jamaal Charles), 110(Darrius Heyward Bay), 128(Frank Gore), 137(Donnie Avery)

Topps Chrome
8(Percy Harvin), 19(DeAngelo Williams), 26(Matt Forte), 27(Kenny Britt), 60(Dez Bryant), 66(Taylor Price), 71(Marion Barber), 72(Tyson Alualu), 74(Joe Webb), 78(Ronnie Brown), 84(David Reed RC), 100(Tim Tebow), 112(Gronkowski RC), 115(Revis), 116(Ray Lewis), 121(Angerer RC), 123(Demarcus Ware), 125(Dan Williams RC), 127(Sant. Holmes), 128(Crabtree), 136(Amarti Edwards RC), 137(Kolb), 153(James Starks), 164(Amari Spievey RC Lions), 180(Fitzgerald), 187(Matt Ryan), 210(LT), 216(Gerhart), 220(Drew Brees)

Magic
1(Jared Allen SP), 5(Charles Scott SP RC), 11(Emmitt Smith), 12(Joe Nathath), 14(Hines Ward), 16(Suh), 17(Eric Berry), 20(Marcus Easly RC), 21(Frank Gore SP), 26(Gronkowski), 30(Briscoe SP), 31(Braylon Edwards), 39(Bobby Carpenter), 40(Ramses Barden), 45(Shipley), 49(Andre Johnson), 52(Mike Williams RC), 53(Thomas Jones), 54(Tony Gonzalez), 55(David Anderson), 56(Aaron Hernandez), 57(Ed Wang), 58(David Harris), 59(Juaquin Iglisis), 60(Bob Sanders), 62(Javhid Best RC), 64(Gale Sayers), 69(Joey Galloway), 70(Jonathan Crompton RC), 75(Jimmy Clausen), 76(Aaron Curry), 78(Sidney Rice), 82(Quan Crosby), 84(Andre Roberts SP RC), 86(LT), 89(Dustin Keller), 96(Ryan Mathews), 103(Tom Brady), 105(Clinton Portis), 117(Derrick Morgen RC), 119(Steve Young), 120(Percy Harvin), 121(Dan LeFlour), 124(Dexter McCluster), 130(Amhad Bradshaw), 131(Brian Urlacher), 137(Vernon Davis), 140(David Reed RC), 145(Marc Buldger), 148(Colt McCoy RC), 152(Joe Webb), 155(Brandon Marshall), 162(Hakeem Nicks), 169(Dwight Freeney), 182(Fred Davis), 186(Dez Bryant), 194(Wes Welker), 196(Vince Young), 198(CJ Spiller RC), 199(Dem Thomas), 204(Chad Greenway), 229(Chris Cooley)
---
I sell anything in my ORG at only 13.7 percent of BV and flat shipping of 2.50 I AM NOT ASKING MY ASKING PRICE just had to fill them in for be marked for sale.

ONLY 13.7 PERCENT OF BV
04-26-2011, 01:59 PM
RE: what sets are you tring to complete?
I know there are more set collectors out there.
---

04-26-2011, 06:49 PM
RE: what sets are you tring to complete?
I have a thread stating what I need for 2010 Absolute Memorabilia already. I'm also trying to collect 1993 Pacific Prism Circular inserts (only need the scrubs) as well as the veteran set of Topps Prime, though I forget what my needs are exactly.

Philly Eagle in Az ...I have many of those Topps Magic cards. Check my org, it should be 100% up to date.
---


Collecting Greenwood, Woodley, and other Steelers. Also collecting 1993 Pacific Prisms (Check my org for set needs)

My Bucket:
http://s1083.photobucket.com/albums/j389/kennycooks/
04-26-2011, 06:51 PM
RE: what sets are you tring to complete?
no sets but I like pats au and gu lol
---

Football- Tom Brady, Rob Gronkowski, Aaron Hernandez, Brandon Bolden
04-26-2011, 06:56 PM
(This post was last modified: 04-26-2011 07:13 PM by mattfastiggi.)
RE: what sets are you tring to complete?
philly eagle...pm sent...from my 2 blasters of 2010 Chrome

I also have

Platinum - Shipley and Favre
Topps - Brady
R&S - Chris Johnson (to complete the set)
---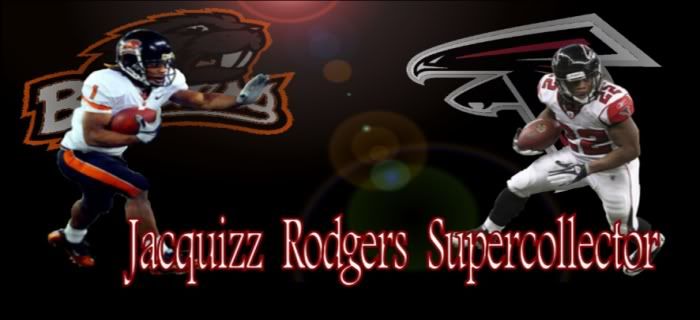 Jacquizz PC


Total = (259/354) 73%


Total minus 1/1 = (236/252) 94%
04-26-2011, 06:59 PM
jheringa09
Sr. Member


Posts: 4,982
Joined: Aug 2009
RE: what sets are you tring to complete?
I need a some 08 ud premier penmanship autos.
I need 09 certified fotg nfl die cuts.
---
Collecting Falcons, 3 Color or More Patches!
--- 2011 Rookies and Stars Materials Black Prime Longevity 051 out of 106 found. HELP!

http://s626.photobucket.com/user/JHnGA09/library
04-26-2011, 07:34 PM
alanch
Member


Posts: 1,347
Joined: Oct 2004
RE: what sets are you tring to complete?
Player Set for my PC

2005 Leaf Rookies & Stars
#121 -Longevity Holofoil /25
#121-Longevity /99
#121-Longevity Black /50
#121-Longevity True Blue /50
#121-Longevity True Green /100
#121-Longevity Gold /150


2008 Wisconsin Badgers Football
#20

Also any other Jim Leonhard or Mike Newkirk that you may have.
04-27-2011, 06:10 PM
RE: what sets are you tring to complete?
to the top
---

04-27-2011, 07:01 PM
RE: what sets are you tring to complete?
I am trying to complete 2010 Gridiron Kings. I have a wants folder in my organize that needs to be adjusted by about 5 cards, but other wise is pretty accurate.
Thanks for the thread and any potential trades
---
Currently trying to build 2010 Gridiron Kings
I collect Steve Young, Manny Lawson, Roger Craig and most things Niners.
User(s) browsing this thread: