newfie
06-25-2008, 05:10 PM
Hey everyone,
I haven't posted one of these in a few months, mainly because I have stopped collecting and also tracking every SPA that shows up on the various trade boards and Ebay. Life got to be to busy with work, wife, and three kids. Then there was also the UD email of them no longer backing any proven tampered SPA's I would send them, that pretty much ended my 6 year "job"with UD of trying to help them stop SPA counterfeiters.
About once a month I do find some time to look up SP Authentic patches on Ebay and see how they are doing $ wise, and if any suspicious looking patches are still popping up.
For old time sakes I thought I would warn any potential last minute bidder's on this card.
Leinart SPA #57/299 auction
New patch: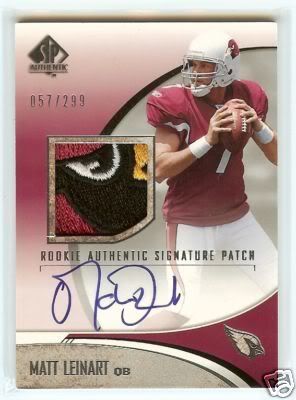 Old patch #57/299
With Ebay's new bidder hidden ID policy, it is nearly impossible to warn the current bidder's, but maybe someone here was thinking of bidding on it at the end of the auction.