Just trying to make a few deals/sales before I get my Chrome case this week
HERE ARE THE CARDS I AM LOOKING FOR:
I will look at bucket for trade bait and Triple Threads autos as well.
Nick Markakis Autos (That I do not have) 2007 Triple Threads, 2008 UD Ultimate GU/AU, 2008 Triple Threads, 2007 Turkey Red, 2009 Ultimate Collection, 2009 Piece of History GU/AU,
Ryan Braun Bowman Chrome AU RC
Tim Lincecum Bowman Chrome AU RC
Dustin Pedroia Elite RC AU
Felix Hernandez Bowman Chrome AU
Gio Gonzalez Bowman Chrome AU
Ryan Zimmerman Bowman Chrome AU
Andrew Miller SP Authentic Letterman AU
Miguel Cabrera SP Authentic Letterman AU
Jim Thome SP Authentic Letterman AU
Catfish Hunter AU
Matt Kemp Bowman AU RC
Randy Johnson SP Authentic Letter AU or relic auto
Chipper Jones SP Authentic Letterman AU
Jose Altuve 2012 Bowman Platinum Relic AU Redemption or Triple Threads
Zack Wheeler Bowman Chrome AU
Yu Darvish Topps or Bowman Chrome AU
Kyle Crick Bowman Chrome AU
Todd Frazier Bowman Chrome AU
Josh Reddick Bowman Chrome AU
Kendry Morales Bowman Chrome AU
Michael Brantley Bowman Chrome AU
2012 Triple Threads Autos:
Jose Altuve
Andrew McCutchen
Drew Storen
RA Dickey
Gio Gonzalez
2012 Bowman Chrome Autos:
Cody Buckel Refractor Autos
Jose Campos
Tyler Austin
Billy Hamilton
Nick Castellanos
Jonathan Singleton
Roughned Odor
Nomar Mazzara
Trevor May
Tony Cigrani
Will Middlebrooks RC
Marcell Ozuna
Jorge Soler
Avsaril Garcia
Tyler Skaggs
All are Best Offer, willing to negotiate. Willing to move a lot of these, especially the lower end autos so willing to work with people. Wont discount too much on the higher end/more sought after cards.
Free shipping for anything over 10$, anything under 10 is 2.50$ with DC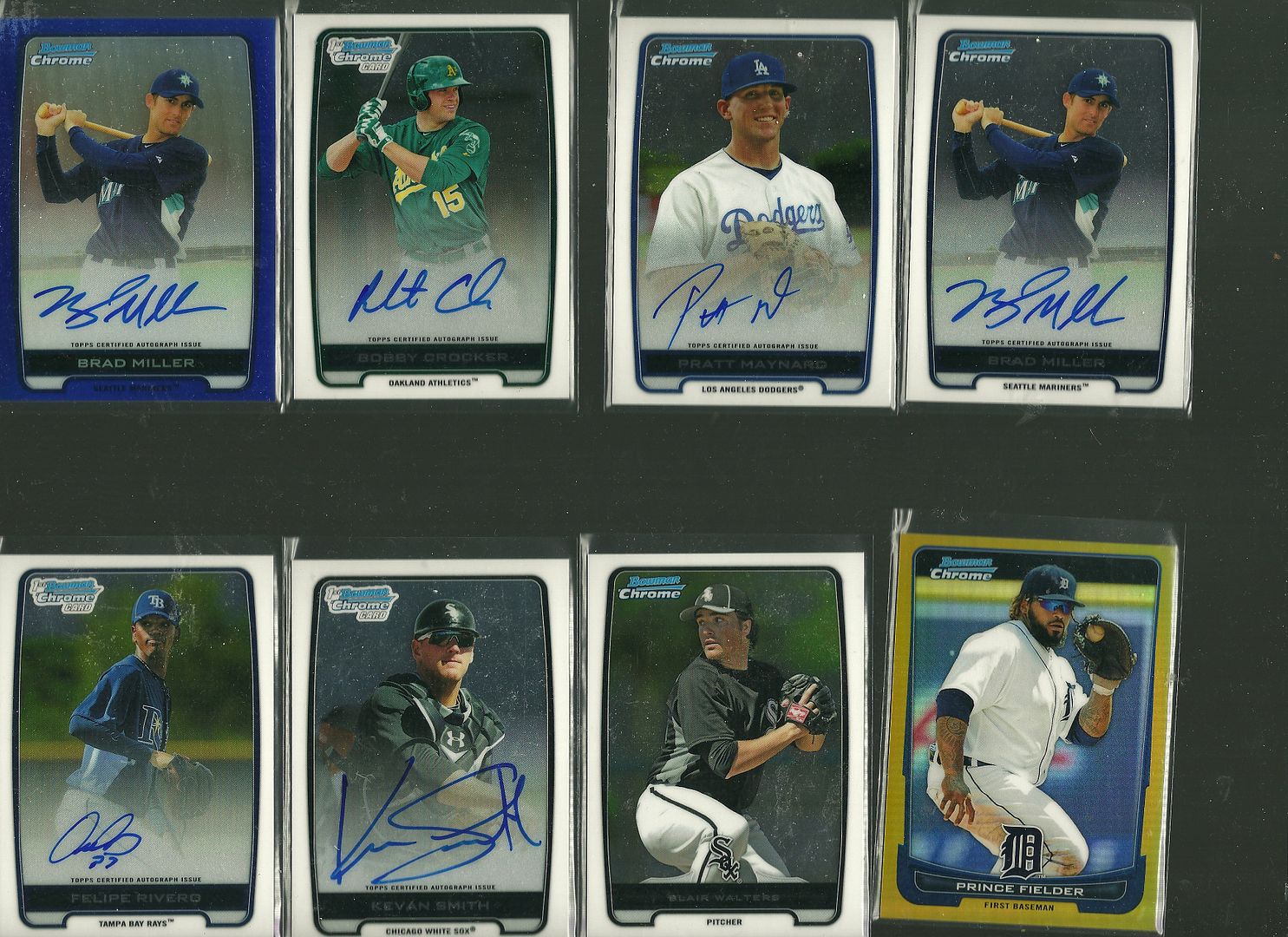 Brad Miller Blue 35
Brad Miller 8
Felipe Riverio 5
Kevan Smith 5
Blair Walters Variation 20
Prince Fielder Gold 10
Bobby Crocker 5
Pratt Maynard 7
Gio Gonzalez 10 (Slight ding on bottom corner, from pack)
Hunter Morris 10
Matt Moore Purple 5
Evan Longoria Blue 5
Dee Gordon Orange 10
Juaner Aguasivavas Gold
Buster Posey Blue 5
Stephen Strasburg Blue 5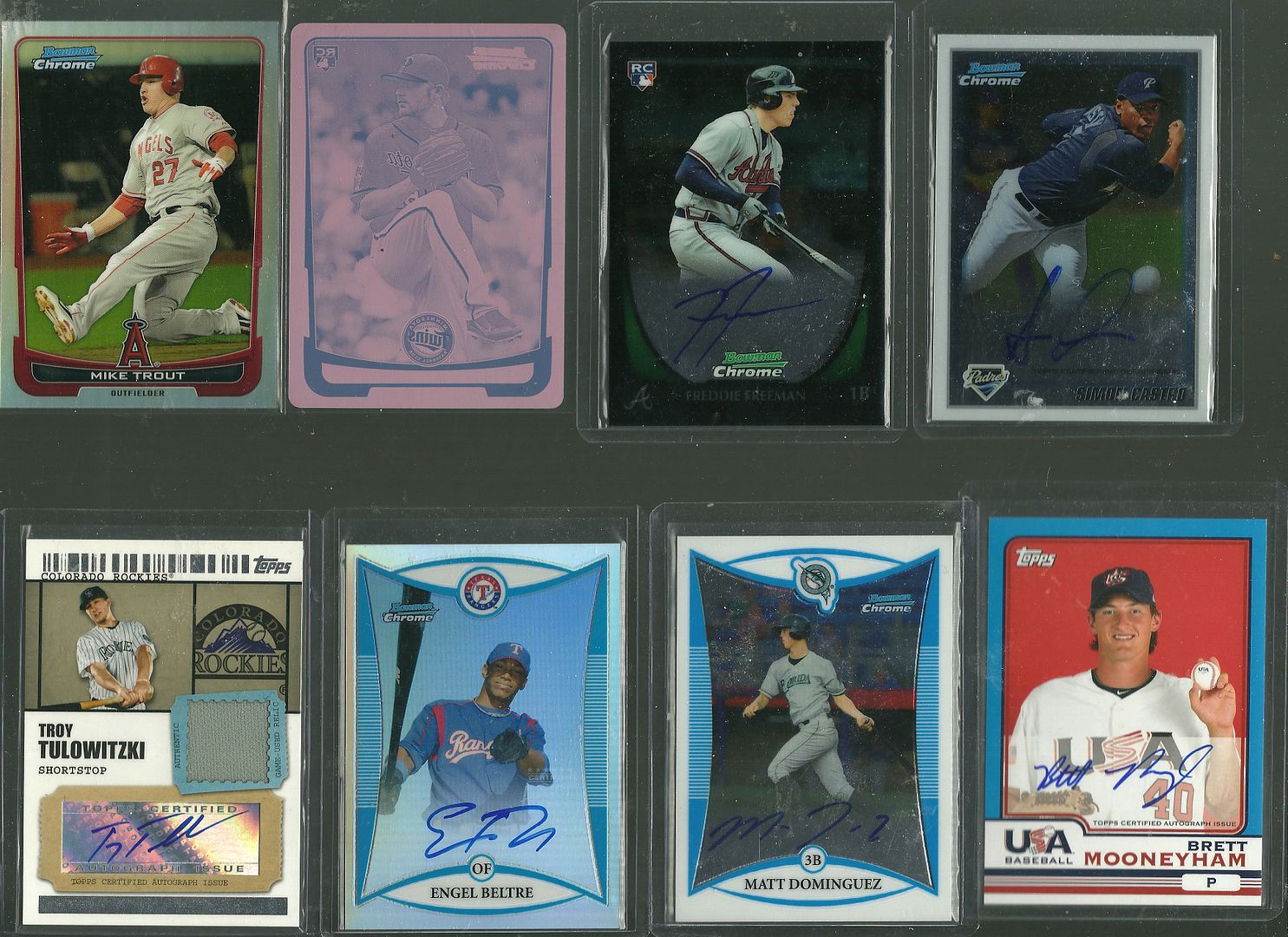 Mike Trout Refractor 10
Liam Hendriks Magenta Plate 10
Simon Castro 5
Freddie Freeman 10
Troy Tulowitzki 20
Engel Beltre Refractor 7
Matt Dominguez 5
Brett Mooneyhamn 5
---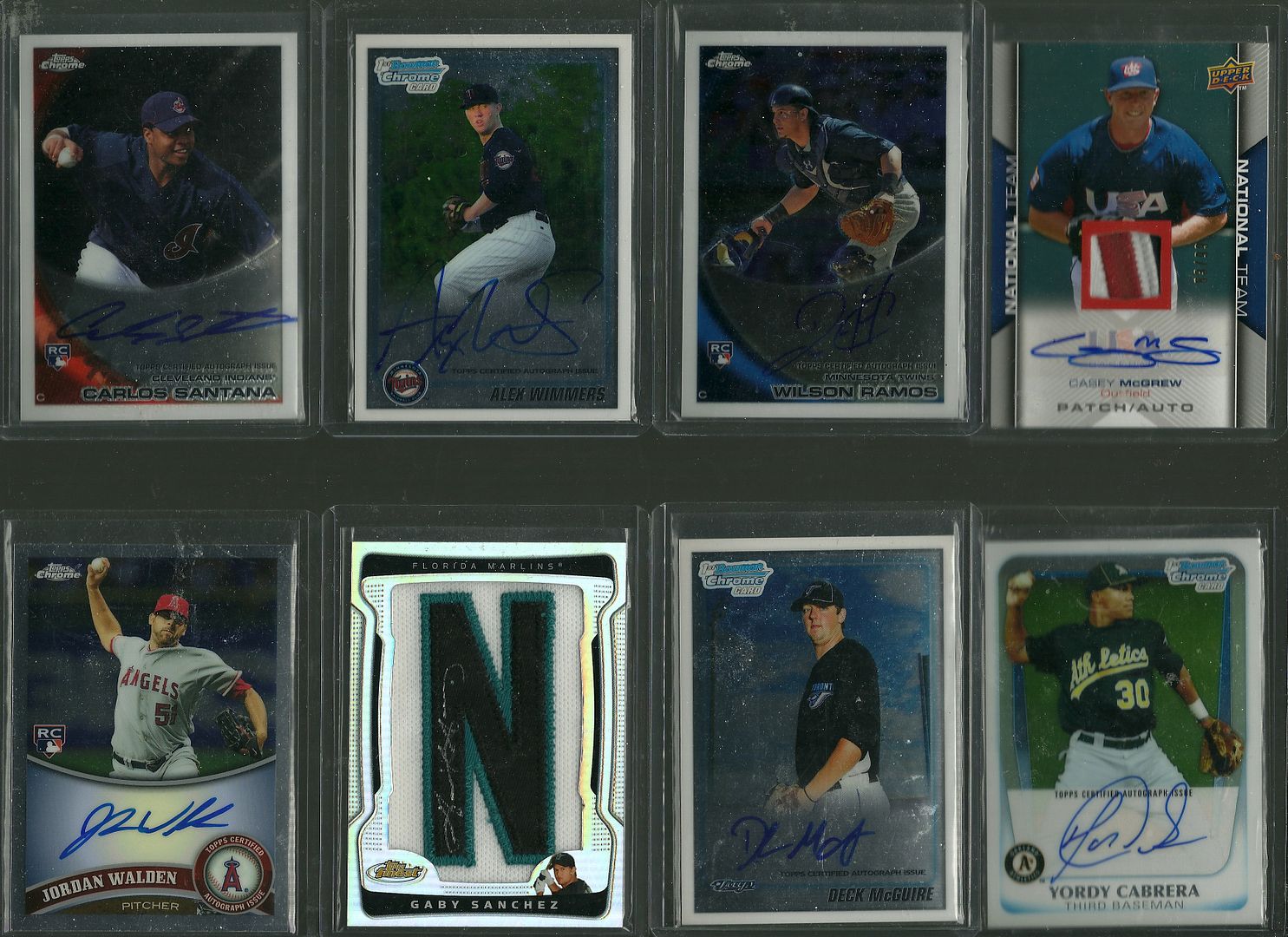 Yordy Cabrera 6
Casey McGrew 7
Wilson Ramos 5
Alex Wimmers 5
Carlos Santana 8
Jordan Walden 5
Gaby Sanchez 7
Deck McGuire 5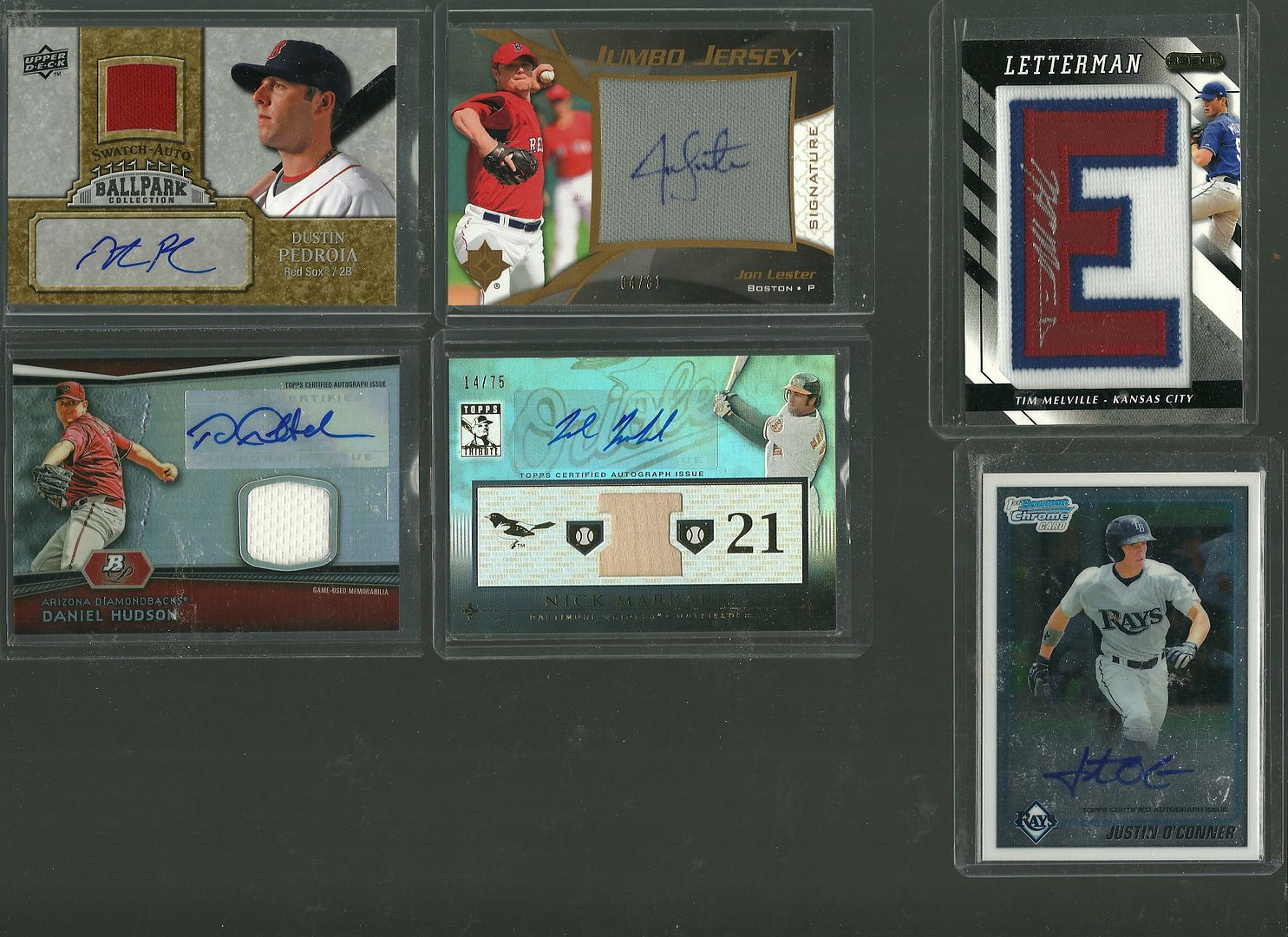 Dustin Pedroia 20
Tim Melville 5
Justin O'Conner 5
Daniel Hudson 5
Jon Lester 30
Nick Markakis 12
Tyrell Jenkins 5
Josh Sale 5
Taylor Jungmann 5
Alex White 5
Gordon Beckham 10
Austin Jackson Refractor 20
Josh Thole 5
Ryan Zimmerman Gold 7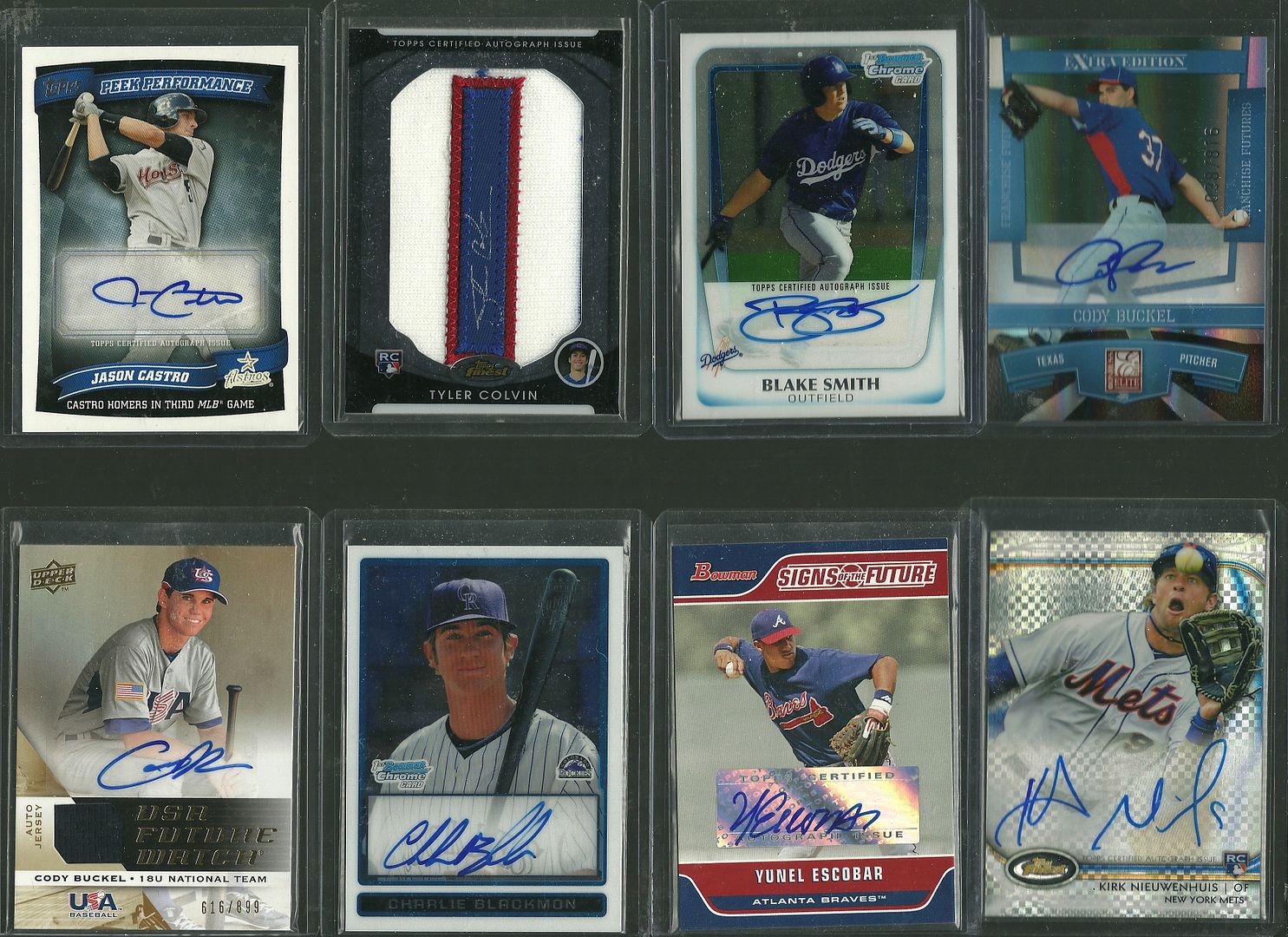 Charlie Blackmon 5
Yunel Escobar 5
Kirk Nieuwehuis X Fractor 5
Cody Buckel USA 10
Blake Smith 5
Cody Buckel Elite 10
Tyler Colvin 5
Jason Castro 5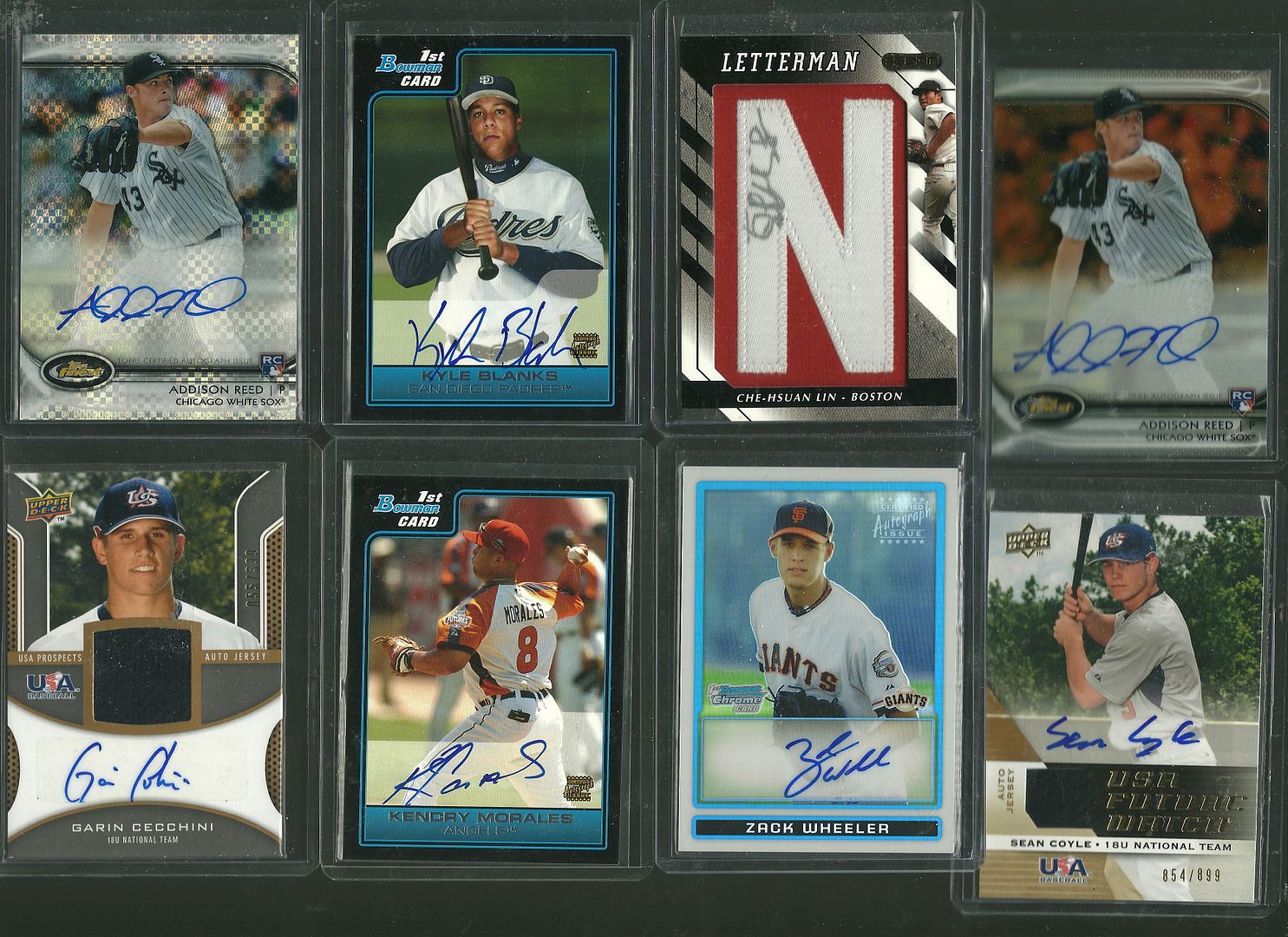 Zack Wheeler Refractor 40
Sean Coyle 7
Che-Hsuan Lin 10
Addison Reed Orange 15
Kyle Blanks 5
Addison Reed X Fractor 5
Kendry Morales 7
Gavin Cecchini 8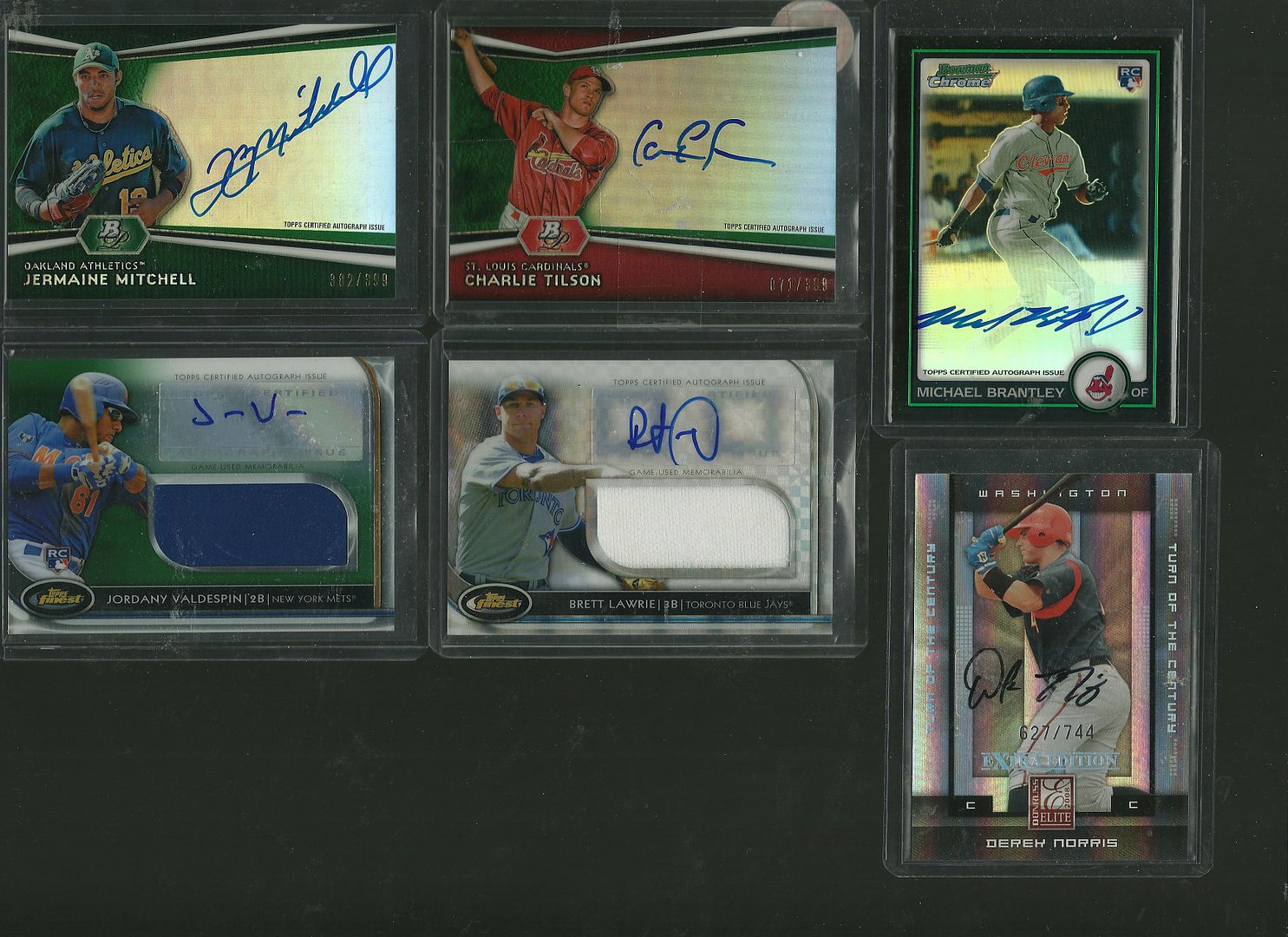 Michael Brantley 7
Derek Norris 5
Charlie Tilson Green 5
Jermaine Mitchell 5
Jordany Valdespin 7
Brett Lawrie X Fractor 15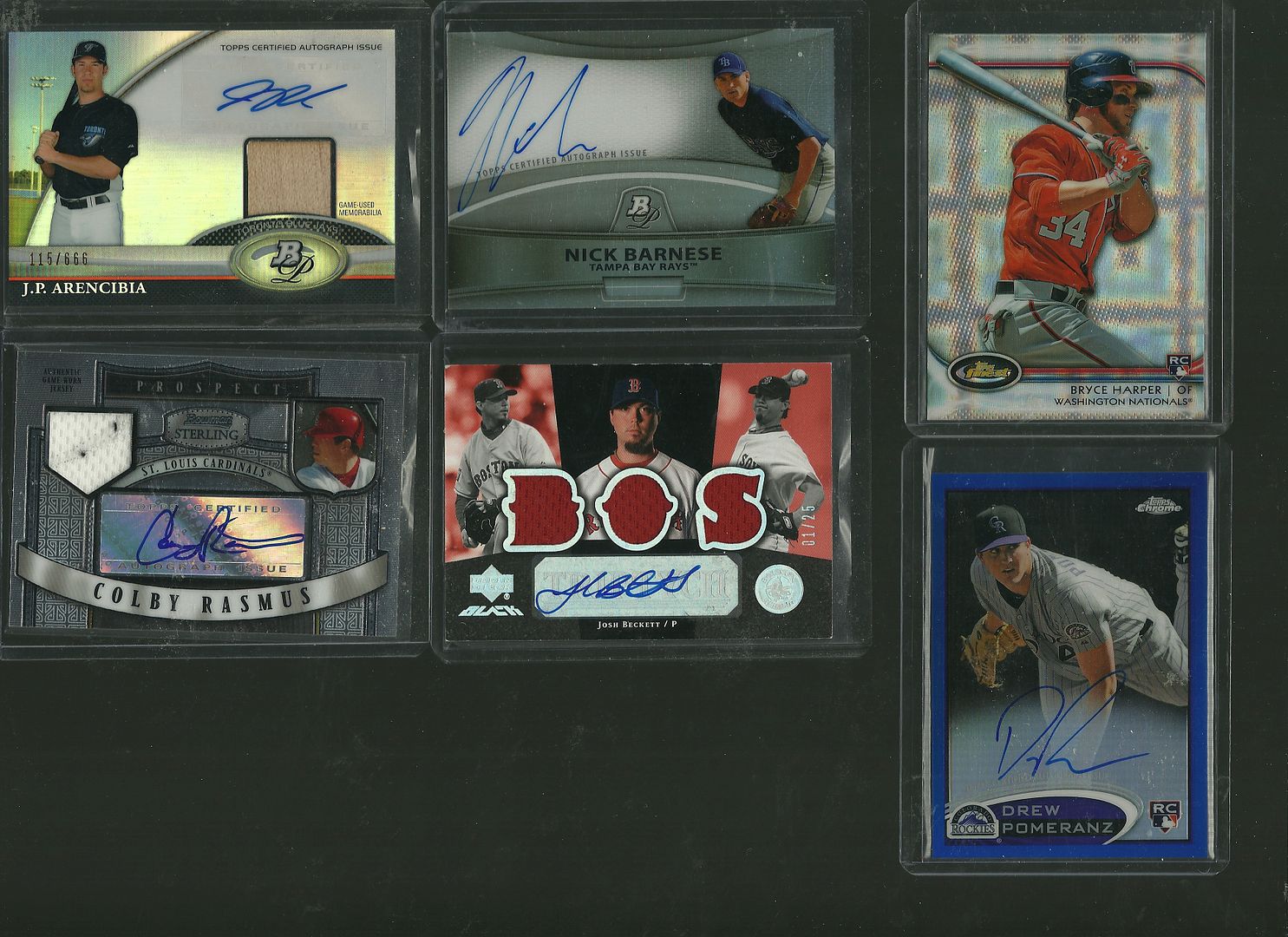 Bryce Harper X Fractor 20
Drew Pomeranz 7
Nick Barnese 5
JP Arencibia 5
Colby Rasmus 5
Josh Beckett 22
---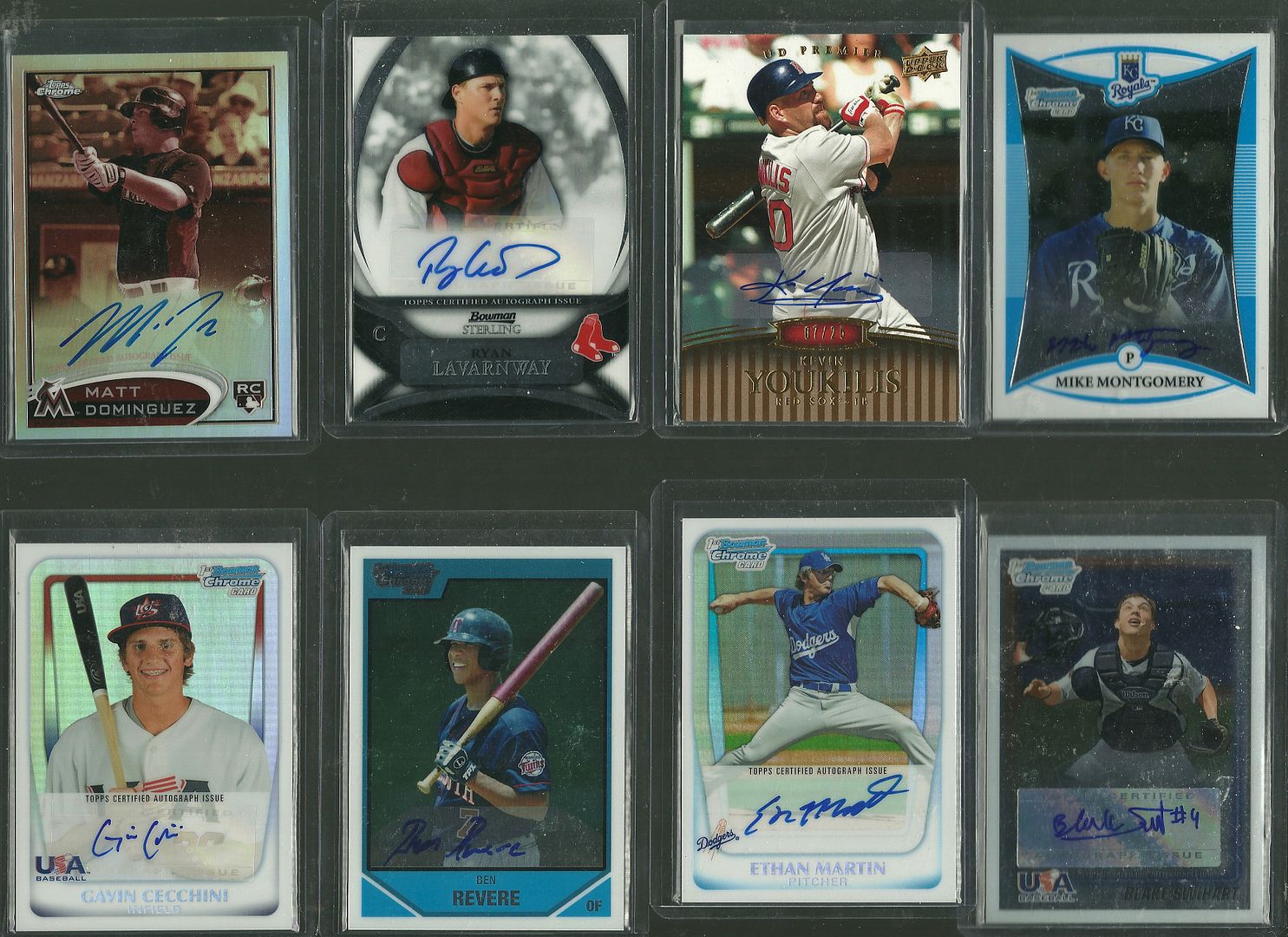 Kevin Youkilis 15
Mike Montgomery 7
Ryan Lavarnway 7
Matt Dominguez Sepia 10
Ethan Martin Refractor 7
Blake Swihart 10
Ben Revere 8
Gavin Cecchini Refractor 15
Jonathan Singleton 12
Hector Noesi Refractor 5
Ike Davis Bowman Refractor 20
Tyler Skaggs Platinum 10
Starling Marte Platinum 20
Jerry Sands 5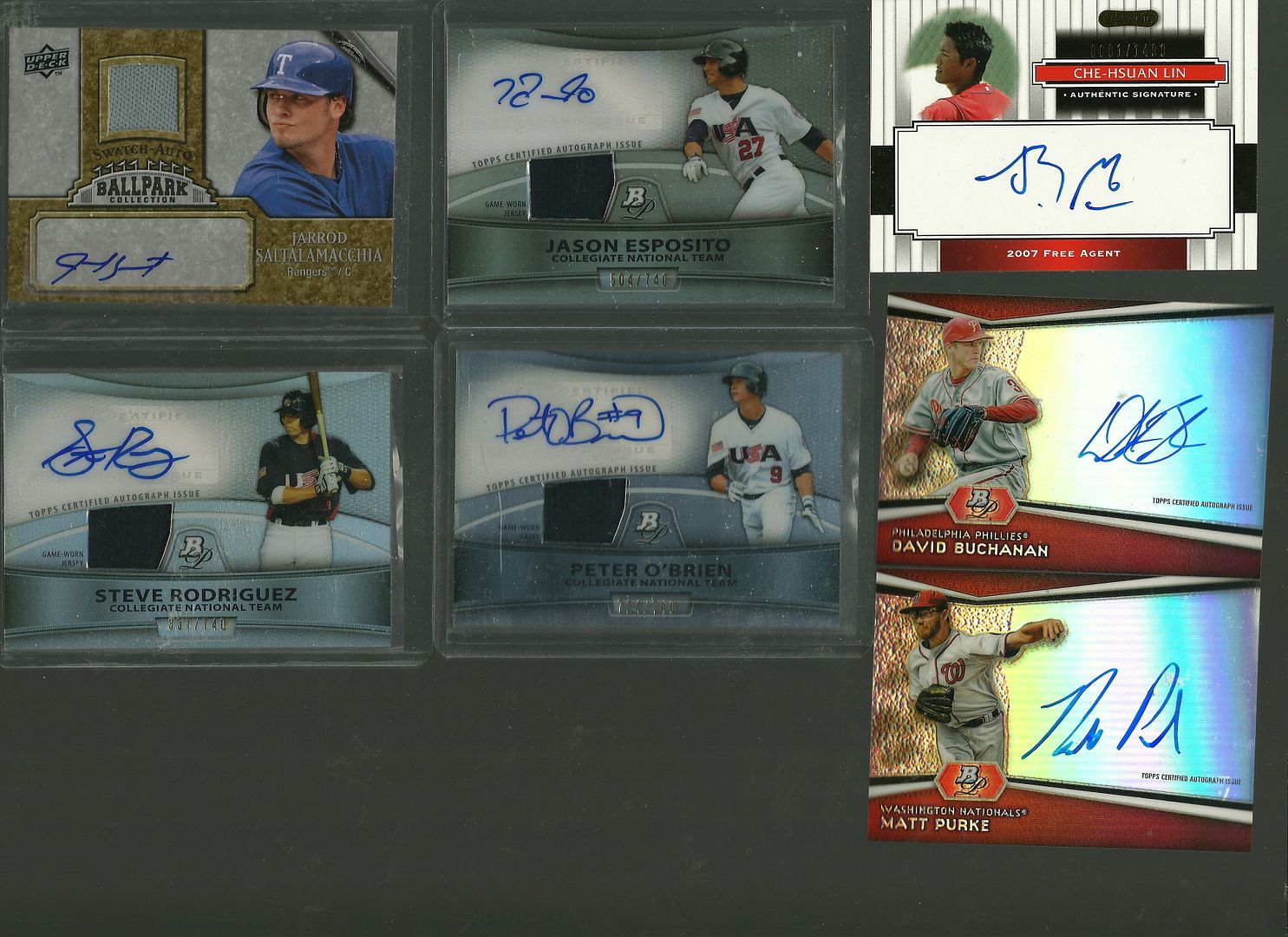 Che-Hsuan Lin 5
Matt Purke 5
David Bucchanan 3
Steve Rodriguez 7
Peter O'Brien 7
Jason Esposito 7
Jarrod Saltmacchia 8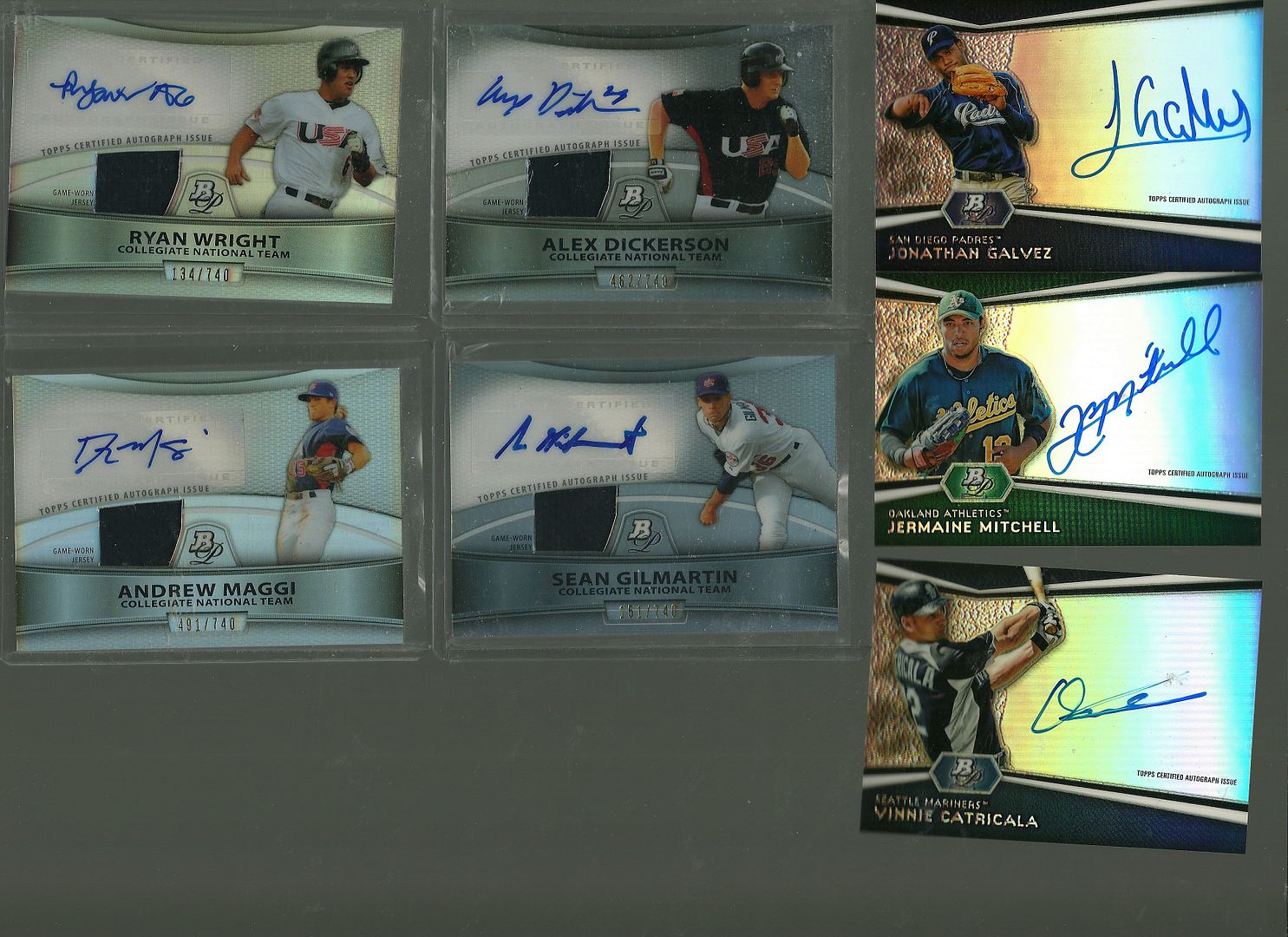 Vinne Catricala 3
Jermaine Mitchell 3
Jonathan Galvez 3
Ryan Wright 7
Andrew Maggi 7
Alex Dickerson 7
Sean Gilmartin 10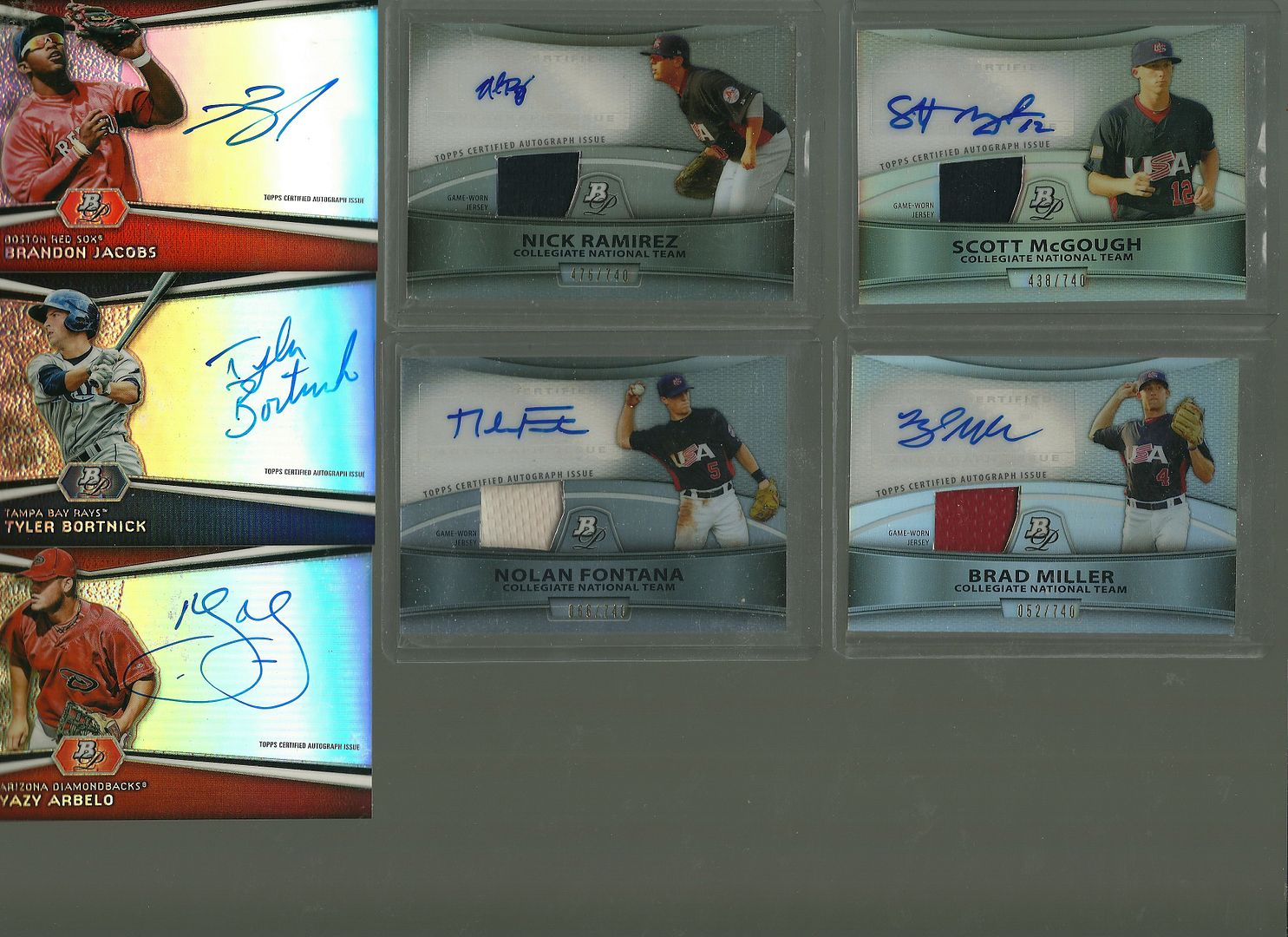 Tyler Bortnick 3
Brandon Jacobs 5
Yazy Arbelo 3
Scott McGough 7
Nolana Fontana 7
Nick Ramirez 7
Brad Miller 10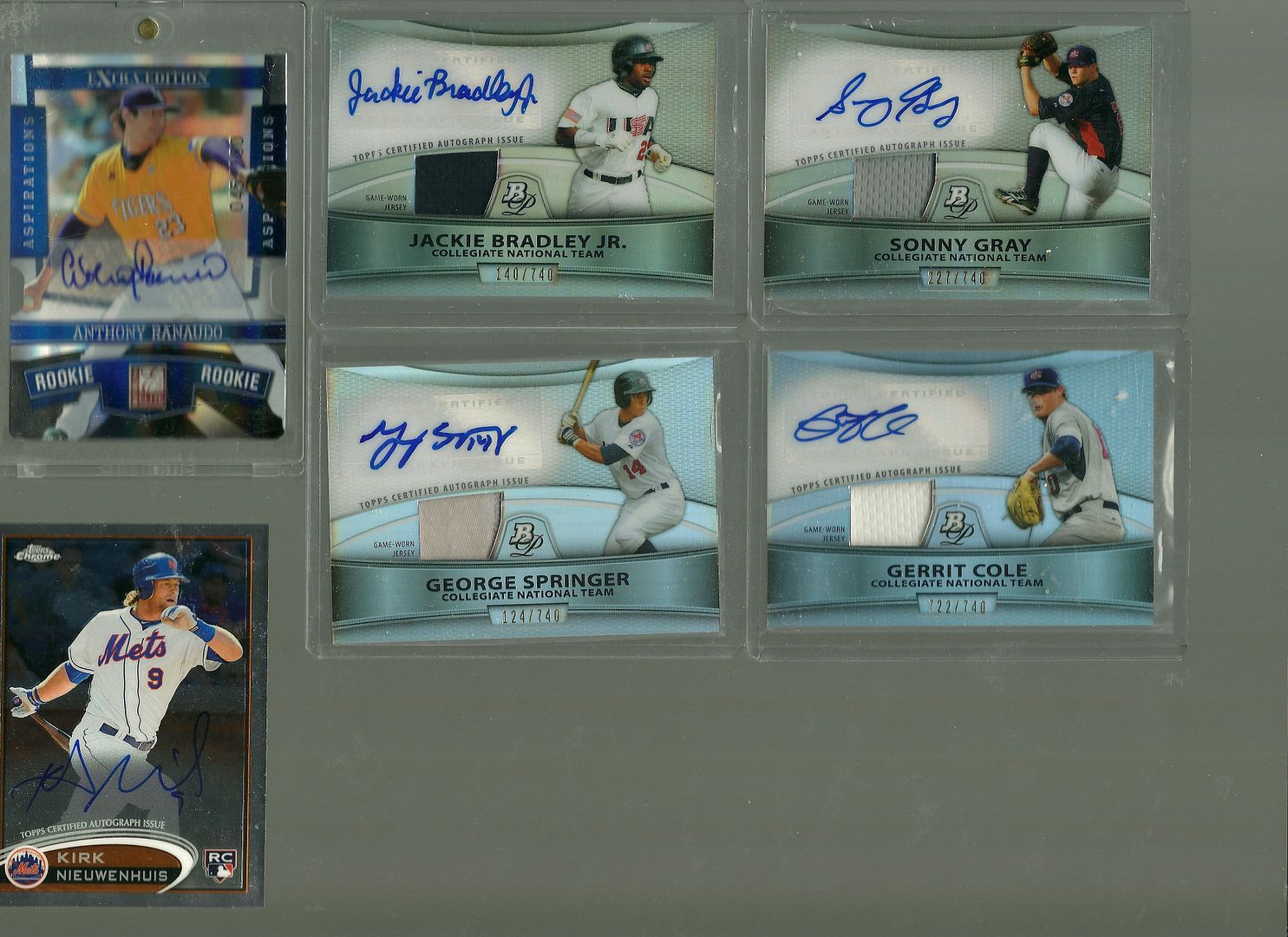 Kirk Niewehuius 5
Anthony Ranaudo 20
Gerrit Cole 20
Sonny Gray 10
George Springer 10
Jackie Bradley Jr 20
Tyler ANderson 7
Mikie Mahtook 7
Brett Mooneyham 7
Matt Dominguez 7
Austin Romine (2) 5
Wily Peralta 5
Tsuyhoshi Wada 10
Chris Parmelee (2) 5
Delin Betances 5
Tyler Pastronicky 5
Carl Crawford 20
Adrian Gonzalez 30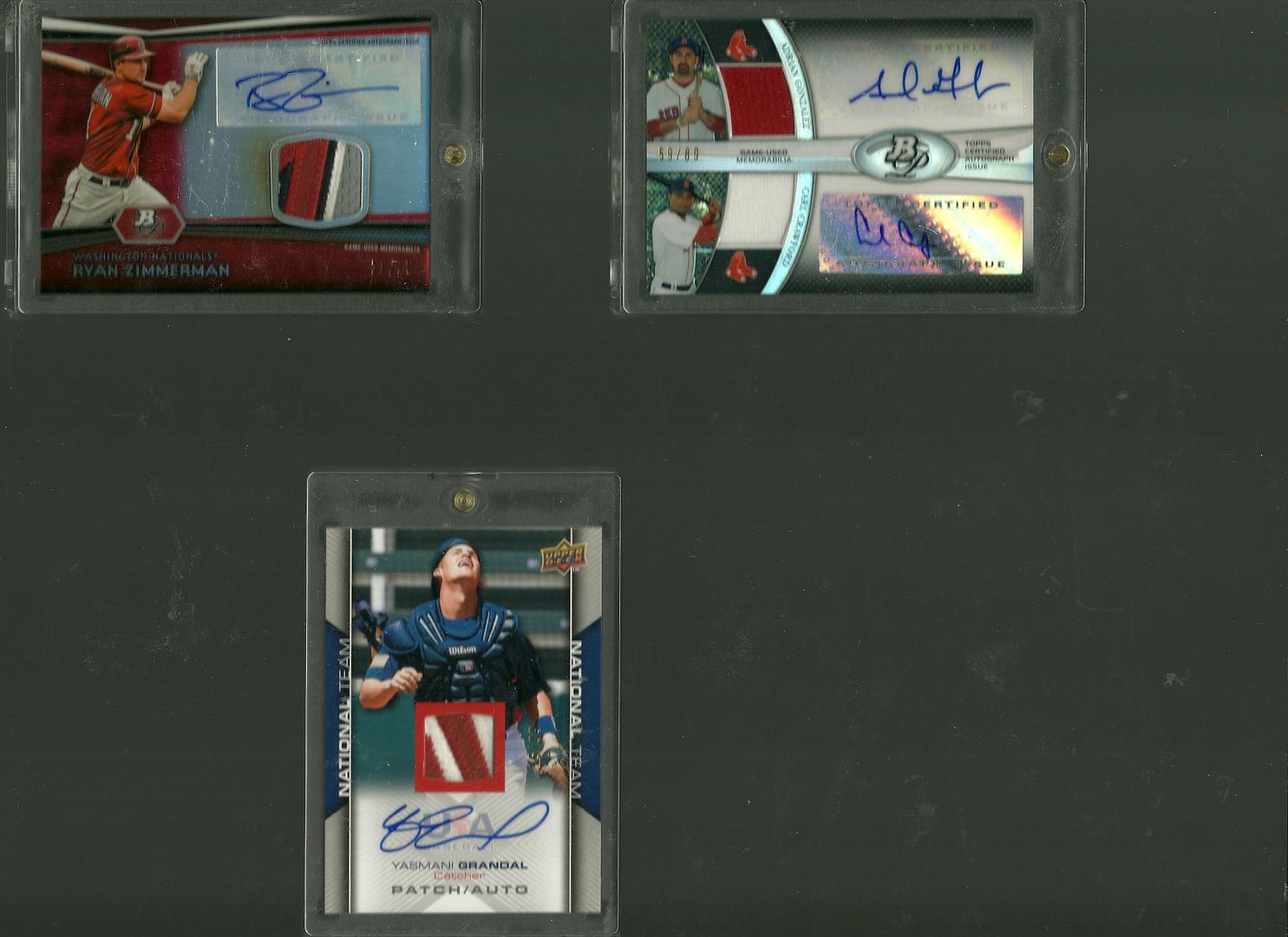 Adrian Gonzalez 20
Yasmani Grandal 50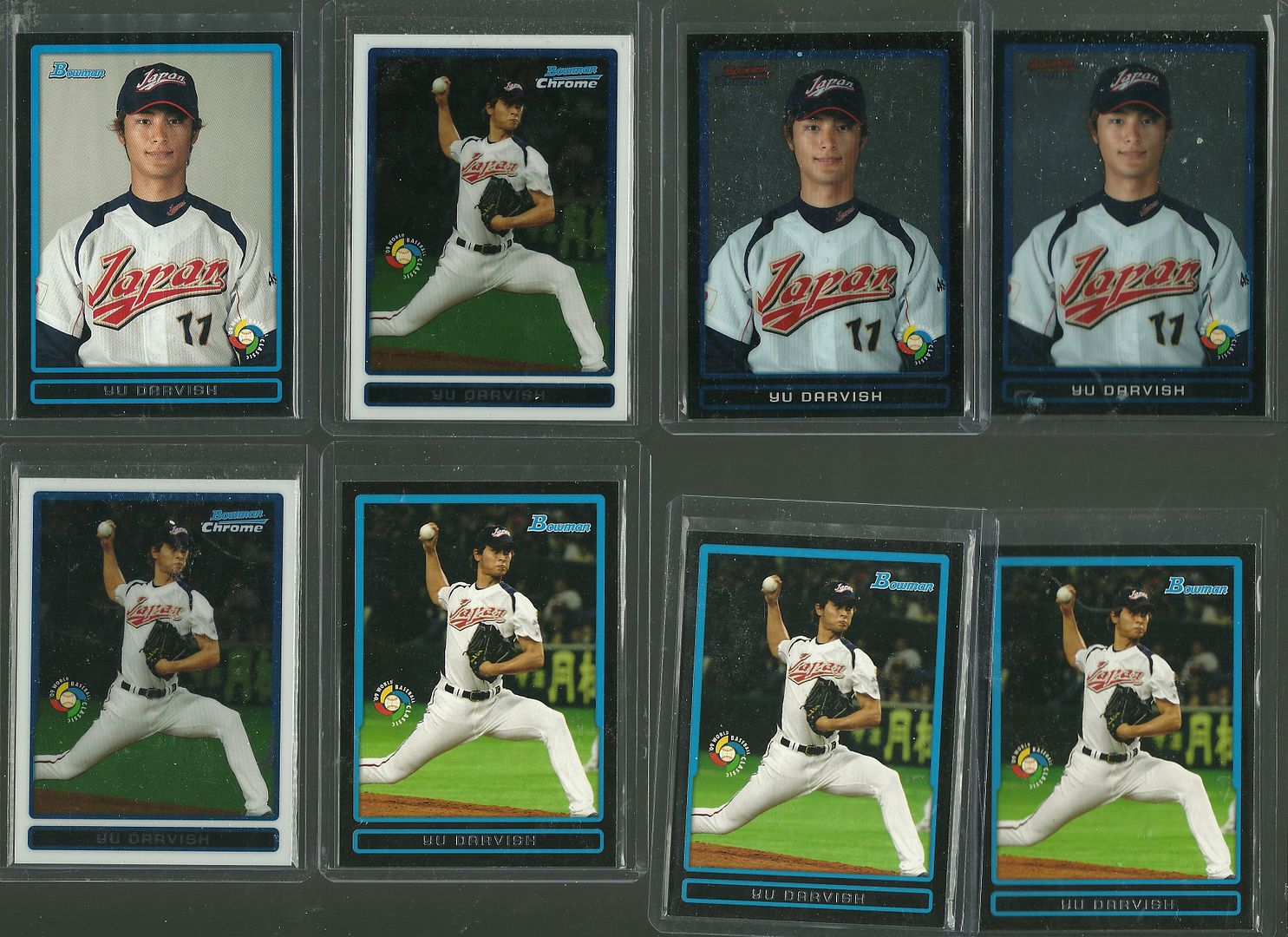 Yu Darvish Lot 25