Well, hello there all of my friends in cardboard and beyond. I have finally returned from my Toronto expo journey and I must say that it was an absolute blast. Instead of a simple recap, I figured that I should have some fun with this, since something like the Expo Weekend does not happen to me very often.
Let us start on Wednesday. We left Edmonton nice and early (had to be up at 5:00AM) and we arrived at the hotel in Toronto in the late afternoon.
Here is me joyfully pointing out the size of the hotel room: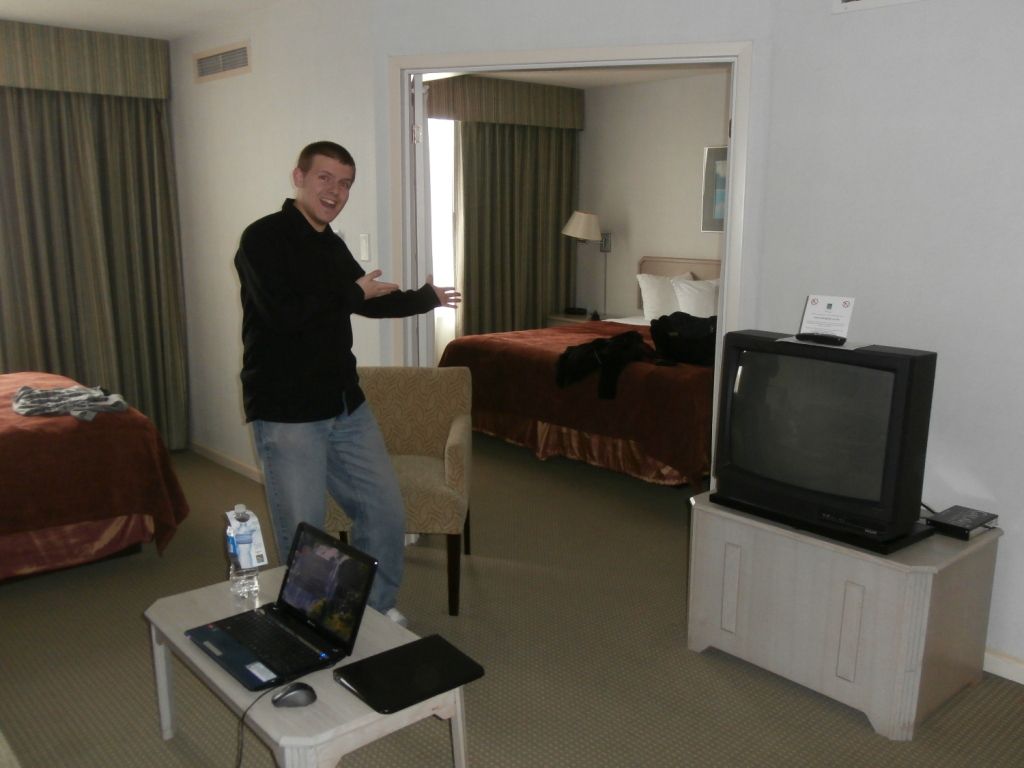 Let us now move onto Thursday since Wednesday was truly a lost day in every sense of the word. Thursday, my dad and I went to the Hockey Hall of Fame in downtown Toronto. Heavy traffic and limiting parking were the price that we had to pay to see some of the finest pieces of hockey memorabilia assembled in a single hall. They had a special game-used goalie mask display with the likes of Fuhr, Joseph, and Dryden among others, and many other elaborate displays throughout. I took part in the puck-stopping game that they had setup and being the amazing hybrid-style goaltender that I am, I ended up with the highest score of the week on it.
Carefully examining the many items in the hall, I came across something golden that I just had to get a picture of with me in it. So, here is my grinning like a fool and pointing at the best player's IIHF inaugration plaque: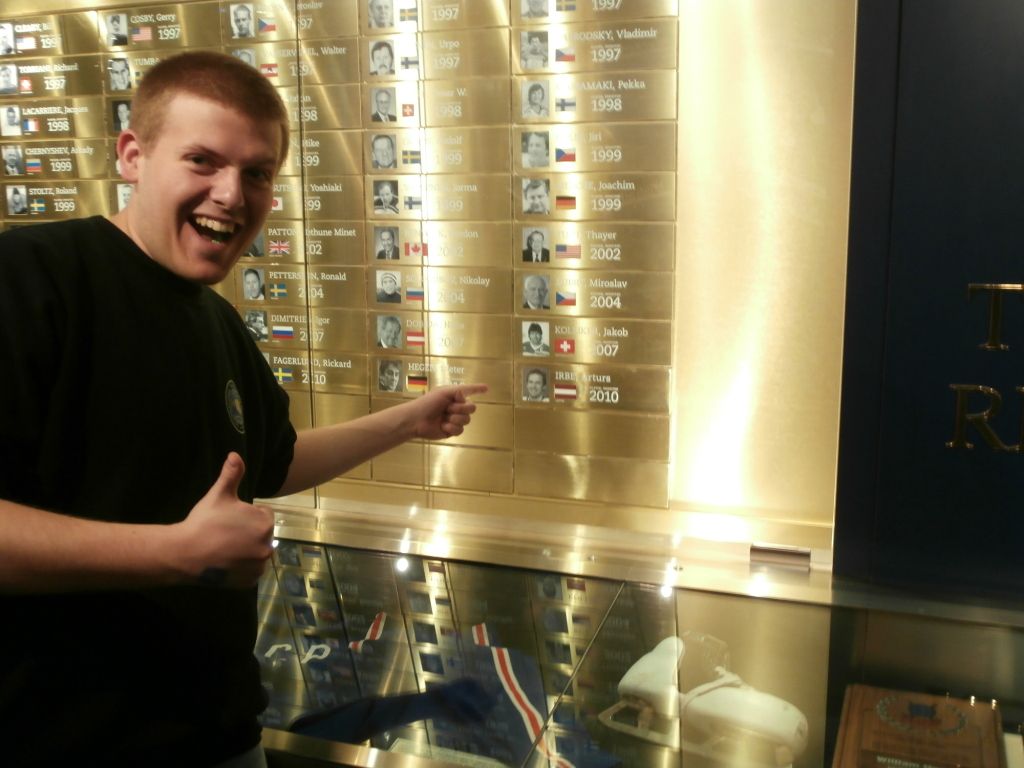 Friday was when the storm began and let me tell you did it not only rain, it poured in the expo halls (figuratively, not literally). I added many new cards to the collection and met many of the internet's finest members and traders. I also had the pleasure of meeting Dr. Price of ITG, once again, as well meeting some of his great employees who were awesome to talk to.
Saturday was the first day of autograph guests that I was interested in. Hasek and LaFontaine were my dreams to meet, and AJ Sports World, the autograph guest sponsors, soured mine and many other collectors' mouths with their antics. Line-ups were disorganized and rushed. You were allowed minimal communication with the players, and they did not allow me to add items to my "In Other(s) Words" project unless I paid for an additional autograph (which I have never had to do in Western Canada). Who knows what great things that Hasek or LaFontaine may have written about Irbe had the sponsoring company allowed me to.
Pardon the rant, but AJ Sports World is one of the worst companies that I have ever deal with. They dominated most of the players telling them what they can and cannot do. They tried to stop people from getting pictures taken with LaFontaine because they were trying to get him out of there. It seems that the company took the money of its customers without problem, and took what should have been an excellent experience of meeting some NHL greats, and turned it into a bland Soviet-esque marching line where we were the cattle. I was very disappointed since the Western Canadian promoters are all about giving fans the experience instead of taking peoples' money and not caring about us afterwards.
Regardless, I got to meet Hasek and LaFontaine and get their autographs customized to me.
Here is a picture of myself with the "Dominator". (He wasn't even allowed to ask me how to spell my name when signing the 8X10, the AJ people dominated the "Dominator" and quickly corrected him on how to spell it, giving me no chance to verbally interact with him). Oh well, at least they let me take a picture with him...from the other side of the table: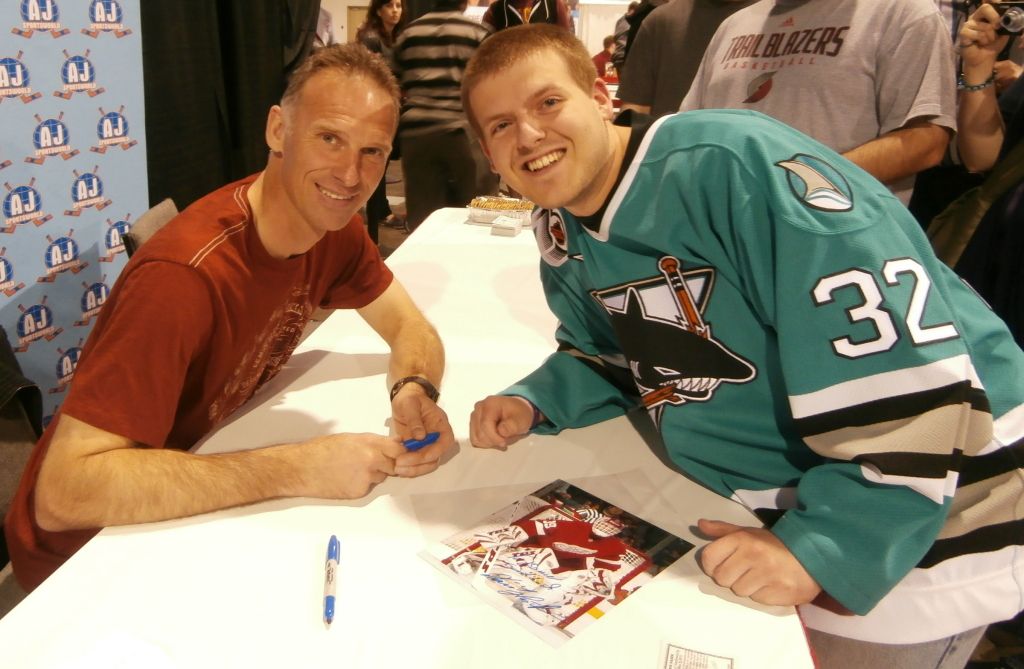 And here is the 8X10 he signed for me: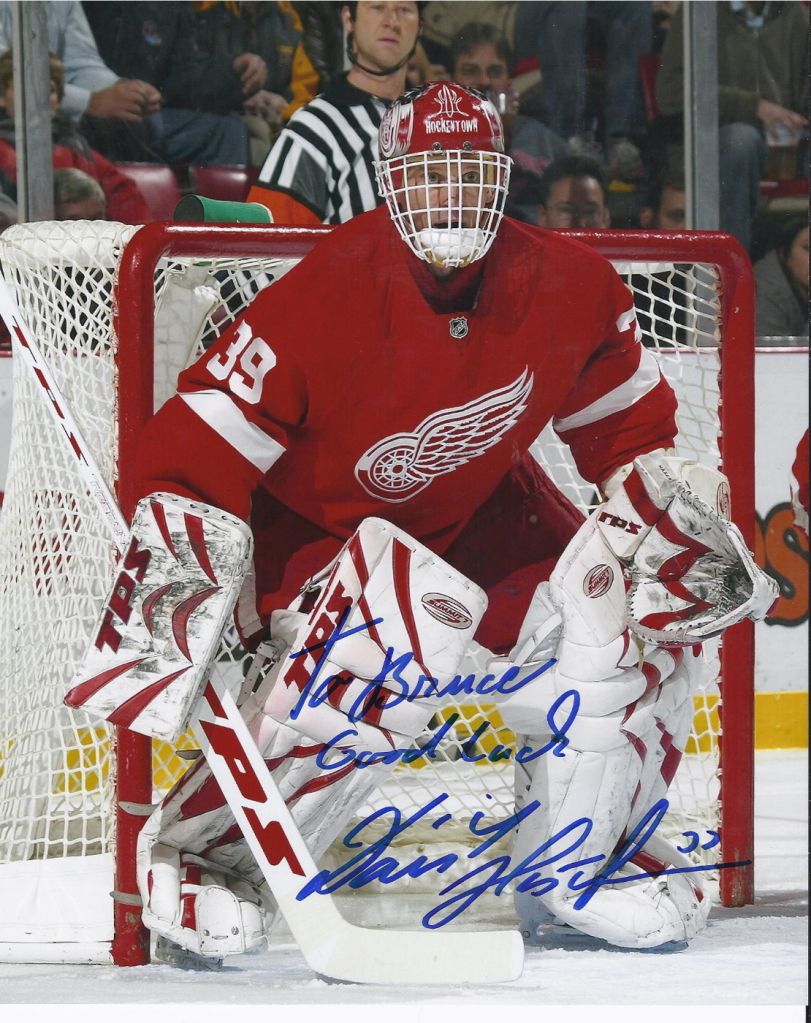 Next, I was rushed into the line for Pat LaFontaine. The AJ Sports World staff told us to avoid getting pictures taken with him if possible because they wanted to get LaFontaine out of there by 2:00PM. I did not care because they are not in charge of me, so I still got my photo taken with him...too bad I blinked in the picture: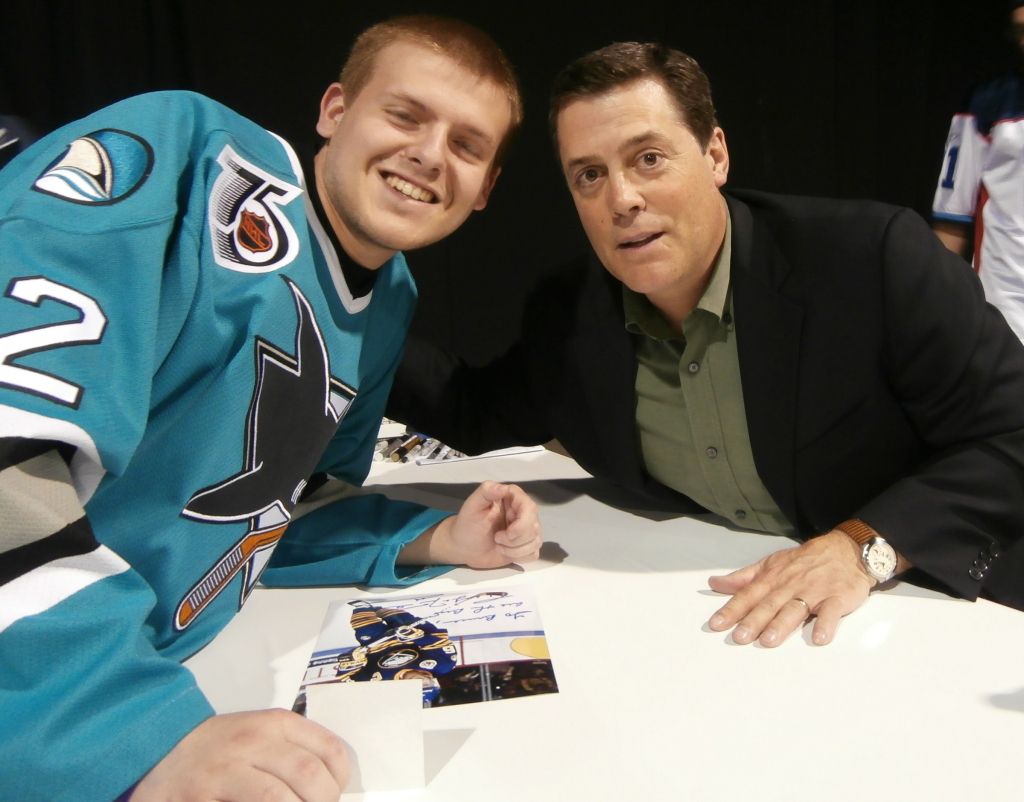 And here is what LaFontaine signed for me:
I also opened up a pair of boxes of Between the Pipes ot see what luck that I would have with hitting an Archie Irbe...or at the very least something nice. I am not a one-dimensional player collector after all. Two boxes, these were my hits (one of the Anniversary redemptions were traded right afterwards so I do not have scans of it). Not too bad. A Fleury SP autograph, some up and coming prospect autos, a sick Anderson patch #/19, a nice Johnson glove #/10, and a disgusting Thomas patch redemption #/10 made the breaks worthwhile. Plus ITG is the greatest company ever and treats everyone like they would want to be treated. I spent so much time there, people walking by actually thought that I was an ITG employee as they asked me questions about the schedule of ITG for the day. Is it creepy that I actually knew how to answer the people?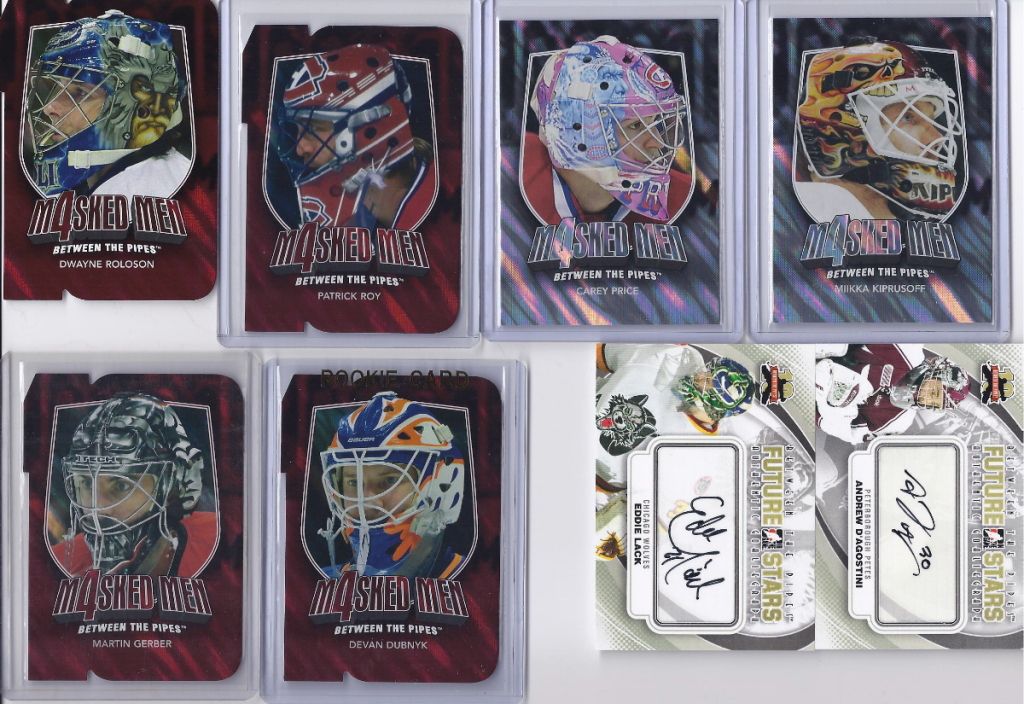 At the end of the day, my feet hurt and I needed some bad food, so I ate some Wendy's, went back to the hotel room, drank a couple of beers and watched "The Hangover".
Sunday was the final day and it showed on everyone. The previously bright and eager faces on everyone were replaced by fatigue. The last autograph guest that I was interested in was Kirk McLean and because he was the lowest in price, I purchased a second auto ticket to get him to take part in my "In Other(s) Words" project since he and Irbe were teammates together in Vancouver in 1997-98. He actually told the AJ Sports people to let people have photos taken with him and he was one of the nicest athletes that I have ever met in my life. Here is me with McLean: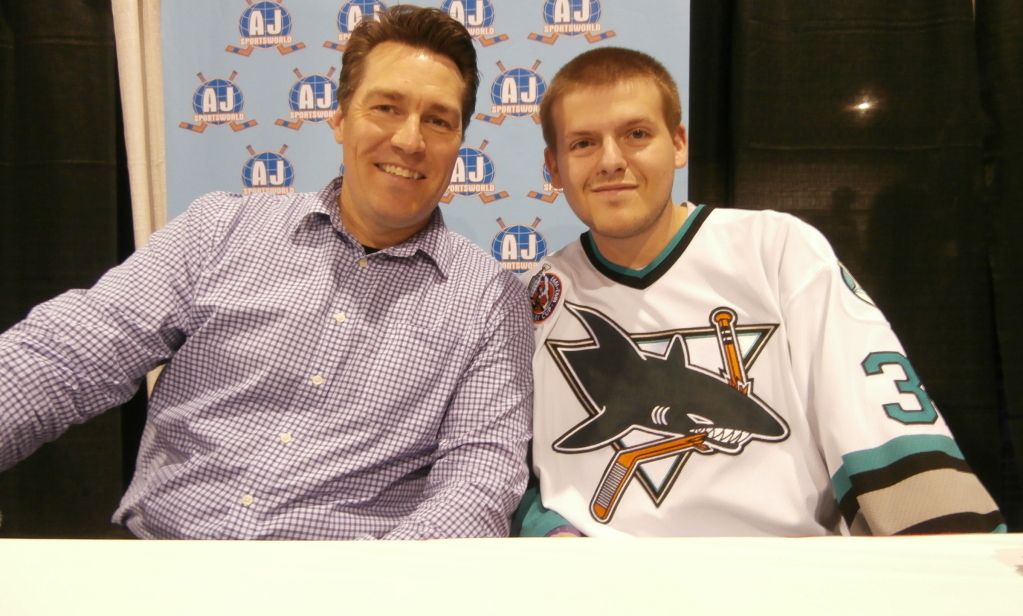 ---
This is what he signed on my 8X10 photo: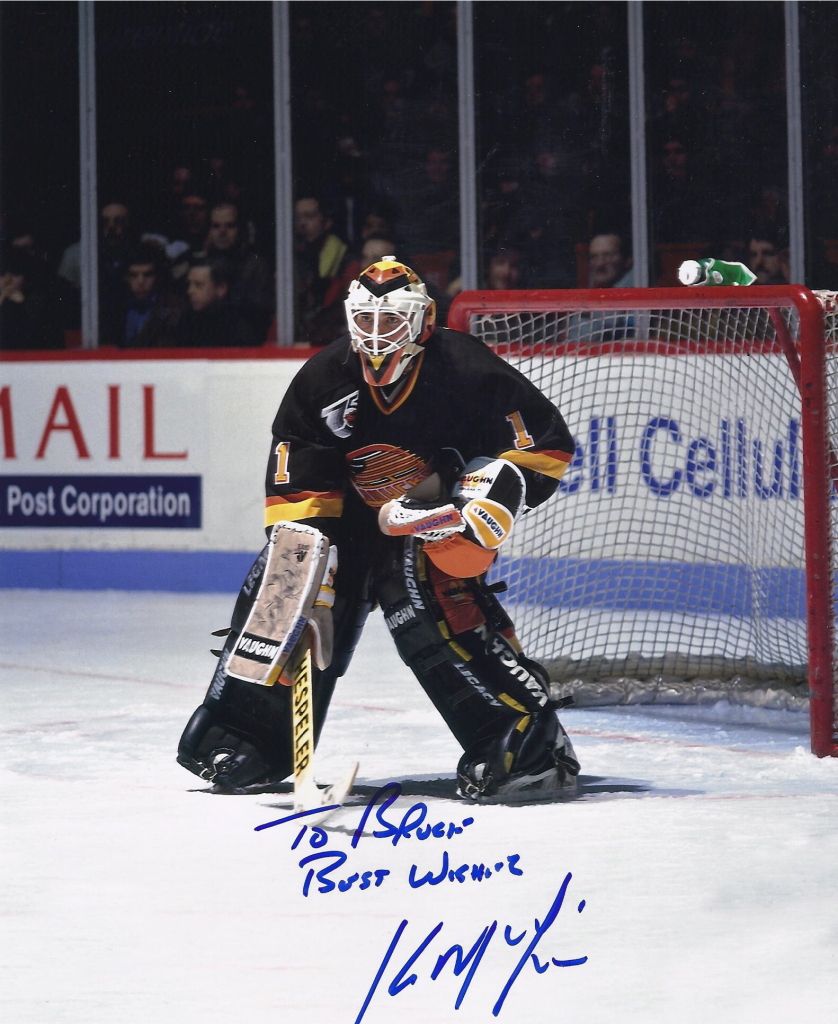 Here is a picture of him signing my Irbe card, trying to think of what to say about his former teammate: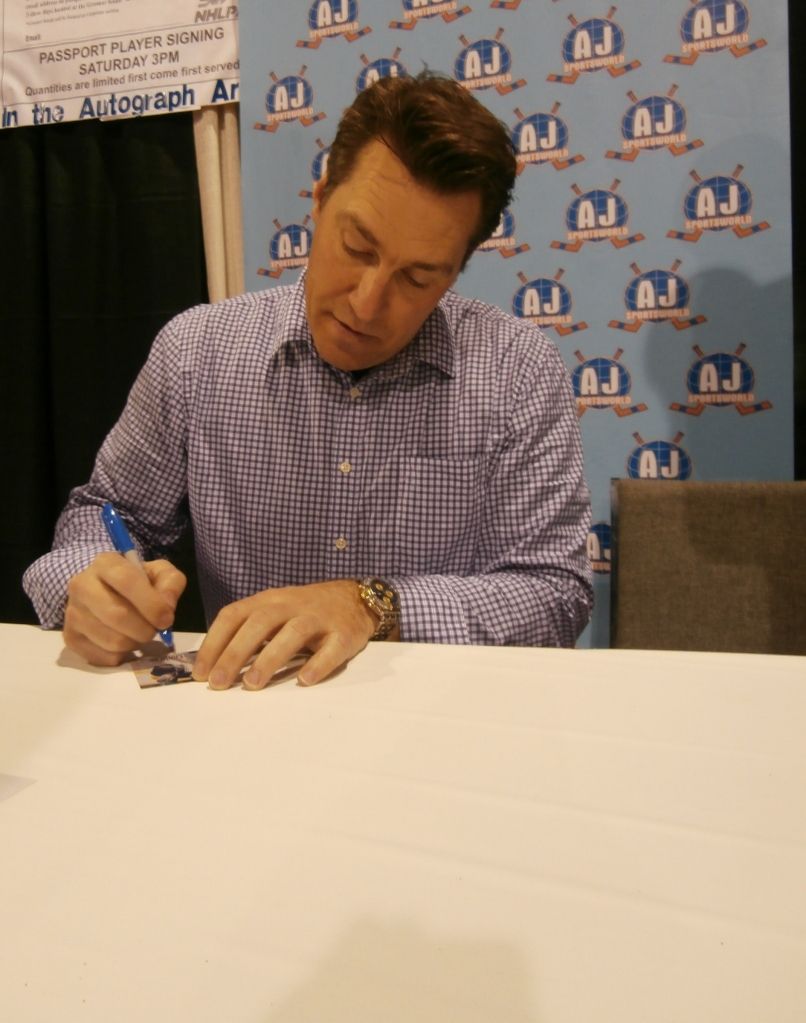 And here is what he wrote:
And then it ended. The show was over and we headed back to our hotel. My dad and I then had a great dinner in the hotel restaurant with some friends from Edmonton/the online forums. Almost everyone that I met at the expo were awesome people and it was a pleasure to deal with many of you to acquire new additions to my famous collection.
So, back in Edmonton and tired, I scanned the bounty of Irbes that I acquired over the weekend!
4 of the based cards (1 of which already sold to Justin), 2 autographs (duplicate already sold to Justin), the 10th Anniversary buyback, and one of the stick and jersey (#/19).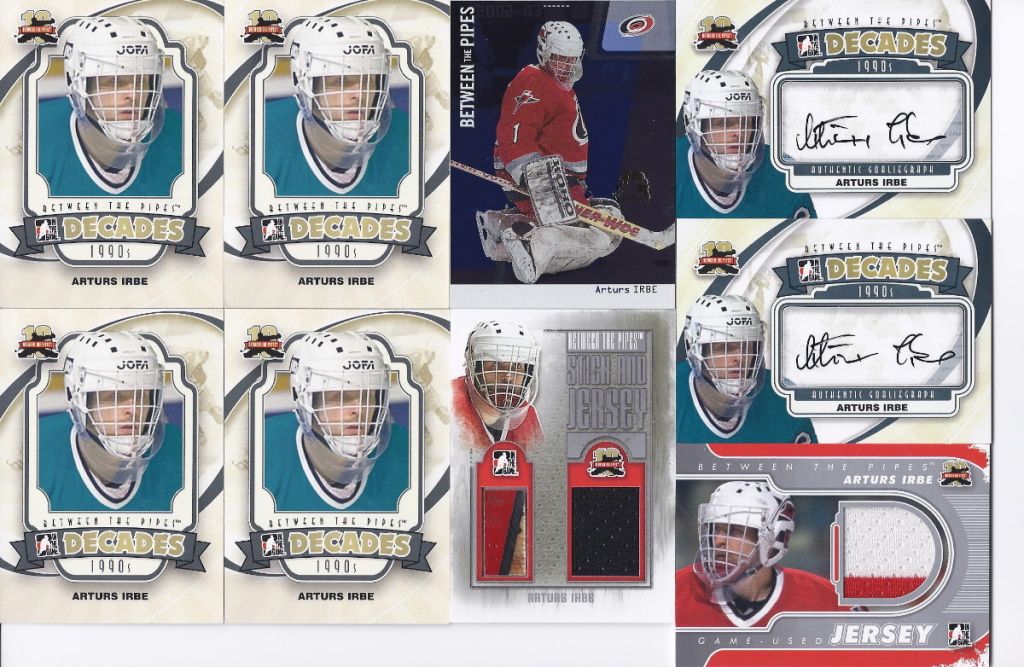 4 of the 10th Anniversary jersey redemptions (#/10) (all 3 duplicates already claimed), and 5 of the 10th Anniversary patch redemptions (#/10) (3 of the duplicates claimed).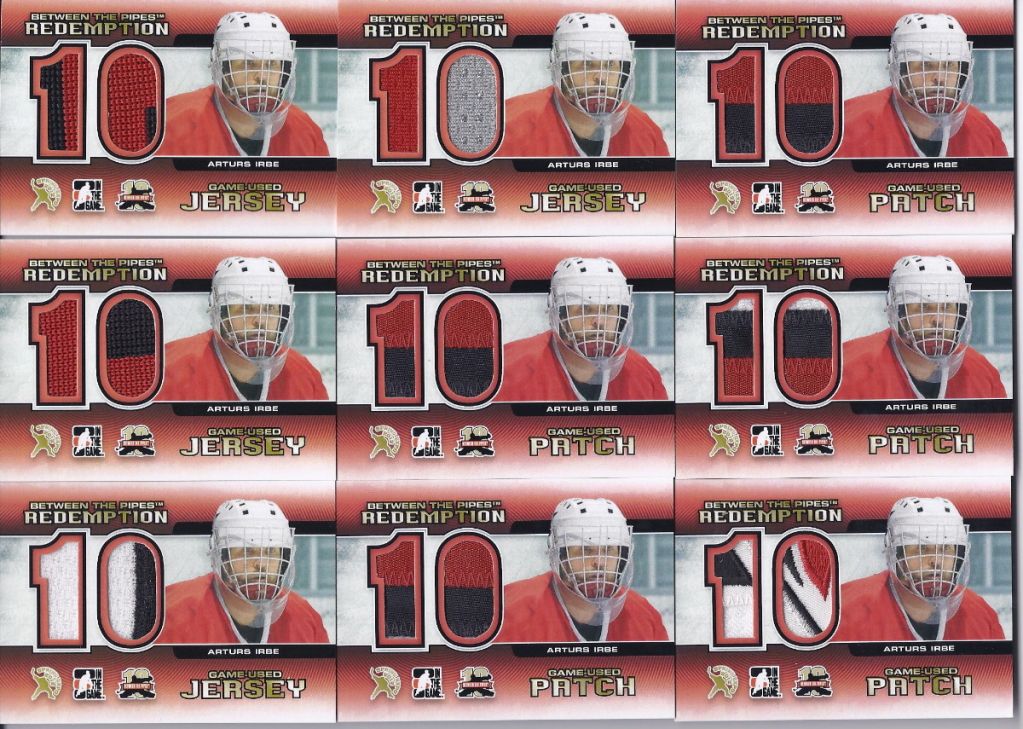 And the beastly pick-ups. UM11 Superbox Jersey/Auto 1/1, 2X 10th Anniversary stick and jersey (one picked up by one of my spies on eBay and not in my hands yet, though already claimed by my good friend Matt), game-used patch gold version 1/1, and Decades 1990s silver (#/50) and 2X gold (#/10) (one picked up by one of my spies on eBay and not in my hands yet, though already claimed by my good friend Matt).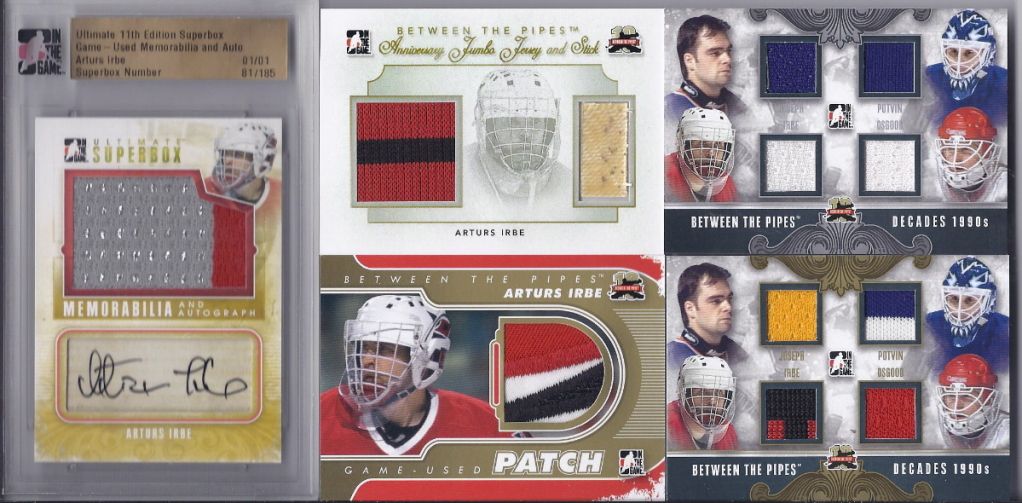 So there you go and I hope you enjoyed my day-by-day recap of my expo experience!
All members that I met in Toronto were awesome and I am glad that I had the chance to socialize with them as it is rare for me to do so while in Western Canada!
---
Quick update. I recently made a nice trade with gbbadger (Matt), a good friend of mine in the Irbe game and this is what I just got in the mail from him today. 2002-03 BAP All-Star Edition jerseys silver (#/30), and 2000-01 BAP Ultimate Emblem #10/10. Thanks again Matt!