The Unrivaled teased me to thinking I was hitting a 264 today....
2010 Topps Unrivaled
Mardy Gilyard RC 921/999
Andre Roberts RC 981/999
Jacoby Ford RC 517/999
Matt Ryan Gold
262
/499
DeSean Jackson Gold
462
/499
Peyton Manning Gold 124/99
Drew Brees Gold Thick 519/759
Brett Favre Gold Thick
244
/759
Eli Manning Gold Thick
263
/749
Montario Hardesty UV 151/199
Brian Dawkins UV 507/999
Vince Young 05/25
Tony Pike 202/480
Jimmy Clausen 101/125
So I am thinking, how about something decent, sweet patch auto, dually, 264, whatever.....yea right....
Anthony Dixon 182/249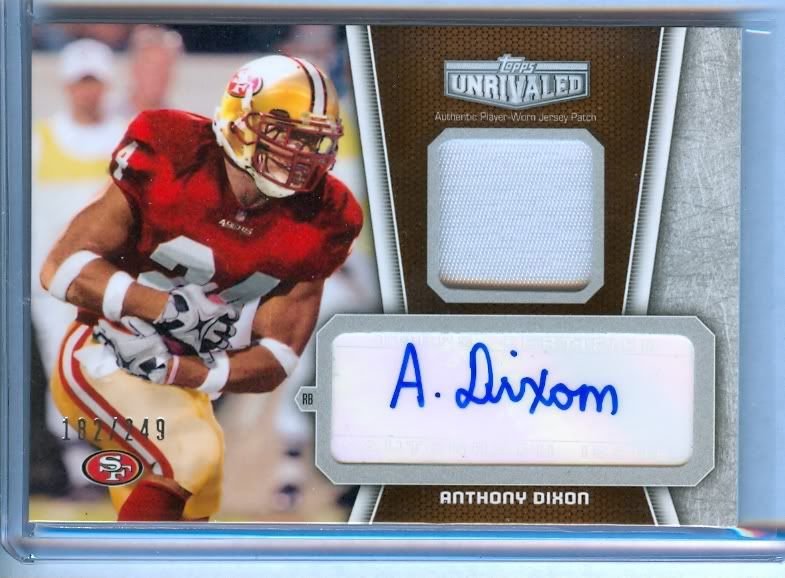 Well that really hurt.....
---
Now onto my stuff, it would be nice to have some set need pulls.....
2010 SPx Box 1
Darryl Sharpton RC 044/599
Kyle Wilson RC 551/599
Chris Cook RC 490/599
Dez Bryant Rookie Materials 128/375
DHB WM Patch 037/125
Spoken for by blake03svtf
Orakpo Super Scripts
Joe McKnight Au/Jsy 209/375
I am cursed with McKnights.....
....but have hit the Shadow Boxes pretty hard this year, there was a lot of Orange in the box....
Thurman Thomas Shadow Box
2010 SPx Box 2
TJ Ward RC 498/599
Mike Iupati 596/599
....and this guy will earn me back a little coin...
Marc Mariani RC 406/599
...and second best hit of the box...
Golden Tate Rookie Materials 125/375
Steve Breaston Super Scripts
Dexter McCluster Au/Jsy 120/325
Really like this card, my first "Rookie Winning Big Materials" pull. It can be moved, but won't mind holding it either.....
Jahvid Best 5/5
*Please Read*
- Most all of the below will be for trade, however for my SPx set needs. Otherwise they will be headed to the bay, so I can earn funds to purchase the individual SPx set needs.